TOTALLY ACOUSTIC
| THE GIGS | THE PODCASTS | THE VODCASTS | THE VENUE | THE PAST | HOME |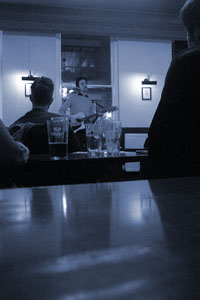 THE IDEA
The whole idea of Totally Acoustic nights is in the name. It's Totally Acoustic - no PA system, no lights, no amplification, no electronic instruments, just completely powered by human beings.

The idea to do this came from several gigs I'd done where playing totally acoustically was forced upon me, either by PA malfunctions, RUBBISH PAs, or just playing in strange places. I always found these sort of gigs to be even more fun than usual - when there's nothing at all between yourself and the audience it feels a lot more intimate, like a friendly good-times singalong. I think the real mark of what a JOY these sort of gigs are is that every time I've done one people have ALWAYS stuck around afterwards until closing time, BOOZING and chatting and having a laugh. This, I feel, is a beautiful thing. Full details of how to get along to one of our usual nights are over on the venue page, and you can catch up on all of our previous shows via our series of podcasts.

Unfortunately we had to cancel our March 2020 show due to Coronavirus, so instead we're launching a series of virtual shows featuring a variety of Totally Acoustic participants old and new. These will be available as a series of weekly vodcasts via Youtube, and you can find full details over on the vodcasts page!