Blog
Gigs
Facts
Music
Shop
Links
Blog: Back To The Old House
I had a delightful morning in The Olympic Park yesterday, indulging in my new routine of EXPLORING. The high point was discovering a series of gravelly pathways near the Velodrome, which i wandered around. The only other humans I saw were two people in a "golf buggy" who zipped by ... then zipped BACK to tell me off for walking on a Mountain Bike track. "There's no signs saying that's what it is", I pointed out. They appeared ASTONISHED to discover that I'd managed to find my way onto it... by walking there on a path. They told me off, then zoomed away. I _think_ i won that one!
Anyway, that afternoon I set off to St Pancras and then to LEICESTER, where I had an appointment with ROCK, for LO! The Validators had a practice scheduled ready for our gig in YORK on Thursday. I got to Leicester with plenty of time to spare, so strolled across town and onto Frog Island. This is an area of Leicester that I always remember as being a bit desolate, but CRIKEY it feels now like pretty much the whole PLACE has been knocked down, or more often left HALF demolished. Of the four pubs that used to be there only ONE is still open, and goodness knows how as there's nobody actually LIVING nearby. I went in for a cheeky half before practice and found that it was EXACTLY like EVERY pub in Leicester used to be when I first move there a quarter century ago. On closer investigation it looked like that's because it hadn't been refurbished AT ALL since then!
One business still open was Stayfree, where we were practicing, and a Jolly Good Practice was had there. Here is PHOTOGRAPHIC EVIDENCE of the fact, as taken by Mrs E Pattison: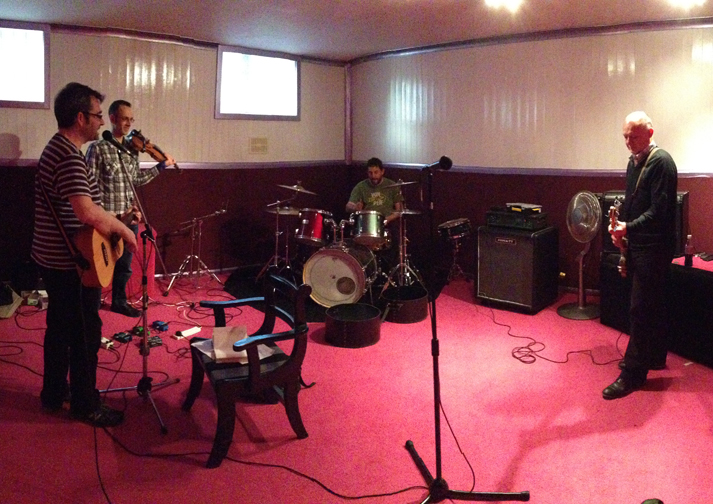 The five of us kicked off with a few "old favourites" just to get going, then RIPPED through all of the new songs. They're sounding DEAD GOOD, almost as if we've LEARNT them or something. I got quite excited about them - if we can just get round to working up a few MORE then we'll have enough for that "Classic Half Hour Album" we've been meaning to reocrd ever since we first started. We'll probably end up spending three years recording an hour long PROG EPIC with fifteen orchestras on it, as usual, but it's good to have a dream!
Afterwards Mr FA Machine headed home and the rest of us nipped into town for a post-practice pint. Tim suggested we go to the newly re-opened Princess Charlotte, which was an excellent idea, also WEIRD. The insides have been re-arranged into a strange combination of how it was when VOON used to play there, and how it was after they KNOCKED THROUGH and ruined it completely. The wall between the back room and the front "bars" had been re-instated, as had the side wall, so it was like the old two front bars had become one, with the flooring tiles clearing showing where the old bar had been. This was easy enough to cope with, but what was DEEPLY ODD was being able to go back into the beer garden and see that the old stage was still there, as was the little ledge that used to go up to the toilets, and clear areas where the loos (STILL STINKING) and the dressing room had been. I stood on the old stage and looked up into the night sky. It was KRAZY!
Back inside I spoke to the young man behind the bar. "I never came here when it was open before" he said (he probably wasn't even BORN when it had its original layout!), "But I feel like I know it, because so many people have told me about it." At this I felt a bit bad, as I too had been doing Old Man Reminiscences which, in retrospect, were probably not THAT interesting ("yes, there used to be a door there"). I thus returned to our table with a beer, which led to the MOST BIZARRE part of the evening: I had a NICE PINT OF BEER! In The Charlotte!
Stranger yet, I woke up next morning NOT feeling hideously ill - this has NEVER EVER happened after a drink in The Charlotte before! I guess it just shows that, sometimes, change can be good!
posted 15/4/2014 by MJ Hibbett
Comments:
---