TOTALLY ACOUSTIC
| THE GIGS | THE PODCASTS | THE VENUE | THE PAST | HOME |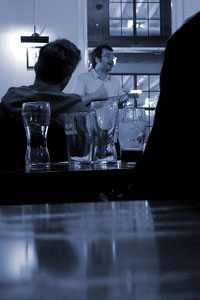 THE GIGS
Our evenings usually start at 7pm, when we've got the tables set out upstairs, and the gig itself starts at 7.30pm which a couple of songs from me, MJ Hibbett, just to get things going. We'll then have our first act proper before a short break to fetch beer/have a cigarette/go to the loo (delete as inappropriate).

After that it's our second act, a slightly longer break and then we'll bring on our final act. It's at this point (if I remember) that we'll do the whip round, all of which will be handed over to our guests. The whole thing finishes by 9.30pm, leaving plenty of time to have a bit of a chat, a beer, and easily get last trains home. One day ALL gigs will be this delightful!

Totally Acoustic is between seasons at the moment, but we'll be back soon!