Blog
Gigs
Facts
Music
Shop
Links
Albums: The Unearthly Beauty Of MJ Hibbett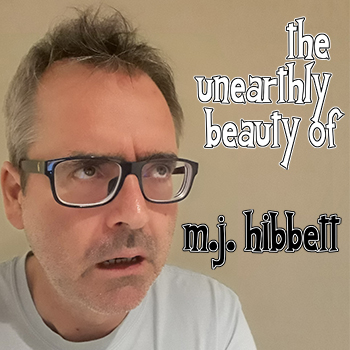 My first solo album for eleven years, and first album of any kind for six - the fact that it's just me meant that I could call it whatever I wanted, so I did!

Fourteen songs about bad backs, fire drills, blue bags and the correct use of project management methodologies. Recorded entirely at home, so nobody else is to blame for any of it!



This item is available to buy direct from us for £11.00, with postage and packing free anywhere in the world.
You can get it online here:
Bandcamp
iTunes
Spotify
Amazon
The physical format (available direct from me via the Paypal link above) is a USB stick featuring instrumental versions of all tracks, a bonus set of demo versions, and a song book so you can play along.
There's only a hundred of these being made, so get in quick!
Tracks:
Why Do Bad Things Happen To Good People?
Agile
Someone Else's Turn
It's Hard To Be Hopeful
Fire Drill
Ode On A Blue Bag
People Who Stand In The Door
Stick To The Agenda
The House On The Borderland
Apocalypse Prepared
Bad Back
Kenny's Brother Alan's Stag Do
I Think I Did OK
What I Always Think While Watching Poetry
I Like You (Bandcamp version only)

Reviews:
Bob Fisher, Electronic Sound
As an accomplished troubador of the trivial, Hibbett is a criminally unsung spiritual cousin of Half Man Half Biscuit. With his trademark C86 jangles now augmented by squelchy synths, he gently rails against wondrously mundane annoyances. It's the lo-fi synthpop of 'Kenny's Brother Alan's Stag Do' that steals the glory here. "He's the kind of total wanker who acts like he owns the pub / And he never gets a round in, his name is Nigel Grubb". Think Adrian Mole with a Casiotone.
Stuart McHugh, Is This Music?
Aptly, a delayed* review for what is the indie troubadour and BBC 6Music staple's first solo work in more than a decade.

Time marches on for all and the Peterborough songsmith has gone from the (maybe) first ever indie download single and viral video for 'Hey Hey 16K', to this, his first solo album in more than a decade, delivered on very modern / easy to lose* USB stick.

Stripped of bandmates The Validators, Hibbett is in solo mode on this 14 song collection, in the vein of Billy Bragg or Frank Turner, and reflecting on his own personal bugbears, making wry observations in the vein of Half Man Half Biscuit and Arctic Monkeys – fire drills, stag dos, poetry, and more specifically, dog poo ('Blue Bags'), while 'Agile' is one for geek fans of project management methodology.

There's also a sense of the passage of time – not just 'Bad Backs' ( the 'Osteopaths of Glory' mix) but 'Someone Else's Turn' considers a sense that a new musical generation has arrived.

Hopefully one that can appreciate thoughtful, fun indiepop jangle.

An Artists Against Success Presentation