Blog
Gigs
Facts
Music
Shop
Links
EP/Singles: People Are All Right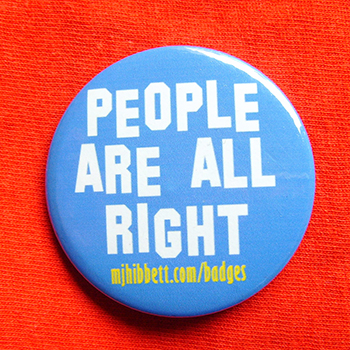 An EP which is also a badge!
Each badge comes with a download code sticker on the back. To get your music, go to
https://bandcamp.com/yum
and enter the code there. Peasy!
This item is available to buy direct from us for £5.00, with postage and packing free anywhere in the world.
You can get it online here:
Bandcamp
iTunes
Spotify
Amazon
Everyone goes on about putting records on vinyl, but they're a massive pain to make, carry around, and store, and everybody just uses the download codes to listen to them anyway. THUS we decided it'd be much easier to release a single as a badge instead - you still get a download code, it's much smaller, and you can wear it too! The lead track is a song about using the power of Drunken Pub Conversations for good, harnessing their might to solve the problems of the world, while the b-side is a modern folk song (but good). The bandcamp version of this single also comes with two exclusive tracks - cover versions by a couple of our favourite acts which have not been released anywhere before. It's a bargain AND a fashion statement!
Tracks:
People Are All Right (if they are given half a chance)
An Office Ballad
Deanshanger (bandcamp version only)
The Lighthouse Keeper's Song (bandcamp version only)


An Artists Against Success Presentation