---
current
/
archive
/
issues
/
faq
/
RSS feed
/
twitter
/
---
The Three Predictions Of Doctor Doom
This episode starts with Dr Doom carrying out one of his most distinctive moves from this period, by appearing unexpectedly on a TV screen!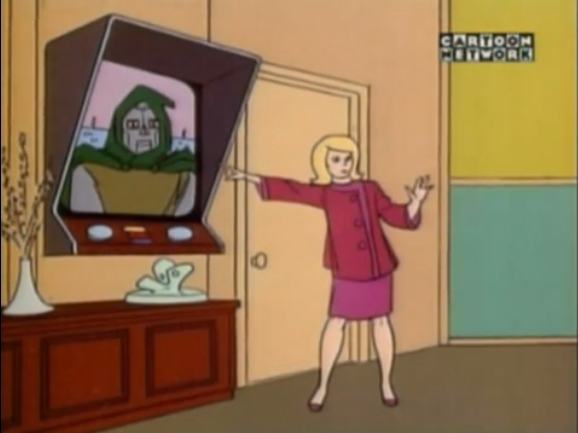 This surprises The Fantastic Four because they thought he was dead. This surprised in turn surprised me, because I didn't realise that these cartoons followed any kind of serial narrative, but it seems they do. At the beginning of
the previous episode
he was known to be alive, but then believed dead by the end, so clearly there is some seriality in play here.
Doom challenges them to a competition, for which he makes three predictions - that he'll remove the heart of The Fantastic Four, that he'll remove their greatest strength, and that the strongest power will conquer all. What can it all mean?
With their greatest nemesis back on the scene Sue wonders if she should cancel her appointment with a photographer, but Reed tells her not to worry, but to meet them later at the award ceremony they've been invited too. Sue thus pops over to the studio of the photographer, who is hidden behind his camera and seems to be wearing a cloak.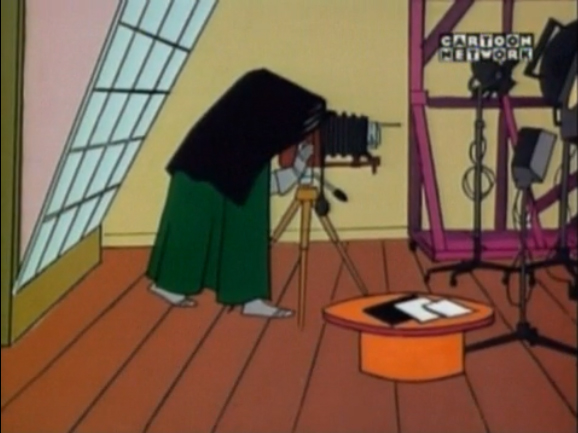 It was Doctor Doom al along! He captures the Invisible Girl with a "green sporoid" plant tentacle that shoots out of his camera, and then takes her to his rocket ship, which is disguised as a water tower - an idea nabbed from the Skrulls way back in Fantastic Four #2!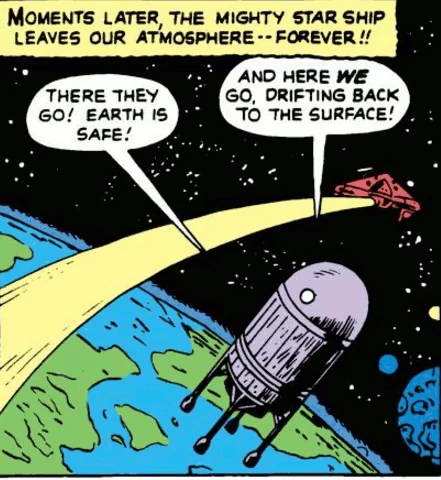 Meanwhile at the United Nations the rest of the team are wondering where Sue has got to. "She's never late!" says Mr Fantastic. At that moment Doctor Doom appears on yet another massive television screen, threatening to destroy every major city on earth with tidal waves unless he is made world ruler. This, and much of the rest of the story, is quite similar to
Defeated By Doctor Doom
in Fantastic Four #17, except that there he had the slightly less megalomaniacal demand to be a member of Kennedy's cabinet. Hanna Barbera Doom is clearly a bit more ambitious!
Doom uses his mighty powers to show "a television image of the Hudson River", where one of his tidal waves is destroying a naval yard. The Fantastic Four leap up to stop him, at which point Doom brings forth his hostage Sue and points out that this also fulfils the first of his three predictions - removing the heart of the Fantastic Four!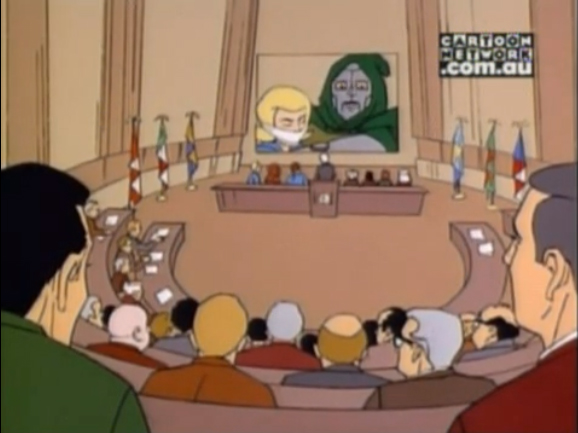 Televisions, gloating, taking hostages - this is all VERY much in character!
Back at base Reed Richards finds Doom's massive airship, hidden in clouds just as it was in the comics version. It is, apparently, made of "anti-radar alloy" but luckily the FF have a ship with an "atomic magnet". It looks like this: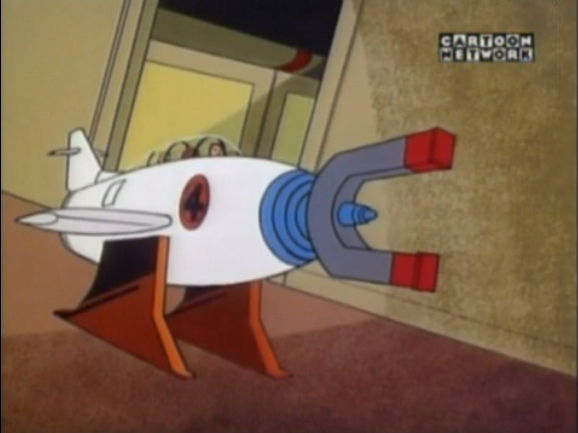 Of course it does! They find and board the ship, where Doom sets his "Sporoid Men" on them.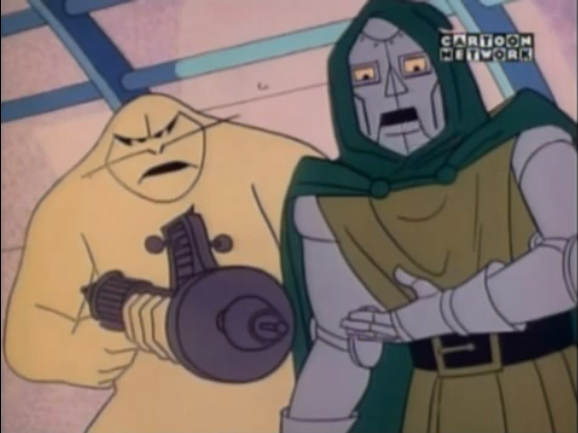 They're armed with Cosmic Ray Simulators which can remove the FF's powers. Ben throws himself in front of the others to take the full force of the ray, while Johnny flames on and burns the Sporoid Men to ash - helpfully reminding us that they're actually vegetables as he does so, so this is definitely not murder. Phew!
The Thing changes back into his human form which happened in the original comic, but the other way around, so that he was able to get into the ship as Ben Grimm, but was forced to return to being the Thing once he was inside. Doom, once more on television screen, points out this he has now thus fulfilled his second prediction, to destroy their greatest strength.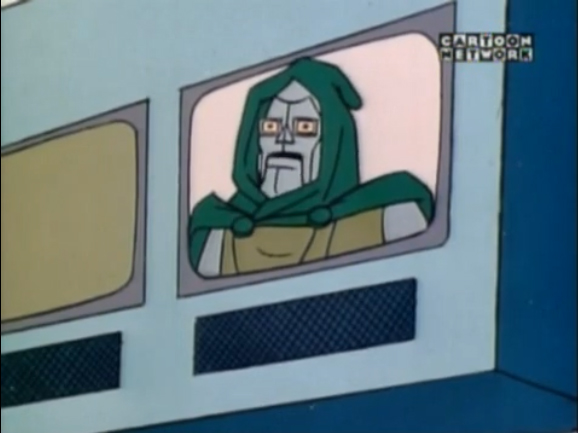 I don't know about you, but I was hoping for something a bit more metaphorical than this. Ben has got his dearest wish, to be human again, but Reed and Johnny don't even acknowledge it, they just zoom off without even looking at him. Despite this callous attitude Ben refuses Doom's offer to send him back to earth, preferring to stay and help his friends if he can. However, Doom shows him that they have already been captured and trapped in their own specially designed rooms. How he managed to do this in the space of 5 seconds without moving is not explained!
Doom leaves Ben to watch his friends die, heading back to the UN - or rather, the Conference Of Peaceful Nations - to demand that they proclaim him ruler of the world. Unlike the regular Marvel Universe version of Doom, who we've recently seen spend four months procrastinating before finally trying to take over the planet, Hanna Barbera Doom is a man of action, although in this case that's more of a flaw than a feature. In his haste he's left the Cosmic Ray gun lying at Ben's feet, so that he can pick it up and re-zap himself back into the Thing. In the comics this would be cause for at least an anguished monologue, but here he joyfully shouts "It's Clobberin' Time!" and races off to find his friends.
Meanwhile, over at The Conference, the Peaceful Nations have refused Doom's offer, so he prepares to take his revenge them by unleashing tidal waves over major cities. For some reason he starts a countdown before pulling the "Tidal Impeller" lever, despite him being the only person there, which leaves plenty of time for The Thing to arrive and smash the device before he can pull it. Hanna Barbera Doom is not so free of procrastination as he first seemed!
Doom then flees, as usual, this time through a steel door, then jumps into an escape ship that looks a LOT like the one he was using back in his second appearance in
Fantastic Four #6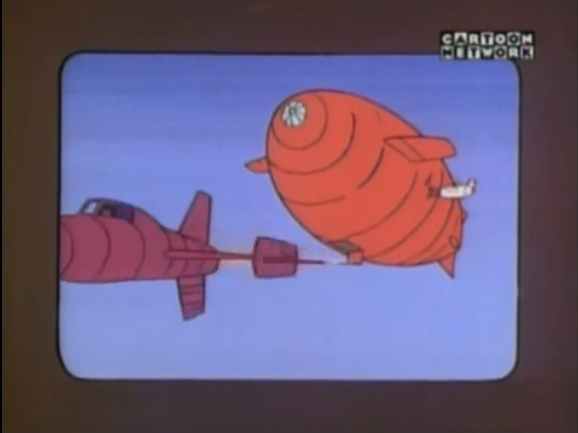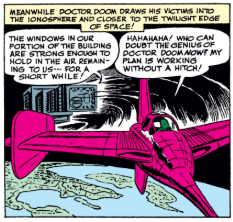 It's interesting that the cartoon series has taken over so many minor design aspects from the comic. It could be just a case of saving time using old designs rather than creating new ones, but it does create some continuity with the world of the comics, even if the stories are slightly different.
The FF give chase in their Magnet Plane and find Doom hiding in an artificial cloud. They try to extract him using the Atomic Magnet but Doom escapes and returns to his Flying Fortress, setting everything back to how it was five minutes ago, making me suspect that this whole section was padding to make the cartoon the right length!
With everybody back in the Flying Fortress Doom unleashes Power Spheres on the team (again, similar to how he did in
Fantastic Four #17
). He traps them and then... leaves them there. Mr Fantastic stretches out an arm and - possibly not in tribute to Doctor Who - reverses the polarity of the spheres to free themselves.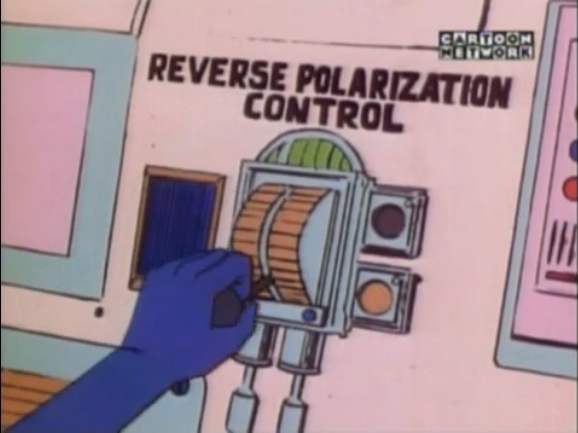 Doom is waiting for them, with a gun that shoots liquid titanium. They become trapped, again, so Doom goes off to continue with his plan. One must ask at this point - what plan is that? The whole "blackmail the world" plot is finished, so I'm not quite sure what he's on about.
The Fantastic Four escape (again) and discover Doom just about to unleash a tidal wave on London (despite the machine being smashed only a few minutes ago). Once again, his insistence on announcing his intentions aloud to himself is his downfall, as The Thing comes in and biffs him in the face.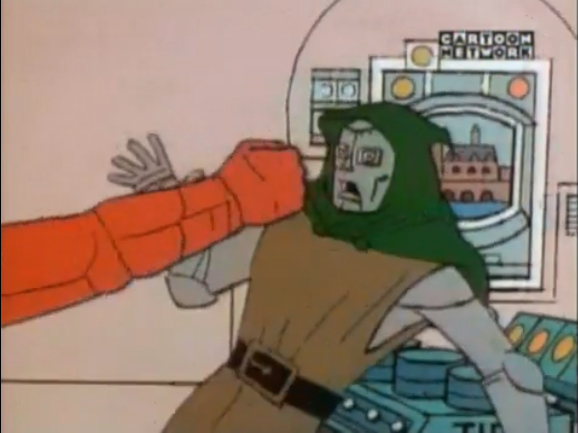 Reed points out that Doom's third prediction, that the strongest will conquer all, has now come true. Surely that's not what Doom originally meant though, is it? He can't have been predicting that he'd be defeated, so what was he talking about?
It's all rather unsatisfactory, sense-wise, but at least it leads to a fantastic example of Doctor Doom adhering to one of his primary character tropes, displayed in all media: he chucks himself out of a flying vehicle and plummets (apparently) to his death.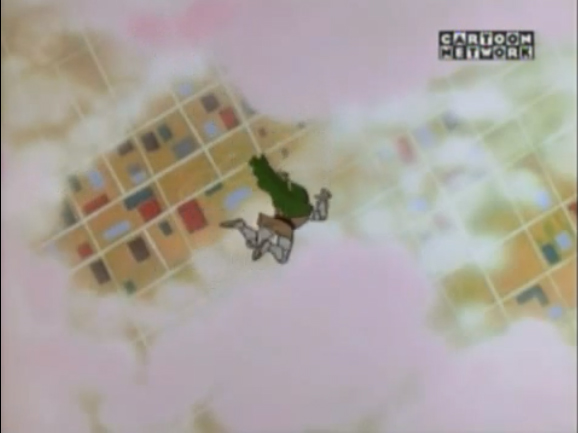 The Conference Of Peaceful Nations thanks The Fantastic Four for their efforts and there the story ends. Apart from some padding, the occasional bit of typical Hanna Barbera re-use of animation, and some unhinged plotting towards the end, this has been another surprisingly enjoyable, well-made version of Doctor Doom and The Fantastic Four which even occasionally (dare I say it) improves on the original. It's clearly not the same Doom, in appearance or all his actions, as in The Marvel Universe, but it's also clear that the character is sufficiently robust to easily survive the transition.
Next in the world of Hanna Barbera it's a re-write of
Fantastic Four #19
, but before that we're back in the comics for another Annual and another pin-up!
posted 16/5/2018 by Mark Hibbett
Comments: