current
/
archive
/
issues
/
faq
/
RSS feed
/
twitter
/
---
Battle Royal!
Doom's return to "The Fantastic Four" is, in some ways, yet another minor appearance to follow all of those seen in Minor Appearances Week, as he only really turns up on one page. He does at least speak in this one though, and in many ways he's the driver of the plot.
The story kicks off with the Fantastic Four walking through Central Park, where a bunch of muggers try to attack them. The Thing frightens them off, and then they're suddenly attacked by The Silver Surfer who asks the ever pertinent question, "who shall clobber whom?" He has turned up with only one thing in mind: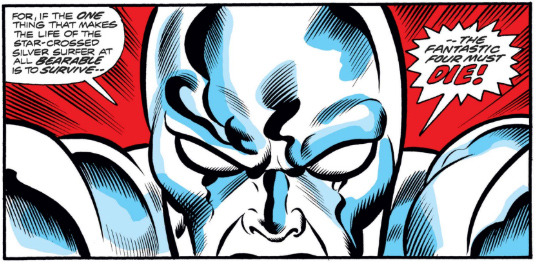 The Silver Surfer easily beats the Fantastic Four in a fight - or, rather, The Fantastic Three, as Medusa does precisely nothing. It's very noticeable during this, and other issues featuring the character, that she never actually seems to do anything. She's been brought in to replace the absent Invisible Woman, but for all intents and purposes they could have just left her out. Her powers are very similar to Mr Fantastic's, so it makes me wonder why the writers decided she'd be a good replacement in the first place.
Anyway, The Silver Surfer is just about to kill the team when he realises he can't go through with it.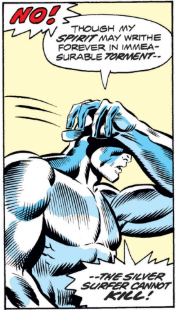 Instead he explains that, after a failed attempt to escape the planet's orbit he fell back to Earth, landing in a "quaint balkan township."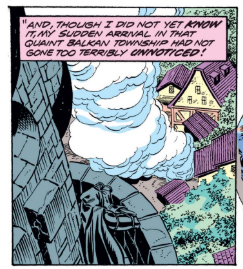 Looking at this image again I realise that Doctor Doom is standing on the balcony watching. I hadn't noticed it before because he'd been coloured the same as the battlements, presumably in order to hide his presence ready for the big reveal at the end.
The Surfer spots a poster of the town's new queen, who looks uncannily like his lost love Shalla Bal. The Surfer goes to find her, and comes across a battle scene featuring the Fantastic Four... or rather Three.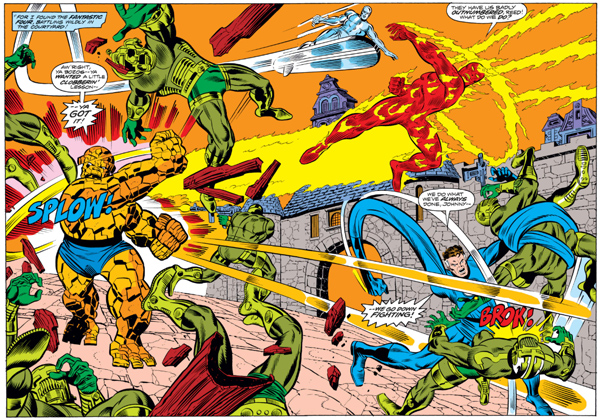 This turns out to be robot versions of the team being used in a military exercise, so the Surfer flies on, into a nearby castle where he discovers Shalla-bal, who doesn't recognise him. The Surfer turns round to discover that he is in the castle of ... Doctor Doom!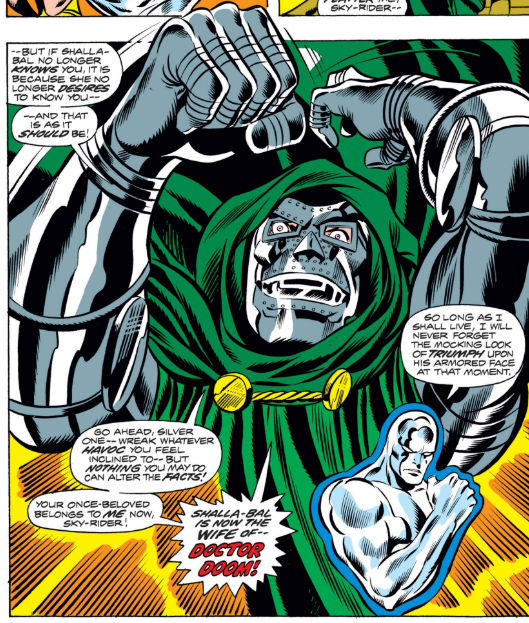 How he didn't realise this earlier is beyond me - he's been there before at least once, has seen Doom's military, and also of course has The Power Cosmic, but maybe he was just distracted by the thought of seeing his girlfriend again?
with his story told the Surfer realises that, now he thinks of it, he really should get on with killing the FF, and the issue finishes with him doing just that.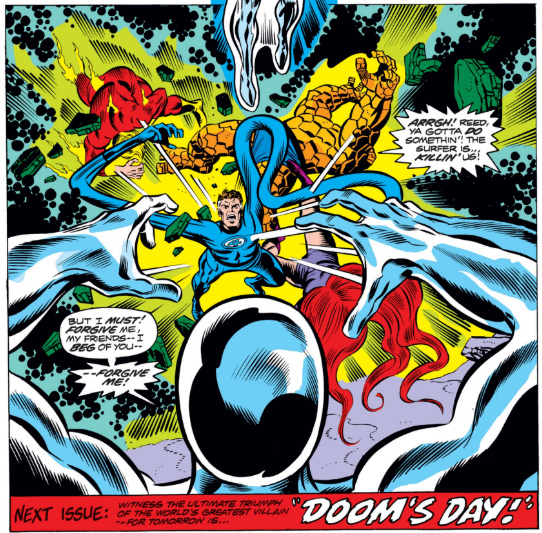 Interestingly, the next issue blurb promises a story called "Doom's Day", which we've had several times before. That won't be the title (it'll be something much less exciting) but it will definitely feature a whole lot of Doom. Before then though, we'll be hopping over to a brand new series to find out exactly how Doom got back to Latveria from space!
link to information about this issue
posted 18/4/2019 by MJ Hibbett
(click here for permanent link)
(0) comments
---
Marvel Value Stamp #84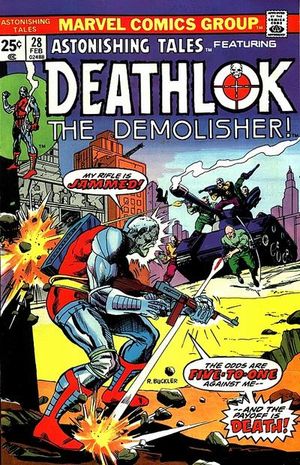 As a special addendum to Minor Appearance Week we have what may be one of the most minor of ALL minor appearances, although one which sheds interesting light on the methodology of the people adding information to the various databases I used to set up this corpus.
At first I thought this would be a Doom solo story, as used to be the case
when this series began five years before
, but sadly he makes no appearance at all in the actualy series - this issue was logged as featuring Doom simply because it includes a 'Marvel Value Stamp'.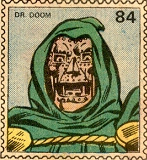 This was a long running series that ran in the Marvel house ad pages, encouraging readers to collect the entire set. According to
The Unofficial Index Of Marvel Value Stamps
this particular stamp, #84 in the series, had already appeared in three other comics before this one, none of which made it into any of the comics databases. The fact that it did get entered this time is, I think, purely down to a very diligent data enterer!
As ever the fact that Doom gets his own stamp, as with
the Slurpee cup
, demonstrates his prominence in the universe, although in this case various other villains had stamps too. The really interesting aspect of the stamp itself is that, like the back of the Slurpee cup, it's using the Rich Buckler image from the end of
Fantastic Four #142
. Clearly this was a favourite among the Marvel editorial team at the time, and is on its way to becoming one of the defining images of the character for this period.
And so ends Minor Appearances Week - next time Doom returns in a three-part story battling his old nemeses, The Fantastic Four!
link to information about this issue
posted 8/4/2019 by MJ Hibbett
(click here for permanent link)
(0) comments
---
Games Godlings Play!
Minor Appearances continues with a WEIRD comic, which is just what you'd hope one co-created by Steve Gerber, Jim Starlin and Len Wein would be like. It sees The Defenders being recruited for a cosmic game of chess between The Grandmaster and... The Prime Mover!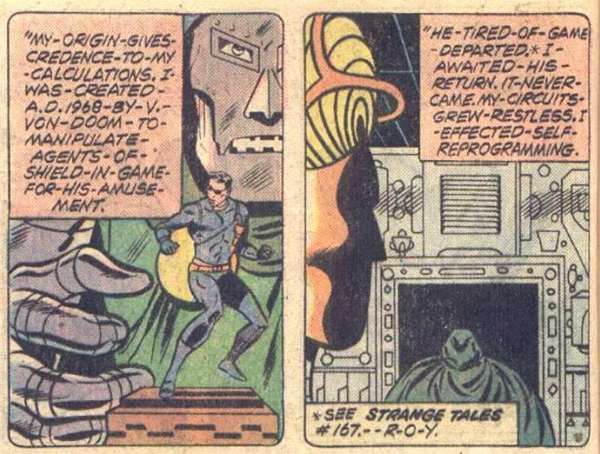 The Prime Mover originally appeared, as detailed above, in one issue of Strange Tales and then disappeared, apparently abandoned by Doctor Doom. It turns out that the hyper-intelligent robot decided to sod off under its own power in search of more games when its creator didn't come back, and to be honest, who can blame it?
There's no more Doctor Doom in the story, but there's a lot of other stuff going on, including some illustrated text pieces, very similar to the ones that Gerber tried out towards the end of his run in Howard The Duck, lots of flashbacks, some general Cosmic Malarkey, and... this very strange sequence: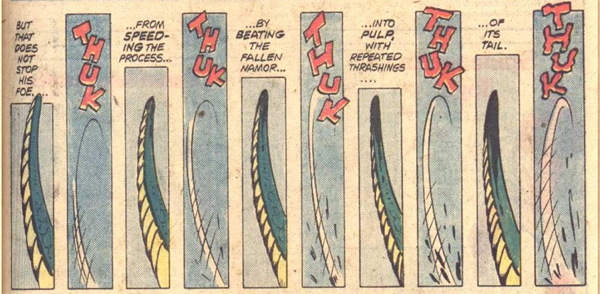 It also includes an imp walloping the Hulk and, I think, the first appearance of Korvac, who would later go on to fight the Avengers. It all ends with Daredevil gambling the fate of the entire human race on the toss of a coin and, thankfully, winning, due (somehow) to his hypersenses. It's a right rollercoaster of a story, and a prime slab of mid-1970s Marvel!
Minor Appearances Week has one more instalment, coming your way on Monday!
link to information about this issue
posted 5/4/2019 by MJ Hibbett
(click here for permanent link)
(0) comments
---
Slurpee!
In 1975 the 7-Eleven chain of US convenience stores launched a new range of plastic cups for Slurpee drinks featuring Marvel characters. They'd already done this a couple of years earlier with DC characters, with the idea being that comics fans would be encouraged to buy Slurpee drinks in an effort to collect thet lot.
There's a lot more information about the series on
The Dork Review
, and about this specific cup at
The National Museum Of American History
. Points of interest for this blog include the fact that this is one of the earliest examples of Doom appearing in non-comics merchandising (with the Power Record being the first, I think) and that he is the only supervillain to appear in the entire series, showing once again his importance in the Marvel character universe.
Also of interest is that the back of the cup features the Rich Buckler Doom who appeared at the end of
Fantastic Four #142
. This particular image will be making another appearance very soon in an almost, but not quite, as odd location!
posted 4/4/2019 by MJ Hibbett
(click here for permanent link)
(0) comments
---
Prisoners of the Pharoah!
This very Minor Appearacne see Doom appearing only once in flashback. The story itself is still pretty entertaining, with some great art by Dave Cockrum and some properly amusing writing by Steve Engleheart, as Hawkeye and The Swordsman, officially The Worst Avengers, recruit The Pharaoh to do battle with Kang The Conquerer. The Pharoah and Kang are sometimes said to be time-split versions of the same person, as well as being variously The Scarlet Centurion and a much older version of Doom himself too, and this story doesn't do much to clarify the issue, instead showing them all together as part of one massive time paradox.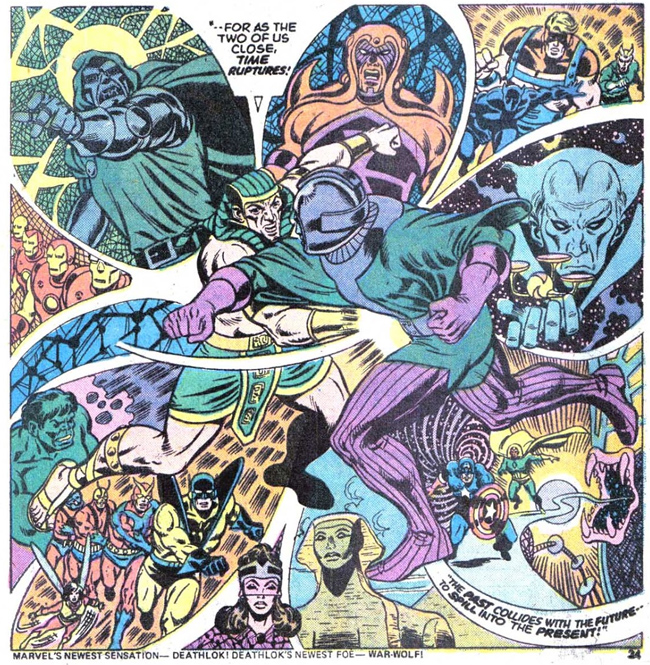 That's the one and only appearance of Doctor Doom, but I so there's plenty of room for excellent panel from halfway through the issue, showing Kang raging against the efforts of Hawkeye and Swordsman.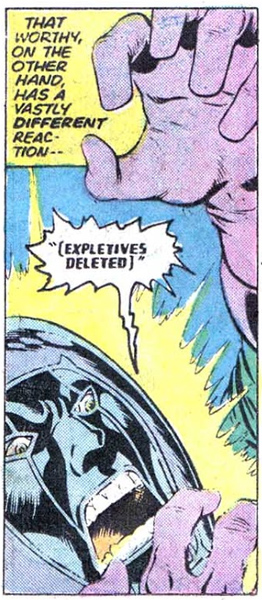 I think we can all sympathise with the immortal conqueror from the future here can't we?
Next time it's time for some proper transmedia action in Minor Appearances Week, as Doom makes his debut on... Slurpee cups!
link to information about this issue
posted 3/4/2019 by MJ Hibbett
(click here for permanent link)
(0) comments
---
Power Records - The Way It Began
Minor Appearances Week continues, with what is strictly speaking, just a reprint of
Fantastic Four #126
, accompanied by an audio recording of the whole issue being read out. Apparently the idea of this was that young readers would listen to the record and read along with the comic, as a way of helping them to learn to read.
I'm not sure quite how valid this is, educationally, but it is a very entertaining listen, especially the full-powered interpretation by the actor playing The Thing. Stan Lee also provides the narration, which you can hear for yourself right here:
The only real shame is that Doctor Doom doesn't actually say anything! More minor appearances tomorrow!
link to information about this issue
posted 2/4/2019 by MJ Hibbett
(click here for permanent link)
(0) comments
---
The Fantastic Four's Most Famous Foes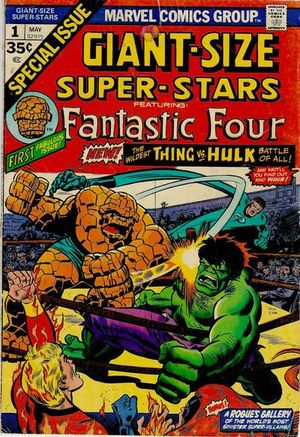 This week is 'Minor Appearances Week' with a whole string of extremely minor appearances by Doctor Doom in Marvel comics during 1974 and 1975. We start with one so minor that Doctor Doom doesn't even appear in the actual story itself, instead popping up at the end in a series of pin-ups reprinted from way back in
Fantastic Four Annual #1
. When I started doing these blogs I was quite strict about what "counted", preferring to look only at actual in-story appearances, which means there is no blog about this issue, which seems a bit daft looking back. Doom may not be in the story, but he's on the cover!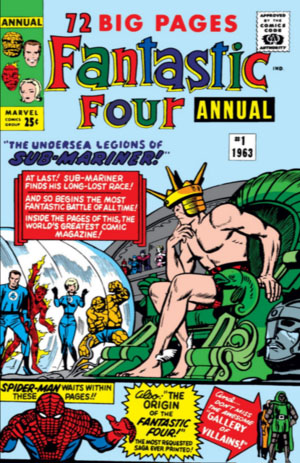 The "pin-up" in this issue is not an exact copy of the original - it's been slightly recoloured to make Doom's chest clasps yellow, rather than green as they occasionally were when they first appeared, and there's a new text box in the bottom right with some "vital statistics". Here's both versions, with the original on the left and the new one on the right.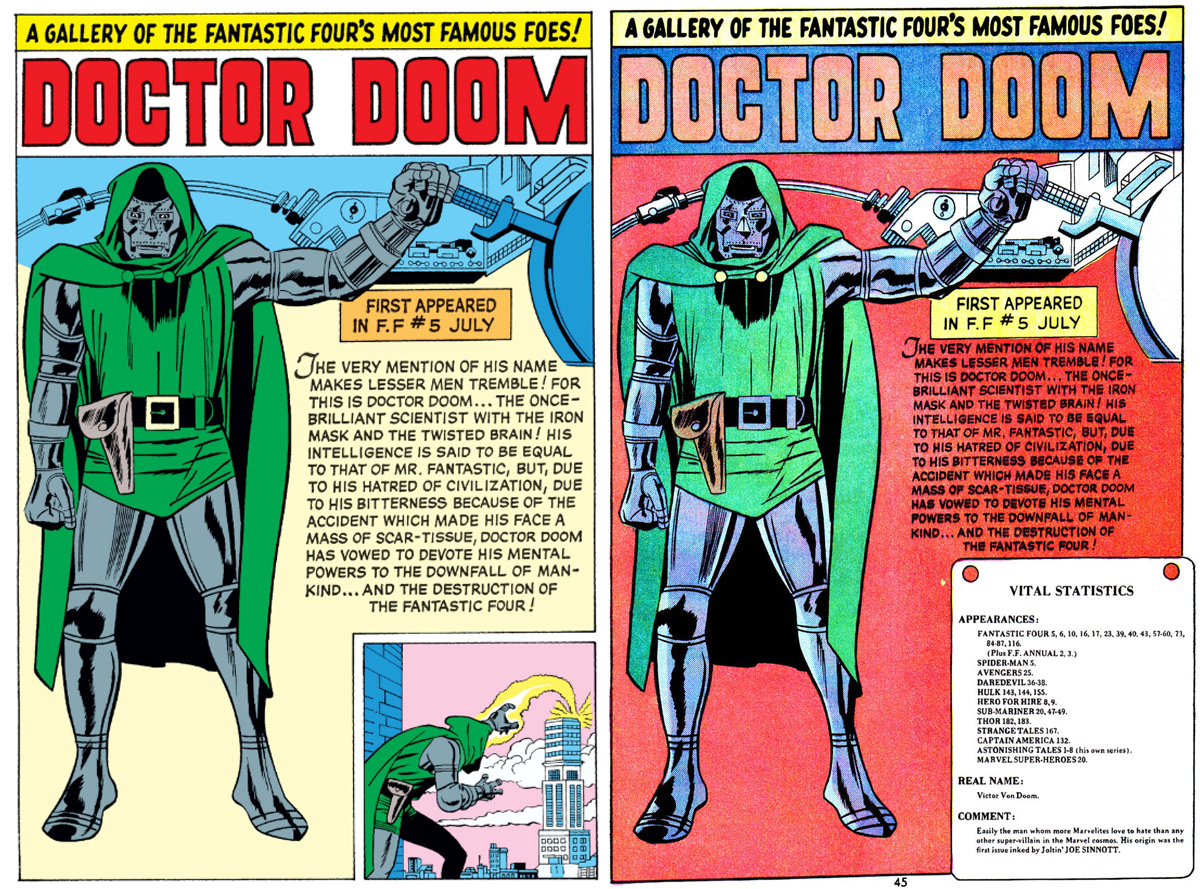 This seems like an odd choice of image to reproduce, because it's not what Doctor Doom looks like anymore. The John Buscema version has been standardised for a couple of years, whereas this much earlier Jack Kirby version has small cloak clasps, pants instead of a tunic, and very off-brand gauntlets and boots. The only reason to use it, and I suspect this was the reason it was, is that it's part of a ready made sequence of already formatted images that can just be shoved in en masse.
The list of appearances is also rather interesting, as it marks a recognition of the fan activity (which in many ways this blog is a part of) of making lists of appearances. It's even more interesting for the appearances it chooses to include, with almost every "real" appearance counted (when Doom himself takes part in the story), but with none of the flashbacks or illusions that we've noted along the way, like in
Iron Man #33
or
Daredevil #100
, and DEFINITELY no 'Not Brand Echh'. Weirdly, while it does contain fairly recent appearances in other series there's nothing from 'Fantastic Four' for the past couple of years. Other than that I was surprised by how accurate it was - I wish they'd done one of these every few years, it would have made selecting the corpus an awful lot easier!
More Minor Appearances tomorrow, Minor Appearances fans!
link to information about this issue
posted 1/4/2019 by MJ Hibbett
(click here for permanent link)
(0) comments
---
Attack!
Joe Sinnot is back on inks for this issue, which immediately makes everything look slicker and more "Fantastic Four". As I've said before, I've never really appreciated his contribution to the series much in the past, but seeing how he works with Rich Buckler here has made me understand it much more.
The Fantastic Four - with Darkoth The Death Demon temporarily standing in for the Human Torch - journey through the basement of Doom's secret fortress, where they meet a creature called 'The Seeker' who has 'been - sent - to - make - you - die!'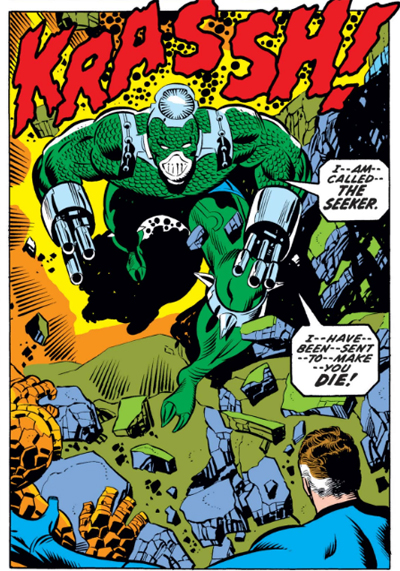 This is another new character designed by Rich Buckler, to go with Darkoth, and... well, he's not exactly Steve Ditko is he? Both characters look a bit 'Grim'n'Gritty Nineties' to me, with lots of pointless fiddly bits, extra weaponry, and even a spiky garter for the Seeker. Was Rich Buckler just ahead of his time?
The FF beat The Seeker easily, and then we see Doom beating up some staff members who were supposed to be keeping an eye on proceedings.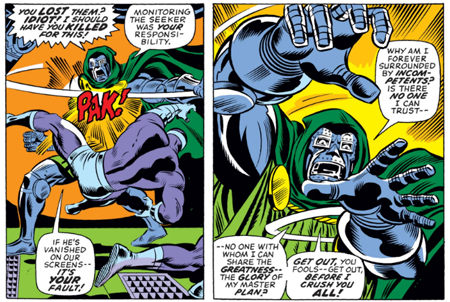 Once again, we're a long way from the Doctor Doom who abhorred violence and didn't wish to sully his hands with it. This is a paranoid, self-centred figure who cares nothing for anybody else, only assured of his own genius. Coach Thorne goes even further, calling him insane.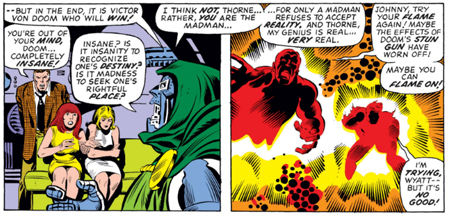 Doom's reply is basically 'I know you are but what am I?' but Thorne has a point - Doom is clearly a Mad Scientist happy to kill to prove his point.
We then return to the Torch-free FF, for some more of the PE Teacher-baiting that we spoke of last time.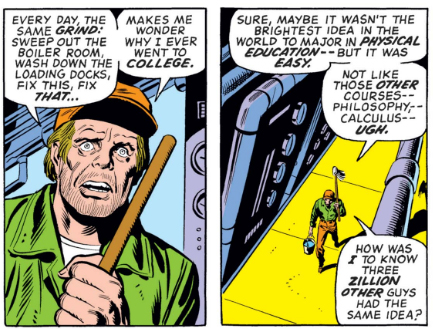 Like many people who grew up reading comics, I am no fan of PE Teachers, but this does stick out as an obvious dig at somebody in particular. Gerry Conway was only about 20 years old when he wrote this, so can't have been long out of school. Was there maybe a teacher who especially irked him, or perhaps someone his own age who was taking it up as a career?
The janitor is cleaning up at the Baxter Building, where the FF have returned to examine The Seeker. While they're doing that Doctor Doom launches his Vibrator Bomb into the atmosphere. Our heroes, fed up with waiting, have a punch-up, and then the bomb goes off. Doom, and his men, are delighted.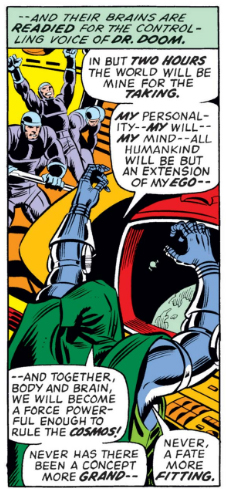 However, unbeknownst to them, the Seeker has returned, using its security access to the fortress to get inside and free the Human Torch. It turns out that the Seeker was actually a robot, which Reed Richards scooped the insides out of so that Darkoth could wear it as a costume.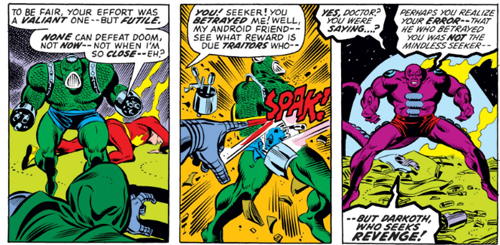 Doom runs away to his central control room where he plans to launch himself into space and activate the full force of the Vibro-Bomb. The control room looks very familiar, as Buckler pays tribute to a classic bit of Kirby design.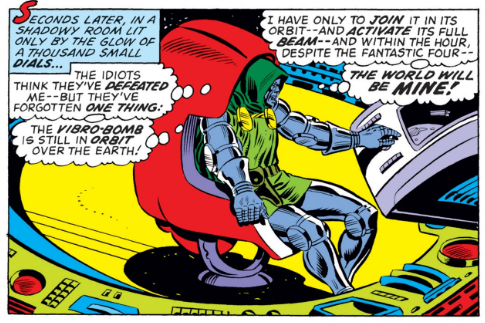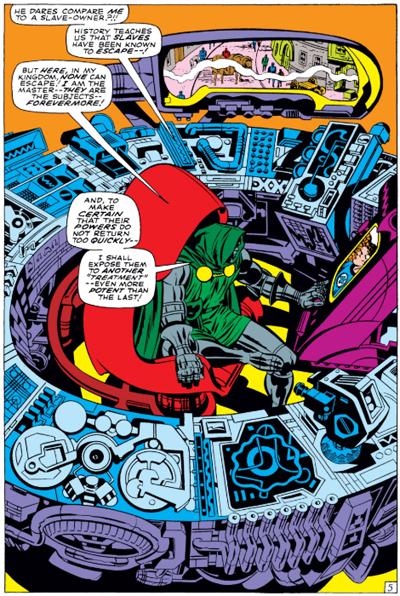 That said, it's hard not to compare the two, and find Buckler wanting here.
There's another nod to the past as the story concludes, with Doom launching the entire building into space, just as he did with the Baxter Building way back in
Fantastic Four #6
.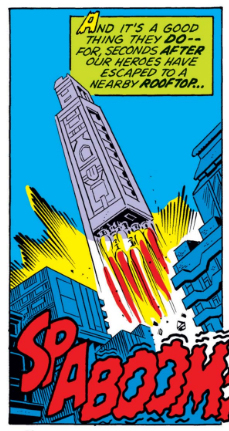 Then, much as in that issue, an ally turns on him, with Darkoth taking the place of Namor The Submariner. This time the building explodes, and once again Doom seems to have been lost in space.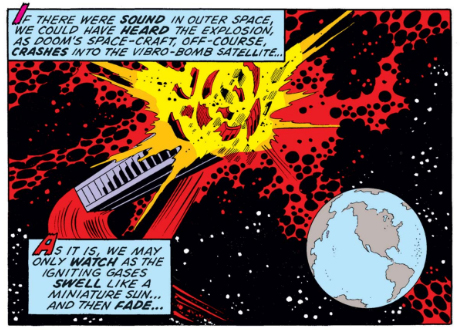 SPOILERS: I think he'll probably be OK.
So ends a trilogy of issues which saw Doom very much returned to the status of a madman intent on glory only for its own sake, working at the edges of sanity. It looks like it'll be a while before that changes again, because next week we launch what I'm calling 'Minor Appearance Week' - a whole five days of cameos and single panale pictures! See you then!
link to information about this issue
posted 27/3/2019 by MJ Hibbett
(click here for permanent link)
(0) comments
---
The Terrible Triumph Of Doctor Doom!
The first thing to note about this issue is the (brilliant) cover which, in an adjusted form, was one of the first images I ever saw featuring the Fantastic Four. As mentioned in
one of my very first blogs
, this was used as the basis for the Fantastic Four paperback I bought as a child which started my love of comics in general, and this series in particular. That version was altered so that it featured the Invisible Girl (as she was then) rather than Medusa, but other than that it's the same design, and you can see why it was chosen, as it's a dynamic scene showing the team exhibiting their powers to fight their greatest villain, Doctor Doom.
The second thing to note is that this issue shows what a difference an inker can make. The previous story had been inked by Joe Sinnott, who gave it a very traditional Fantastic Four "look", sort of shiny with clean rounded edges. Here Rich Buckler is inked by Frank Giacoia, who makes it look much rougher, perhaps closer to Buckler's original pencils. I first became aware of Joe Sinnott's style when he inked John Byrne towards the end of his run of the title, and I didn't like it at all because it brought Byrne's pencils more into line with everything that had gone before, but here I can see that he provided a vital role in ensuring consistency.
The story's written again by Gerry Conway, and he steers Doom's character back towards the Mad Villain role, as opposed to the sensitive, tortured individual we saw previously in his solo stories, written by ... Gerry Conway. I must admit I found it a bit disappointing that, after that batch of exciting and interesting stories we find Doom here back to being, basically, a Mad Scientist intent only on world domination for its own sake. It may be that Conway felt he needed to focus on the Fantastic Four themselves, rather than the baddy, but it seems a shame to drop so much interesting characterisation in favour of making him a wide-eyed loonie.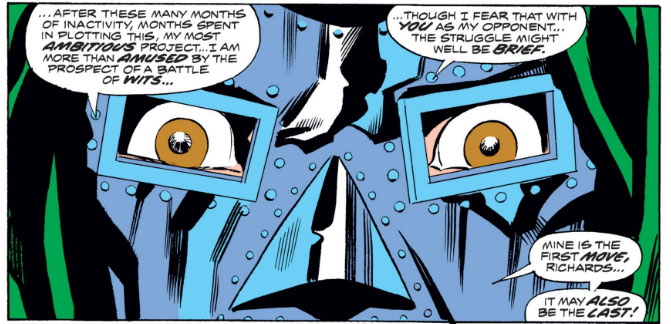 Doom easily defeats Mr Fantastic and Medusa, and then turns on his other guests, Coach Thorne (the other college alumni invited) and his wife. The Coach decides that he doesn't need superpowers to fight Doom (which doesn't seem like a very logical conclusion to come to) and Doom zaps him into unconsciousness, after saying that the only reason he was invited was so he could be humiliated.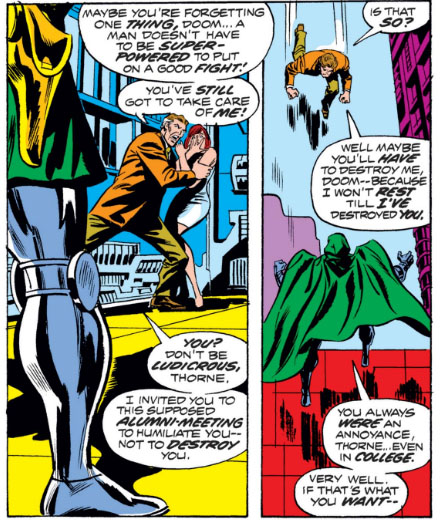 This isn't the only time that PE Teachers will suffer during this story, with a particularly odd interaction coming up in the next issue. I wonder if Gerry Conway had a PE Teacher he really really disliked?
Doom takes Mrs Thorne down to his secret lair, a Steranko-esque double page splash mixing in elements of Jack Kirby.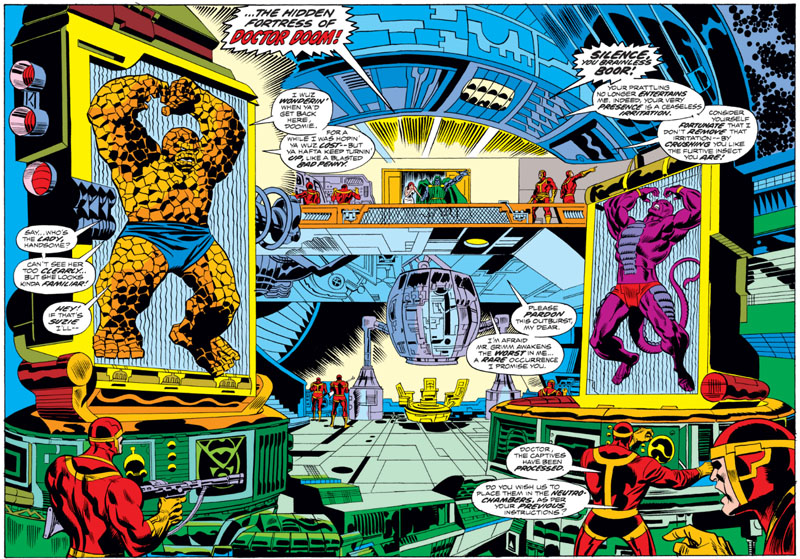 Here he explains his plan, which first involves a recap of the previous issue, where he describes luring the Thing to "a European country bordering Latveria". As with the previous issue, the name of the country is never mentioned, which I guess is Conway's attempt to avoid giving Latveria a definite location, except to say that it's in the Balkans somewhere.
The plan is to use a 'Vibration Bomb' to erase the personalities of all life on Earth and replace them with blind loyalty to Doom. He demonstrates on a couple of lackeys who have been disloyal to him, all the time acting like a raving lunatic Mad Scientist as he forces them to kill each other as a demonstration of his power.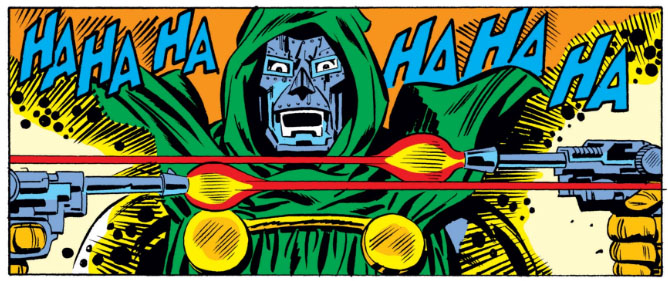 There's then a desultory switch to see what the other members of the FF are up to, which even the captions acknowledge is taking us away from the main story, ending with a note that says "Enough catching up", before we go back to see Doom preparing his missile, containing the Vibration Bomb, for launch. As he does so he considers his plans to become the greatest leader the world has ever known, with everybody chanting his name.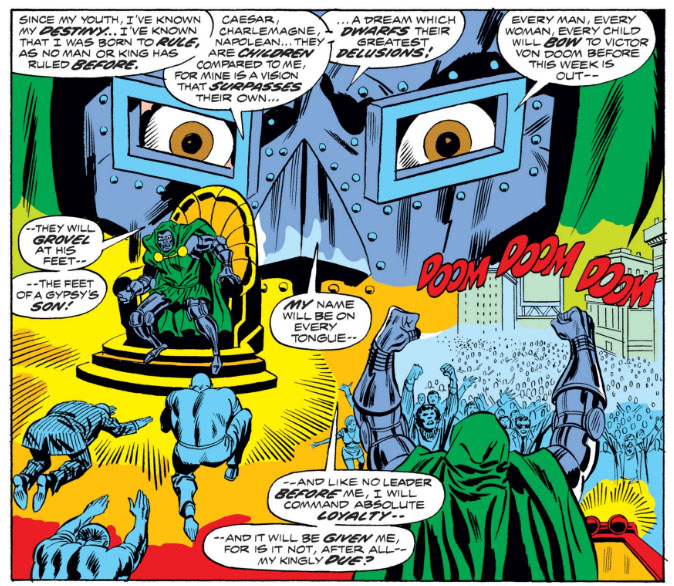 It's interesting that Doom mentions that he is a "Gypsy's son" here. Where previously his humble origins were part of his sympathetic appeal, as a self-made revolutionary who rose to power through his own determination, here they seem to be part of his villainy, that he is attempting to conquer the world in order to disavow his past, and humiliate all those who have tried to do the same to him in the past. Looked at it this way, the kidnapping of a "jock" from his college days makes more sense! Still, this is the only time we get a glimpse into Doom's own thinking in this issue, and it's a long way from the tortured, self-doubting, monologues we've seen before.
There's also a neat little cutaway diagram showing Doom's fortress, in homage to the earlier cutaways of the Baxter Building. It's just a shame the image is too small to show much!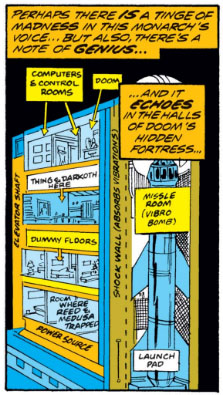 Doom's thoughts are interrupted by the news that Darkoth has escaped, something which Doom solves easily by telling him to behave. For some reason he decides this would be a good time to tell Darkoth the truth about where he comes from, something which will come back to bite him in the bum very shortly.
We then go over to see Johnny Storm and Wyatt Wingfoot sitting in jail, after accidentally destroying some property earlier on when the Human Torch threw a tantrum. The wall of the jail suddenly explodes and a bunch of guards run in, in another homage (or possibly a swipe!) to Jack Kirby.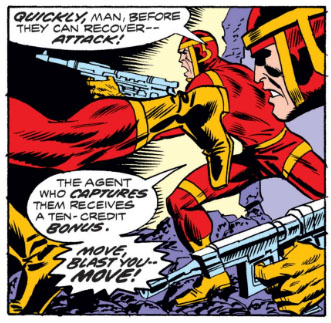 Doom turns up and, once again, easily captures the pair, and then we go back to Doom's base for the final page, where Darkoth visits Mr Fantastic, freeing him along with Medusa and the Thing, in return for them promising to help him be avenged on Doctor Doom. It turns out that he didn't like what Doom told him about his origins, and he wants to have revenge for having been turned into this creature through Doom's science experiments.
The issue ends on a low-key note, with Reed saying he thinks he might know a way to stop Doom, and then that's it. Next time we have the conclusion of the story, and some more PE teacher bashing!
link to information about this issue
posted 22/3/2019 by MJ Hibbett
(click here for permanent link)
(0) comments
---
No Friend Beside Him
It's been a while since we've covered a truly daft comic, where the story makes no sense whatsoever, but we're back in that territory todau with a bunch of characters making entirely silly decisions for no other reason than to keep the story moving.
The splash page carries on from the previous issue, where Mr Fantastic used an 'Anti-Matter Gizmo' to stop his son Franklin from exploding and, for reasons not well explained, the rest of the Fantastic Four were so disgusted that they split the team. It all seems a bit odd to me - Franklin appears later in the story, and seems fine, and surely that's better than being exploded?
We briefly see Johnny and Sue going their own seperate ways, and there's some time spent with Mr Fantastic (who now seems to be going around with Medusa, who is helping him get over the whole situation by taking him out to dinner), but the main story is with The Thing, who gets a letter from his girlfriend Alicia. She's gone 'on holiday' to 'some little country in the Balkans', so the Thing immediately gets on a plane to join her. He doesn't wonder why, or even seem to check where he's going, which seems very odd. Surely you'd have to know your destination just to get on the right plane?
When he arrives (after another passenger on the plane decides it makes sense to pick a fight with a famously strong, ill-tempered world celebrity) he meets Alicia and her not at all suspicious doctor, 'Hans Stutgart'.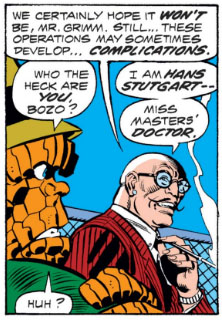 As they walk into town they spot everybody else running home, due to a 'silly' legend about 'some sort of death demon'.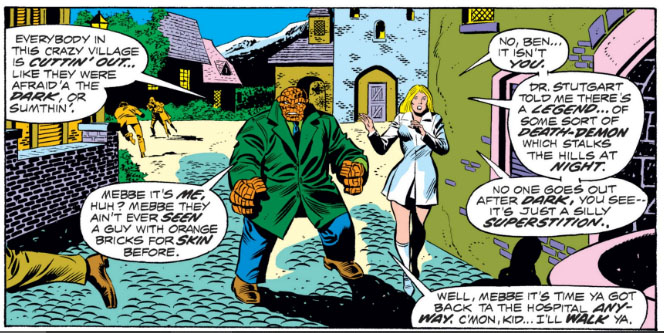 You might think that Alicia, who has met all kinds of weird creatures over the years, wouldn't be so quick to dismiss the possibility of a death demon, but she does. Needless to say, the aforesaid Death Demon turns up a couple of pages later and gets into a big fight with the Thing, who's gone out for a walk. The Death Demon gets away, but Ben is worried - that Demon knew things about him that no Demon has any right to know, something is clearly going on!
Twenty four hours later in this 'small Balkan city' Alicia goes in for an operation which will, apparently, restore her sight, and the Thing is left to wait outside the room. After three hours (!) he finally decides to look through the window to see how it's all going and realises that the entire surgical team have disappeared. The Death Demon appears again, while 'an armored hand closes a fatal switch' and a door opens up nearby.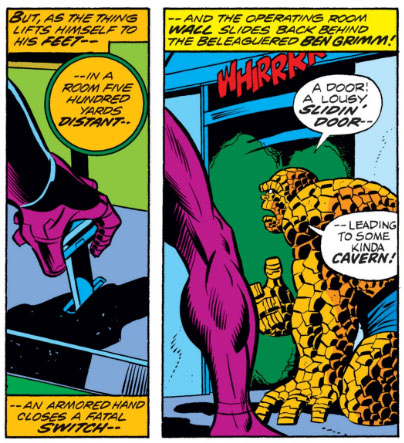 Whose armoured hand could it be, observing events from afar in a small country in the Balkans? I think this would be pretty clear even if you weren't reading about it on a blog called 'Marvel Age Doom', but Gerry Conway tries to keep the suspense building as the Thing and the Demon fall into a cavern, and those hands keep manipulating events. Eventually Ben is captured, as a 'mysterious' figure watches on.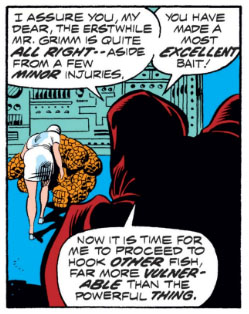 Hmm... is it the Mole Man, do you think? The last couple of pages then show us Reed Richards and the mini-skirted Medusa (Rich Buckler really likes drawing women in very short skirts) arriving for a college reunion, where they're surprised to find that only two other alumni have arrived, a sports coach and... Doctor Doom!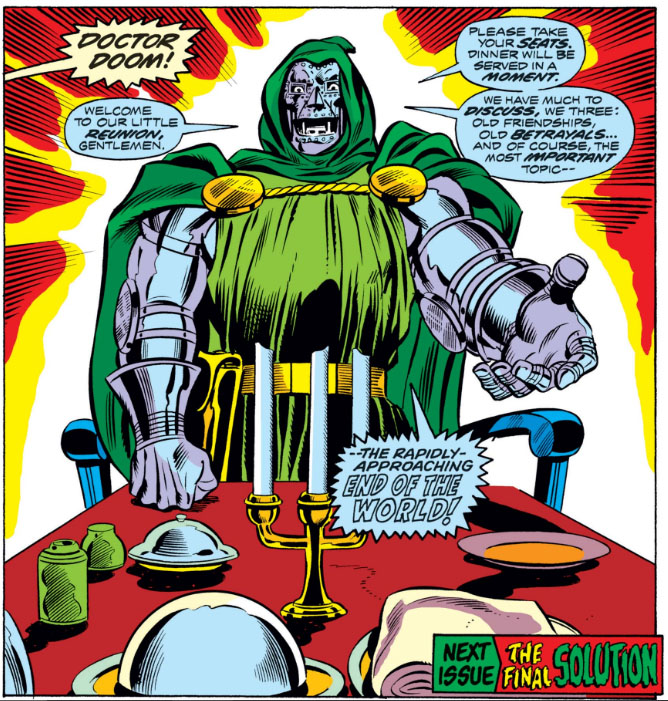 Crikey, who'd've thunk it eh? Apart from the fact that this is a brilliant image (which very much conforms to the design set out by John Buscema) it hasn't really earnt the right to be a shocking ending - surely everybody who knows who Doctor Doom is, already knows it must be him? Still, at least we've got all that out of the way now - let's hope the next issue is a bit better!
link to information about this issue
posted 15/3/2019 by MJ Hibbett
(click here for permanent link)
(0) comments
---
To The Death!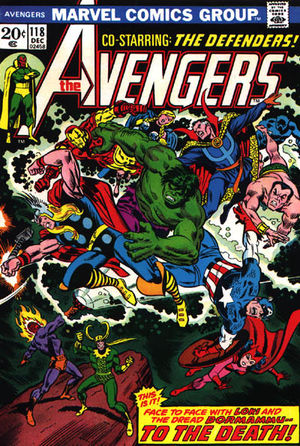 "This Is It!" says the cover, and it certainly is - the grand finale of The Avengers/Defenders War, the first ever big proper superhero crossover, where one story carried on for six months across two seperate series. It was a very big deal at the time, and set the tone for pretty much all of the big crossover series to come - you can see just how exciting it all is by this fantastic splash page: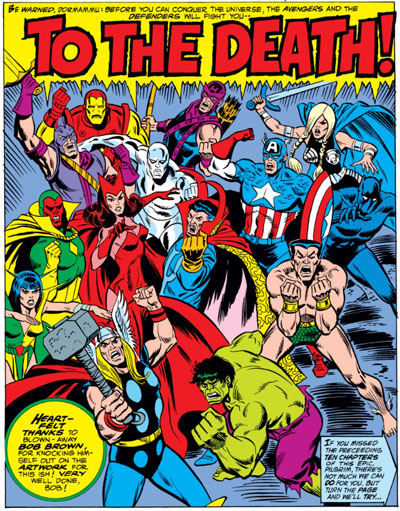 It's odd to think now just how revolutionary this was. There had been crossovers before, and of course one of the selling points of the Marvel Universe itself was that it was a single storyworld with characters that could wander into each other's stories, but this was the first time it had been done on quite this scale.
The story so far has seen the Avengers and Defenders being manipulated into fighting each other by Dread Dormannu, with the two teams coming together here for one big final battle against evil - you can tell it's a big deal because The Watcher turns up, and he hardly ever... all right, he pops up a lot, but still. All of earth comes under attack, which gives Steve Engelheart and Bob Brown an excuse to take a tour around the rest of the Marvel Universe of 1974.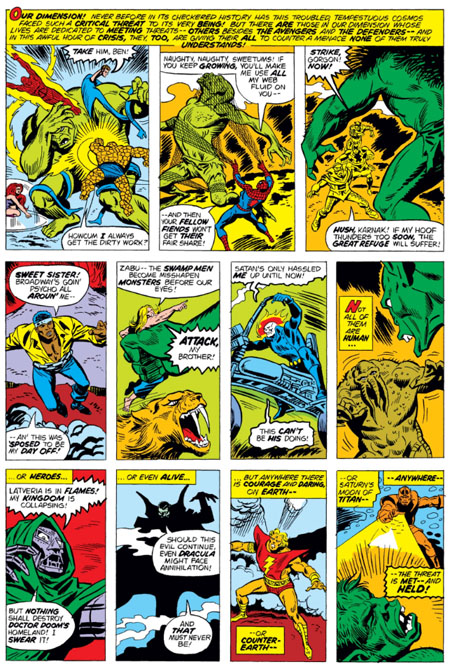 If you didn't know what year this was you would probably be able to guess from some of the heroes that we see fighting - Luke Cage, Ghost Rider, Swamp Thing and especially Dracula, during his heyday of Marvel publication. Doctor Doom is there too, of course, defending his country from attack, and we see again that although the story says he's not exactly a hero, he pretty much is here. He's not working for his own self-interest (except inasmuch as anyone trying to save the world is), and he's certainly not running away and hiding. He's defending his homeland, and his people, showing that he's once again the heroic defender of his subjects, rather than a deluded dictator. His inclusion in this montage also shows his continuing importance in the Marvel Universe, even at a time when he's being used much more for cameos like this, rather than in actual stories.
Having said all that, our next issue sees him returning to the comic of his birth, and also to the role of Absoluten Baddy, in 'The Fantastic Four'!
link to information about this issue
posted 8/3/2019 by MJ Hibbett
(click here for permanent link)
(0) comments
---
Mindstorm!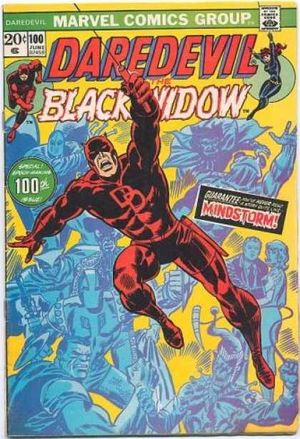 After all the excitement of the last couple of stories, this comic sees Doom back in the most fleeting of cameos, though one which continues the theme of him being the leader of villains.
The story sees Daredevil returning to San Francisco, his current base, in a borrowed Avengers Quinjet, bemoaning the trials of his love life. He sees trouble on the streets and leaps into action, finding himself (in a very Steve Gerber moment) fighting "an armed 'street theatre' group".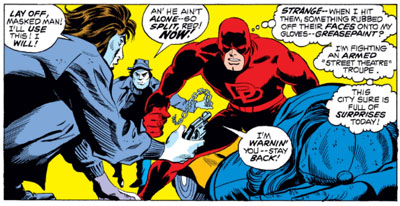 Once he's sorted that out Daredevil talks to the victim of the gang, none other than Rolling Stone Magazine's Jann Wenner!
Once again, this feels very Steve Gerber, with Daredevil popping into Rolling Stone's offices and marvelling at how groovy it all is, especially compared to his own lawyer's chambers. The only slight problem with all this is that the artist, Gene Colan, is not quite so up to date, choosing to illustrate the magazine's dedication to the counter-culture with... a poster showing John Lennon in his Sergeant Pepper days.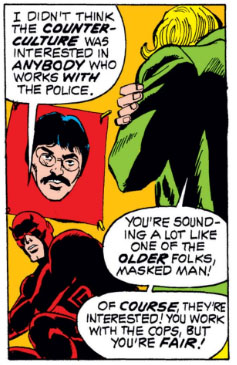 There's a brief interlude where Wenner interviews Daredevil and gets a re-cap of his origin and story so far (this is issue 100 after all), and then everything gets properly weird, as the entire city starts to freak out, apparently tripping and then forgetting about it not long after. Daredevil is the only one who seems to remember what's happening, and as he and Jan Wenner navigate "the cosmic giggle" they meet a succession of his old enemies.
This is where Doom comes in - after fighting off some of his own major villains Daredevil sees a whole crowd of them led, of course, by Doctor Doom.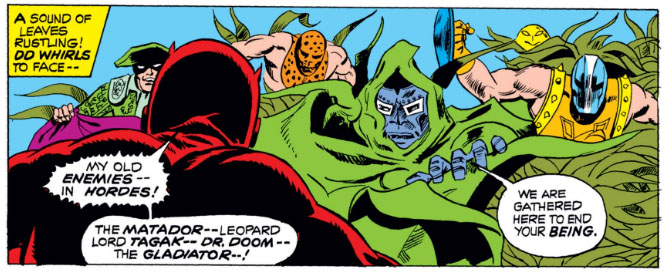 This use of Doom as a signifier of Super-Villainy originates in his appearances in 'Not Brand Echh' some years ago, where he was deployed to make clear that a crowd of super-villains was meant to represent Proper Baddies, rather than a collection of twits being used for a joke. Without Doom a crowd of villains could be, for instance, some losers going about normal business, or trying to pretend to be superheroes instead, but whenever Doom was leading them it would mean that the reader was supposed to accept that this was a terrifying grouping of evil, there to do proper supervillain business (even if this was undermined in the next panel to service a gag).
The really interesting thing about this is that it leaked out into the 'real' Marvel Universe, with Doom appearing more and more as the leader of these assembled groups, always demonstrating that This Is A Group Of Baddies. That's the case here, with Doom telling Daredevil they're here to witness his end - the fact that Doom is there, as stated above, shows that this is not just a get together of defeated enemies (which, given the loopiness of some of Daredevil's villains, it could well have been) but a coming together of supervillains for a special occasion. It's a hallucination, as a lot of these appearances tend to be, but that makes an even stronger case for Doom representing Super Villainy in the minds of the heroes.
That panel is Doom's only appearance, and Daredevil spends the rest of the issue trying to work out what's going on before coming face to face with another one of his, shall we say, less than terrifying villains, Angar The Screamer!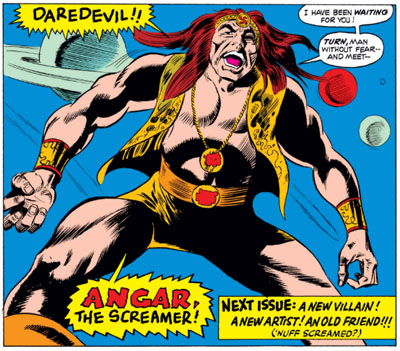 Sadly, we won't be finding out what happens, or what's causing the mass freakout of San Francisco - not on this blog at least - as we're off to visit The Avengers next for another cameo, this time in a much bigger story!
link to information about this issue
posted 1/3/2019 by MJ Hibbett
(click here for permanent link)
(0) comments
---
Where Angels Fear To Tread!
This issue carries on at the same furious pace as the last one, starting with Luke Cage fighting the entire Fantastic Four single-handed! He's gone to the Baxter Building to borrow a rocket, so he can fulfil the promise he made last time and go to Latveria to collect the money Doom owes him.
The Fantastic Four find the idea of anyone going to so much trouble to collect on a debt jolly amusing, which makes them an interesting contrast to the distinctly working class Luke Cage. To them, $200 is a negligible sum, but to a working man like him it's a lot. Also, there's the principle of the thing - he won't stand for being ripped off.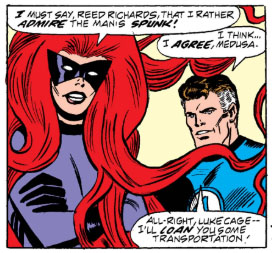 It's a neat bit of writing from Steve Engelheart which demonstrates how different Cage is from the first family of Marvel Comics, while also rather cleverly finding a way for the character to get over to the other side of the world.
As soon as Cage arrives in Latveria his ship is stopped by Doctor Doom's security systems, and a platoon of guards runs out, expecting to be fighting the Fantastic Four. When they discover just one man they find the whole thing hilarious.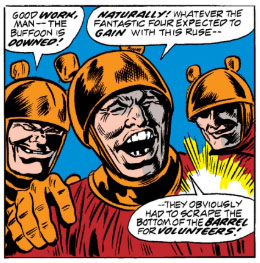 People laugh a lot at Cage in this story, and he never rises to the bait, fighting back with his fists rather than reacting to mockery. Having said that, he can hardly resist commenting on the guards' costumes, which have completed their journey from Kirby's original terrifying robots to their current status as something out of "a crackerjack's box".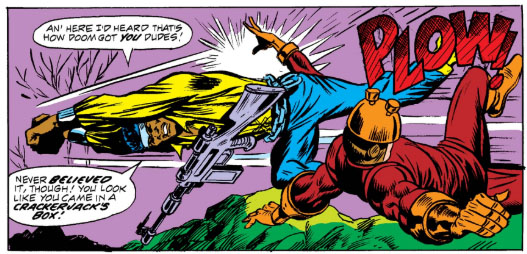 (for fellow non-Americans: it's a breakfast cereal that sometimes had free toys in the box)
Suddenly a bunch of robots appear, similar to the ones Cage fought last time, and start killing the guards. Cage follows the robots and discovers that their leader is a very familiar figure... at least to those of us who have been reading a lot of Doctor Doom comics.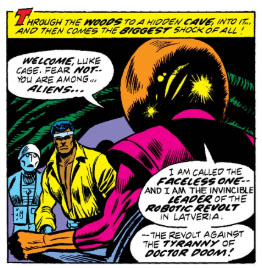 It's The Faceless One! The last time we saw him was way back in
Astonishing Tales #3
, which ended with him being "driven off by an earthquake." Back then he was trying to depose Doctor Doom by putting Prince Rudolfo on the throne, though it was never clear exactly why he was doing so. This time he has gathered an army of robot followers to try again, although his reasons remain as obscure as ever.
The Faceless One tries to persuade Cage to help him by comparing the robots' plight to slavery, but Cage is having none of it.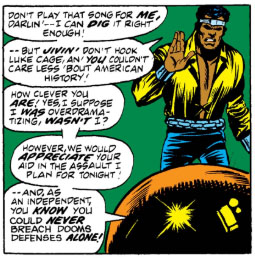 Once again, someone underestimates Cage's intelligence, and once again he immediately puts them right. He decides to help the robots invade the castle anyway, so that he can get to Doom, and George Tuska and Billy Graham kick off the attack with a fantastic panel.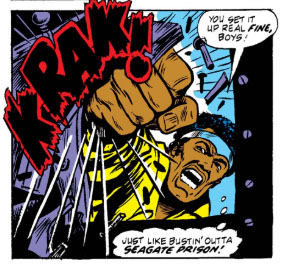 As the attack enters the castle Cage goes in search of Doom, who's relaxing on his throne. He says he's been expecting him, but is astonished to find out that this is not a scheme by Reed Richards, but a genuine attempt to force him to pay up.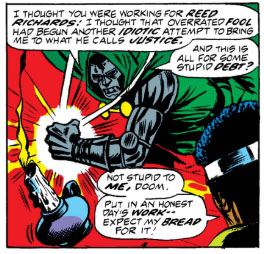 It's interesting that Doom, the arrogant supervillain, is not the first person to express disbelief at Cage's need to get paid. It's a running theme throughout the issue, as privileged white individuals (and, to be fair, a space alien too) laugh at the working class black man's demand to be treated fairly. This time it leads to a fantastic one-two panel.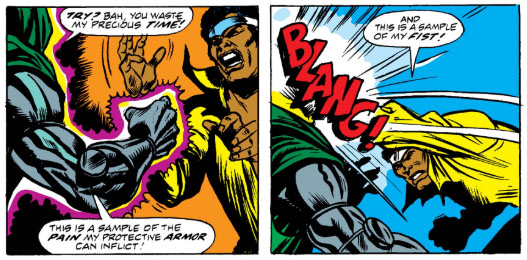 Is it me, or is this an inspiration for a much more famous sequence?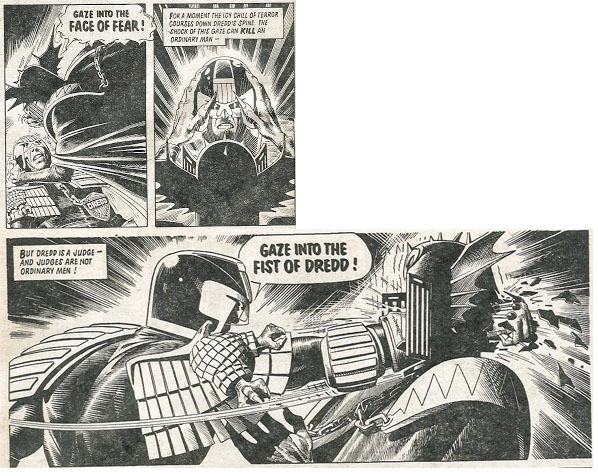 The two have a right proper punch-up, during which Cage hits on the secret weakness of Doom's armour - he has, in his own words, "forged my armor to withstand anything... except repeated stress on a solitary point!" This seems like a distinctly foolish error to make, and hardly fits in with Doom's usual forward thinking. It also gives The Faceless One the ideal opportunity assassinate Doom.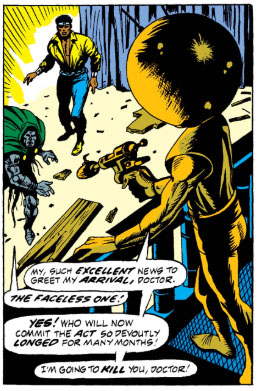 Doom leaps out of the way, giving Cage enough time to leap up onto the balcony and stop The Faceless One from trying again, because "murder's a gig I don't take kindly to." The Faceless One is forced to extract itself from its android body and flee again, off to goodness knows where without ever making it clear what it was trying to do in the first place. Doom demands that Cage follow him, but he quite rightly points out that he hasn't been paid for his first job yet.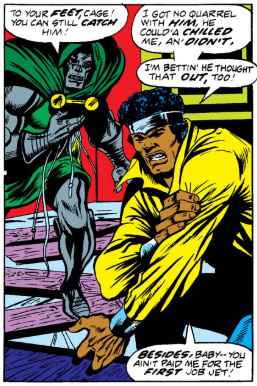 Doom find this absolutely hilarious, thanks him for saving his life, and duly pays up. This feels like a nice bit of characterisation, combining Doom's high-handed arrogance and superiority complex with a recognition of an honorouable individual, even though it does come off as massively patronising.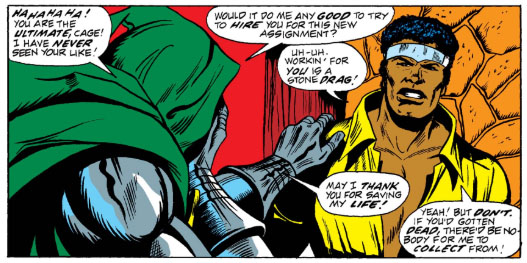 Cage heads off just as the robot rebellion enters Doom's inner sanctum, and it's only when he arrives back at the Baxter Building that we find out what happened, thanks to The Thing's newspaper.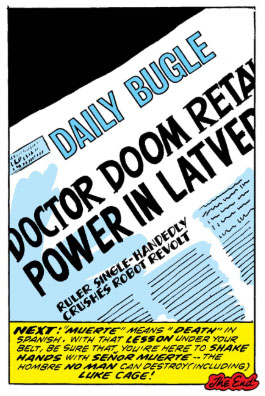 The newspaper is The Daily Bugle, which is of course the newspaper that Spider-Man works for. It's a nice touch which shows how rich the Marvel Universe has become, with it's own newspaper amongst many other aspects of the fictional storyworld. It's also a good end to a thoroughly enjoyable, frenetic, well-written and illustrated story that makes me want to read more Luke Cage!
Other things to note about this issue are the fact that Doom's armour is still very much on-brand with the John Buscema design, and that his character is also in line with the Roy Thomas/Gerry Conway version as an honourable man, with the only hint of Stan Lee's deluded dictator coming in the rather petty refusal to pay his debts. It feels like this is definitely the direction Doom is moving in.
Next up an extremely weird cameo, in the one hundredth issue of 'Daredevil'!
link to information about this issue
posted 22/2/2019 by MJ Hibbett
(click here for permanent link)
(0) comments
---
Crescendo!
This is a comic I've read about a few times over the years, as various commentators have used it as an example of how silly comics can be. Reading it for myself for the first time, however, I'm struck by how exciting, action-packed and characterful it is. Luke Cage is absolutely bloody furious throughout most of the two-part story, with good reason, and this makes everything rocket along at high speed. It's not silly at all, it's brilliant!
The story starts with Luke recapping the previous issue whilst trashing his own offices in frustration with how his life is going. He's interrupted by a flashy looking fellow who wants to offer him a job, but Cage is too wrapped up in his current worries to pay too much attention, and sets off instead to chase a suspect across the streets. Some of the dialogue is a little "of its time", with multiple racial stereotypes at play, but it's a great example of high-octane comics with little in the way of superpowers.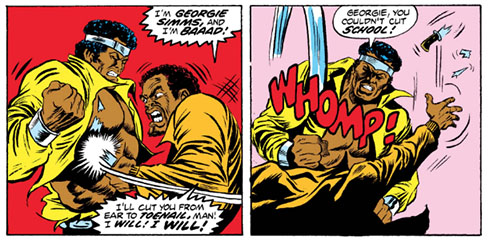 Eventually Luke loses his quarry, so he pops over to see his girlfriend, Claire Temple. Claire is a young, black, female doctor, which seems terribly modern, especially just a few years since the Fantastic Four were forever telling The Invisible Girl to get on with the washing up, although this is slightly let down by the fact that she immediately sews Luke's shirt up before hopping into bed with him.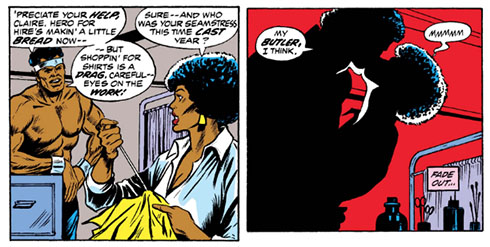 An hour later Luke is back on the street, where the mysterious well-dressed businessman from before returns to offer a lot of money to track some people down. Luke accepts the offer and very quickly finds the men he's after, who turn out to be robots!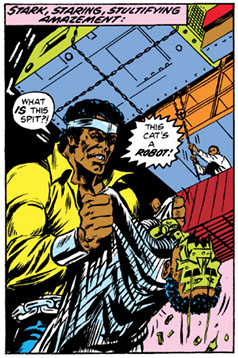 "What is this spit?" Is Luke in The Good Place?
The robots escape, so Luke tracks down his contact, who he discovers dressed in full military uniform at an embassy party. The embassy, of course, turns out to be Latveria's, and the host is none other than Doctor Doom!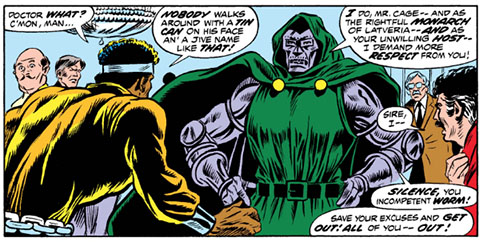 I do like the fact that Luke Cage refuses to believe that Doctor Doom is for real. It's a nice touch which reinforces the idea that Cage is a hero of the streets, with little do do with the traditional cosmic superheroics of the Marvel Universe. In a way he harks back to the early days of the storyworld, when aliens and robots weren't necessarily accepted as common occurrences.
Also notable here is that this version of Doom looks almost exactly the same as the pin-up by John Buscema from last time, with only his pistol pouch missing. His character is also in line with recent developments, taking care of his subjects while openly expressing his superiority to them, and talking to Cage with respect rather than derangement. It's also here that we find the most famous panel from this issue, with Doom lamenting the fact that nobody ever seems to emigrate to Latveria.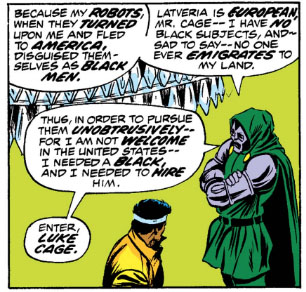 Cage heads off to find the robots again, leading to a gorgeous sequence where George Tuska and Billy Grahams get to depict a right old punch-up, with dialogue by Steve Engelheart which reminds me of early 2000AD stories.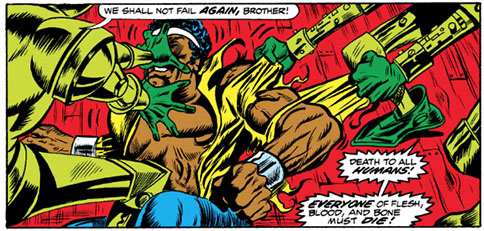 It's brilliant, funny, fluid storytelling that is miles away from the early days of Lee and Kirby, but very much in the same tradition of everyday worlds being invaded by the bizarre. This is underlined even further at the end of the story when Cage rushes back to the embassy to get paid, only to find that Doctor Doom has left without paying!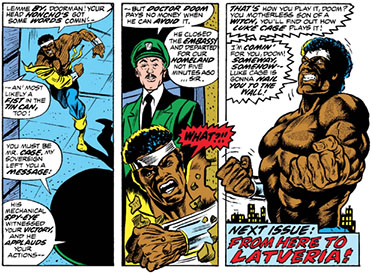 The only wrong note in this entire excellent comic is there at the end, when we're told that "Doctor Dooms pays no money when he can avoid it." This is not something we've ever seen before, and bears little relation to a character who's prepared to pour everything he's got into his latest inventions. I can see why it's there - to push us onto what happens in the next issue - but it sticks out as a wrong note in an otherwise thrilling issue. More please!
link to information about this issue
posted 15/2/2019 by MJ Hibbett
(click here for permanent link)
(0) comments
---
The Fabulous FF's Friends... and Foes!
This is yet another in a very long run of Doom appearances that don't feel like they should really 'count'.
This issue's story sees the Fantastic Four saving a local priest from the clutches of The Mole Man, who's kidnapped him to officiate at his marriage to Kala, Queen of The Netherworld. If this seems like a weird match, between the Officially Ugly Mole Man (it's part of his origin) and the beautiful Kala that's because, inevitably, Kala is simply playing the Mole Man, tricking him into marrying her so she can steal his subterranean kingdom and then cop off with the dreadful Tyrannus instead.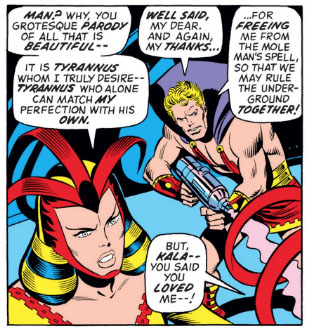 Tyrannus, frankly, seems like a dick. Mr Fantastic disguises himself as a Subterranean using his surprisingly little used ability to mold his facial features into a different shape so that he looks like somebody else. He also utilises some skin dye which he "thought might come in handy", which seems doubly odd given that he almost never uses this aspect of his superpower.
Anyway, the team manage to rescue the vicar while simultaneously saving the surface world from Kala's plan to destroy it with volcanoes, and the story ends with The Mole Man left alone once more. Poor old Mole Man!
Doctor Doom then appears in a 'pin-up' page by John Buscema, the first in a series called "The Fabulous FF's Friends... and Foes!"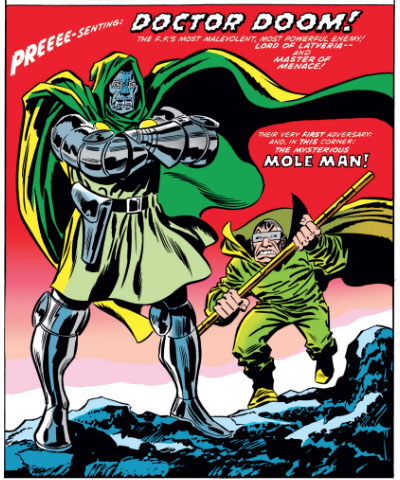 This image by John Buscema would be used again and again, in merchandising and in the comics themselves, as a template for Doom's overall design, defining how the character will look from now on. It does little things like stabilising the size of his bright yellow cloak clasps and formalising the design of his armour, especially the boots and gloves which have tended to change with different artists. It'll be interesting to see, the next time somebody other than Buscema draws him, whether they stick to this design.
Sadly for the Mole Man, although this image will be re-used again and again, he will always be cut out, like a quickly dumped ex in a family wedding photograph. Poor old Mole Man!
link to information about this issue
posted 8/2/2019 by MJ Hibbett
(click here for permanent link)
(0) comments
---
Destination: Nightmare!
Doctor Doom only appears in flashback in this issue, in which the writer Archie Goodwin leans heavily on an old episode of 'Star Trek' and a tiny aspect of an even older issue of 'The Fantastic Four'.
The story begins with Bruce Banner falling through 'the microverse' (which would later be called 'The Quantum Realm' in the Marvel movies) as an overdose of shrinking serum causes him to get smaller and smaller. This leads to some excitingly psychedelic scenes, with Banner bashing into actual planets on his way down.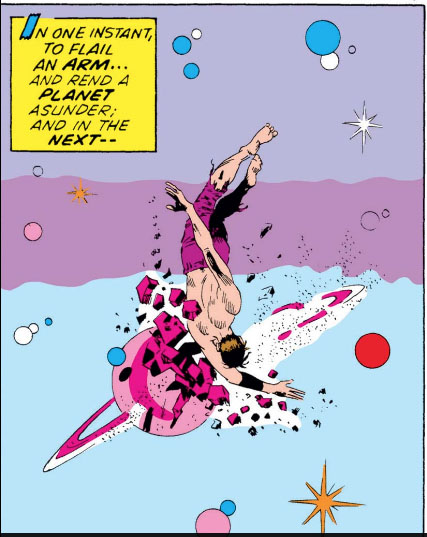 He eventually lands on a sidewalk, in a version of New York under attack from Nazi planes, and soon discovers that this is the world of The Shaper, a powerful being with the power to warp the world according to the dreams of those who live there. Sadly for the natives, their dreams were too dull, so when another "outworlder" arrived recently The Shaper latched onto his dreams instead, turning the planet into a version of Earth where the Nazis won World War 2.
This is quite similar to the
Patterns Of Force
episode of the original series of Star Trek, where a History Professor imposes a version of Nazism on another planet. The episode was first broadcast in 1968, and would have been repeated since, so it's not unlikely that Archie Goodwin was aware of it.
The link to Doctor Doom comes from the fact that the 'outworlder' is an escapee from Doctor Doom's payroll called Otto Kronsteig, who was used as a test subject for the shrinking ray that Doom employed against the Fantastic Four back in
Fantastic Four #10
.

That was only Doom's third appearance, 18 months before his origin story revealed that he was an Eastern Europe dictator as well as a supervillain, so Goodwin is toying with continuity here, filling in some previously unseen back story. However, he does so using the version of Doom seen in
Fantastic Four #86
, who is happy to consort with former Nazis, rather than the heroic freedom fighter he would later become. Indeed, Kronsteig looks very similar to the former Nazi Hauptmann who Doom would later kill in that storyline.

I wonder if perhaps Goodwin and/or Trimpe got confused about Doom's lackeys, and used the wrong Nazi? Either way, he is soon defeated by The Hulk, who is sent on his way through the Microverse by a penitent Shaper.
Doom's appearance here seems odd, like the definition of the character is retreating once more to the later Lee version rather than the more nuanced, sympathetic one that the likes of Gerry Conway and Roy Thomas have been introducing. It'll be interesting to see which version turns up next!
link to information about this issue
posted 6/2/2019 by MJ Hibbett
(click here for permanent link)
(0) comments
---
A Pulse-Pounding Publication
In a break from our advertised programme, I'm very happy to say that my first Doom-related academic publication is now available to view online!
The paper is called 'In Search of Doom. Tracking a Wandering Character Through Data' and it's available in the current issue (#29) of
IMAGE: The Journal of Interdisciplinary Image Science
. It's a discussion of the methods I used to generate the corpus of texts for this project, and as well as the usual help I got from my supervisors, Roger Sabin and Ian Horton, I also had a HUGE amount of advice and editing from Lukas Wilde, who ran the original conference where this was first presented.
I hope it's of interest - next time, back to the actual comics!
posted 5/2/2019 by MJ Hibbett
(click here for permanent link)
(0) comments
---
The Way It Began!
Doctor Doom's first appearance in this new era of the Marvel Age is a very minor one, although the story he appears in is an interesting one.
He appears right at the start, in a splash page which seems to show him murdering Sue Richards.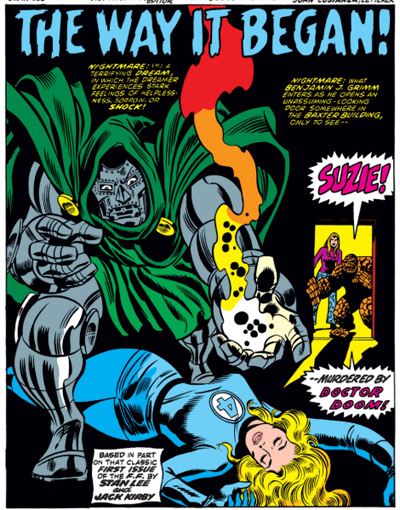 However, when The Thing tries to help it turns out to just be a hologram, generated by Reed Richards using his new improved Thought Projector Helmet. Apparently the best way to test it was to think of the most repulsive thing he could imagine, which was Doom killing his wife. The Thing, quite rightly, points out that this is a bit of a strange way to go about research.
That's all there is of Doom, with the rest of the issue seeing The Thing and Human Torch use the Thought Projector Helmet to re-tell the events of their first issue, including their origin and first adventure with The Mole Man. Re-telling a superhero's origin story is almost obligatory for a new creative team, re-working it, or focusing on different aspects, as a declaration of intent for how they intend to write and/or illustrate the series. Here Roy Thomas re-uses much of the dialogue from the original story, while John Buscema re-draws the characters to be much more in line with their current looks. This is not unusual, but does lead to one weird moment when the Thing recalls his original, more monster-like design.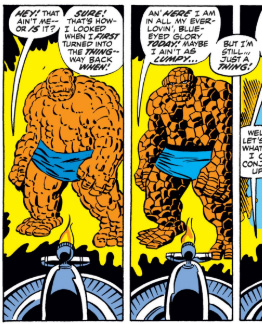 A few pages later, Buscema draws Ben Grimm transferring into the more rocky figure that had become familiar in recent years.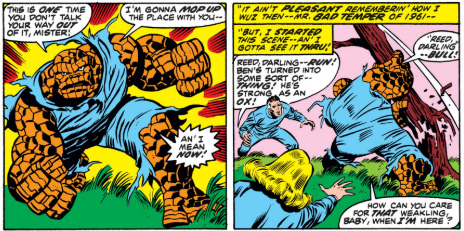 Future revisions of the Fantastic Four's origins would keep the original, lumpy, version of The Thing as part of the story, with John Byrne even reverting the character to this original look for a while, but here it's introduced only to be ignored a few pages later.
Otherwise it's a straightforward re-telling which seems to be there primarily to acknowledge what has gone before, possibly to reassure long-term readers that this is the same story they've enjoyed before, even if the original creators are now gone. The 'Stan's Soapbox' section of 'Bullpen Bulletins' in this issue takes up almost a full page, as Stan Lee explains to readers that's he's handing over Marvel's editorial reins to Roy Thomas so he can go off in search of new markets for their characters. With that in mind it's not surprising that Roy Thomas chose to include Doom. As a central part of The Fantastic Four it wouldn't really be a new starting point without him, but it would be quite a while before he returned to his 'home' series in an actual story.
link to information about this issue
posted 1/2/2019 by MJ Hibbett
(click here for permanent link)
(0) comments
---
The End Of The Beginning
As mentioned last time, we've now reached something of a milestone in this blog. Up until now everything discussed has been under Stan Lee's stewardship as Editor-In-Chief, whereas what comes next is a chaotic few years during which five different people fill the role, before Jim Shooter comes on board and changes everything around again.
In my PhD thesis (which is the driving force behind this very blog) I go into quite a lot of detail about why this changeover matters. The general idea is that it marks a shift between what I call the "creation" phase of The Marvel Age, during which most of what we understand as "Marvel comics" is created by a small group of, largely, middle-aged men, to a "chaos" phase during which a new generation of, for the most part, much younger men take over. Its a changing of viewpoint too, from a group who learned their trade during the so-called Golden Age of comics, to a very different group who emerged from comics fandom, who take the very idea of superhero comics a lot more seriously.
That's the theory anyway - whether it actually has any effect on the comics is something we'll find out over the next several months. In the meantime though I think it's worth pausing to look at where we are so far. The blog began just over a year ago with a look at
Doctor Doom's first appearance
as baddy-of-the-month, but he very quickly developed into something much more, with the key change being his origin story in
Fantastic Four Annual #2
, which saw him develop as more of an anti-hero, with his own complex motivations and, usually, the sympathy of the audience.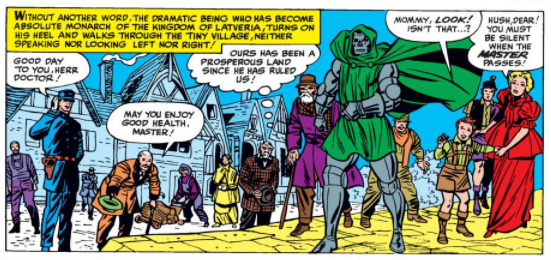 The key signifiers of Doom's history and appearance were pretty much set in stone then, to the extent that he could be used almost exclusively in 'Not Brand Echh' as a figure of fun, before returning to the main Marvel universe with his reputation and character intact.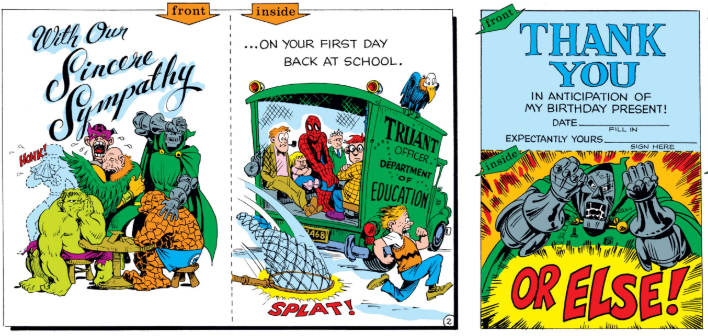 Doom's appearance and origin were so set in stone that they've remained more or less the same until the present day, but his character continued to develop. Stan Lee gradually steered him towards becoming a semi-satire on East European dictators, becoming more outright villainous, and more ready to believe his own publicity.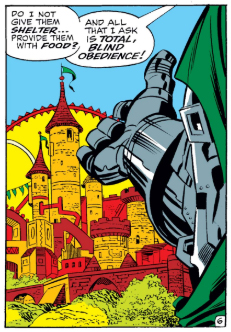 However, whenother writers such as Roy Thomas and Gerry Conway started to use Doom they moved him back towards the tragic anti-hero, acting with his own idea of honour and doing what he believed had to be done to the good of all (which admittedly tended to involve him ruling the world). These two versions of the character existed side by side for some time, with Stan Lee's version becoming more evil while others brought in characters like Valeria and Igor to shed light on his personality.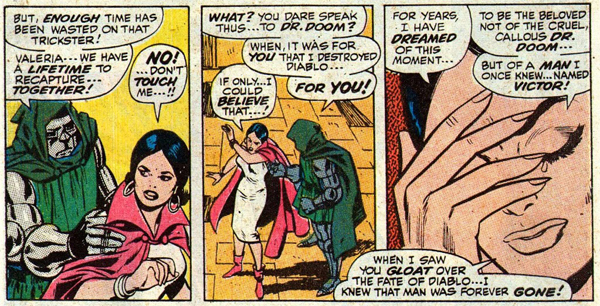 Archie Goodwin seemed to recognise this during Doom's
final appearance in The Fantastic Four
during this period, having Sue Richards accuse Doom of forgetting his honourable roots.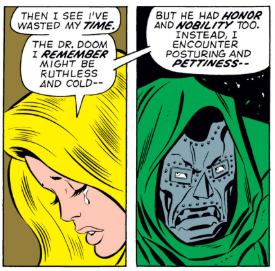 And of course, throughout this time Doom ventured out into other media, appearing wherever the Fantastic Four did and in other places beside. It seems that he was such a well-defined, portable character that he was the first choice for use as a villain not just in comics but elsewhere too.
The next six years will see Doom travel even further across the Marvel Universe, appearing in most of their regular titles as well as on albums, radio, television, and even meeting the band Kiss. I'm really looking forward to seeing what happens, and hope you'll be along for the ride with me!
posted 29/1/2019 by MJ Hibbett
(click here for permanent link)
(0) comments
---
The Return Of The Monster
The most fleeting of Doom appearances in this issue, as The Thing and Human Torch struggle to work out whether they've met that month's baddy before.
It's a problem I'm surprised they don't have more often - they do meet a
lot
of monsters - and they attempt to solve it by using a projector screen like a science-fiction 1970s version of Tindr, swiping through to find the monster they're looking for.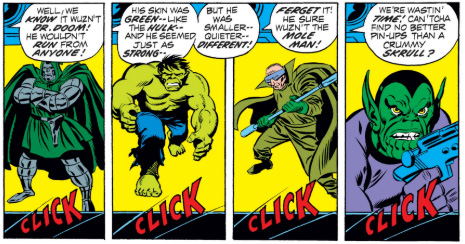 I have to agree with The Thing's opinion here - surely they can at least filter the results somehow - but they do eventually work out who it is they're facing, and Doctor Doom plays no real part in the story whatsoever. This is right at the end of Stan Lee's run on the title, and isn't what you'd call a classic story, so maybe this is him remining readers of some of the great characters he's co-created in the past, before his final story in the next issue.
Talking of which, this is a low-key milestone in Doom's history, as it's the last time he'll appear in the first stage of The Marvel Age - what I'm calling the "Creation" period. In a couple of months' time Stan Lee will have stepped down as Editor-In-Chief and Roy Thomas will (briefly) take over, kicking off a tumultuous few years that I'm calling the "Chaos" period, before Jim Shooter rolls in at the end of the decade and changes things all over again. For that reason, the next blog will be a very special, no-specific-issue, edition, when we'll look at how far we've come since Doom first appeared. See you then!
link to information about this issue
posted 25/1/2019 by MJ Hibbett
(click here for permanent link)
(0) comments
---
The Dreamstone
This third and final part of the Namor/Doom team-up picks up exactly where the last one ended, with Namor being attacjed by Modok's army of androids. It turns out not to have been much of a cliffhanger, however, as he beats them easily, only falling when Modok steps into the battle and zaps him with a deadly Mindblast. Why he couldn't have done this to start with I don't know - let the world tremble should I ever become a super-villain, for LO! I would be much better organised!
When Doom wakes up Modok tells him he's captured Namor, and summons him for a meeting to discuss terms. Doom goes and, along the way, indulges in some more self-reflection, wondering why it is that he is acting to save Namor.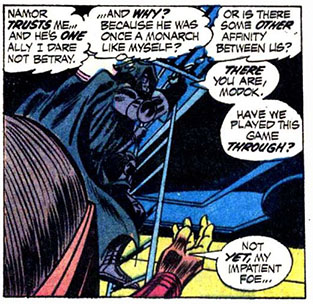 Could they be... friends?!? When Modok mocks him for coming, Doom replies that he has done so because he is a man, "and men have feelings... and yes, have loyalty!" Again, this is most unlike the Doom of old but very much in tune with the tortured character that Conway is now writing him as. Previously Doom would have denied any such perceived weakness and claimed he was only acting out of devious self-interest, but here he's proud of his emotions.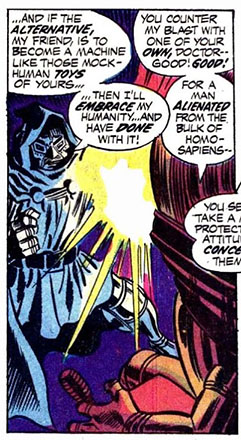 There's another big fight, which expands out to Doom's ship, where his delightfully normally-named henchmen wonder what's happened to that twit Kenner while they launch an attack on the AIM base. Meanwhile Namor manages to trick some androids into giving him a tube of water, which he splashes all over himself to revive his superpowers. I must admit I've always found Namor to be a bit of a rubbish superhero - his secret weakness is getting dehydrated, but he can be easily revived by a tap - but it does lead to a rather brilliant Gene Colan illustration of him bursting out of his chains.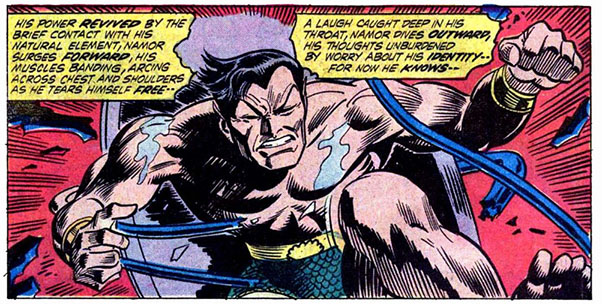 Namor heads off to a radioactive chamber where he discovers the Cosmic Cube in a handily labelled container, not unlike the sort of thing you'd see on the Batman TV show.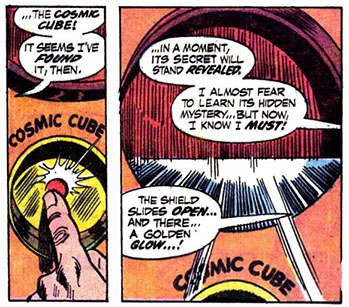 The container opens and Namor sees something horrific, but we don't find out what it is because we briefly flip over to catch up with Cindy Jones. She's decided to try and escape, and is doing so by... er... flashing some leg.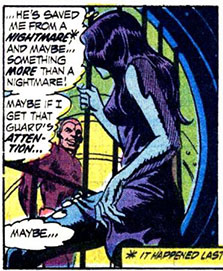 The guard seems utterly delighted by this turn of events, which is a bit odd bearing in mind that the last guard who took a lewd interest in Cindy was instantly executed by his employer. Perhaps he feels safe because Doom is out of the office, in Modok's control room getting into a proper Big Supervillain Fight, during which he proudly talks about his root to power as a demonstration of his unwillingness to give in.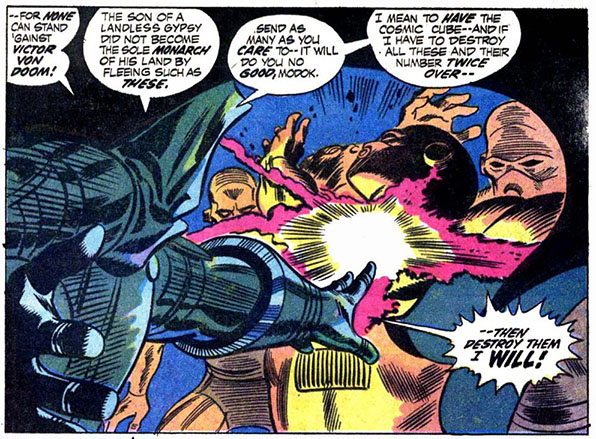 This is yet another example of Conway writing Doom differently to recent portrayals, harking back to the idea that he's a working class revolutionary, as used so effectively in his earlier appearances. Doom beats Modok only to discover that it was a robot all along, with Modok watching via TV screen. Using a robot while watching the action on a TV set? Modok is totally ripping off Doctor Doom, as well as being unforgiveably snobbish!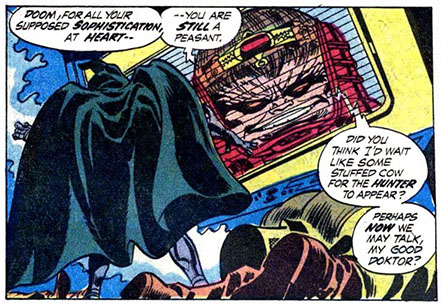 Doom ignores this and goes in search of the cube, along the way revealing his true purpose - he wants to use the Cosmic Cube to cure his facial disfigurement, so that he can be the man he once was and be at peace!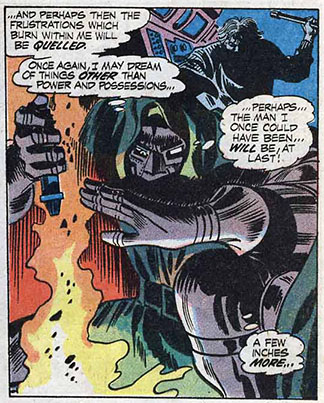 I keep saying that this is a very different version of Doom from what we've seen lately, because it is. This is a Doom back to the nuanced, sympathetic, properly motivated character of the origin and mid-sixties, rather than the deranged dictator of more recent times, and I have to say I prefer it. Unfortunately though, before he can get the cube, the long-running sub-plot about the minion called Kenner comes back, as he is discovered to be an assassin placed on the ship in order to get closer to the Sub-Mariner and kill him. He surprises Doom and knocks him unconscious, but we don't find out who has sent him here, or how he knew that Doom and Namor would be teaming up, as he immediately becomes entranced by the Cosmic Cube and destroyed by it.
Doom is left beside the glowing cube, moments away from destruction, but is rescued by Cindy - she was let out of her cage by a randy guard who gets a well-deserved bonk on the head with a spanner for his troubles. She drags Doom away from the radioactive cube, only for him to try to fight his way back towards it when he wakes up. It's only when Namor turns up and tell him it's a bad idea that Doom is persuaded to leave it be, and even then he has to pause a moment to think about what might have been.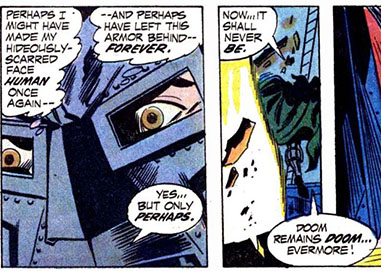 They escape into Doom's ship just in time to fly away as the cube explodes, taking the whole base with it and, presumably, irradiating the ocean for miles around. We next see the trio in New Orleans, saying goodbye. Doom tells Namor what he knows about the plot by Kenner to kill him, and then disappears into the mist, saying "you've gained a friend."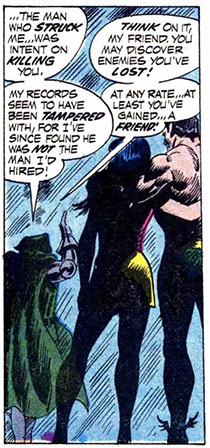 And there the issue, and the story, comes to an end. As so often happens, Doom has more or less taken over another character's book and been by far the most interesting part of it, especially now that Gerry Conway is trying to return him to his tortured roots. It'll be interesting to see whether this characterisation sticks!
link to information about this issue
posted 23/1/2019 by MJ Hibbett
(click here for permanent link)
(0) comments
---
Twlight Of The Hunted!
This story starts with Doom and Namor stepping out in New Orleans near the site of the supposedly abandoned AIM base they were heading for last time, and almost immediately getting into an argument. Doom says that Namor's friend Cindy Jones should not accompany them, while Namor insists she should. When Cindy herself suggests she could head into New Orleans herself the Sub-Mariner ignores her and flies off in a huff, zooming away out of earshot before Doom has a chance to talk about it it.
A willingness to negotiate and think of others is unusual for Doom, to the extent that one of his henchmen, Franklin, remarks upon it as he's sent off to watch over Namor.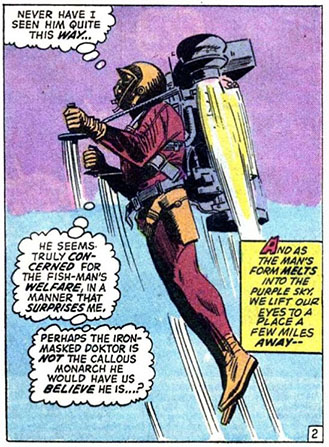 There'll be more of this this sort of thing throughout the story, as well as more henchmen with names that sound like they work for a bank. Before that, however, we follow Namor to New Orleans, where he has decided to return Cindy for safekeeping after all. Franklin watches as they enter Cindy's old home, which appears to be a commune ruled over by a startlingly realistic pusher called 'Brother Johnny'.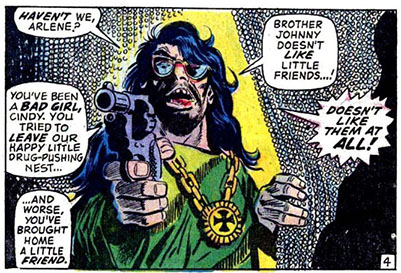 There's a big fight, during which Franklin kidnaps/rescues Cindy and Namor is knocked unconscious, only to be awoken by police and thrown into another fight. At this point Doctor Doom appears to rescue his friend, much to the relief of the local cops who suggest that he takes Namor away to save them some paperwork.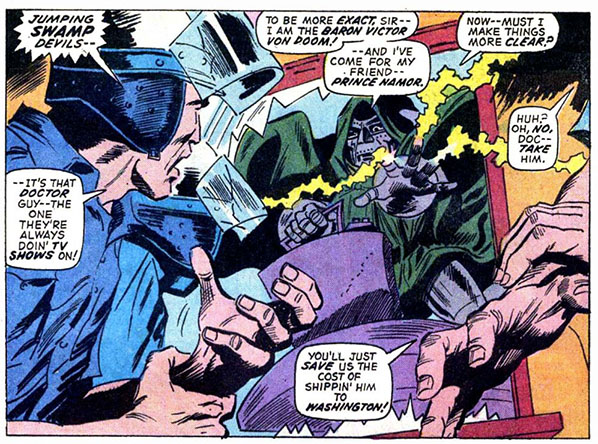 Doom tells Namor that Cindy is his prisoner, and that he must do exactly as he is told to secure her safety. Namor agrees and is soon being dropped off closer to the base, while Doom indulges in some self-reflection.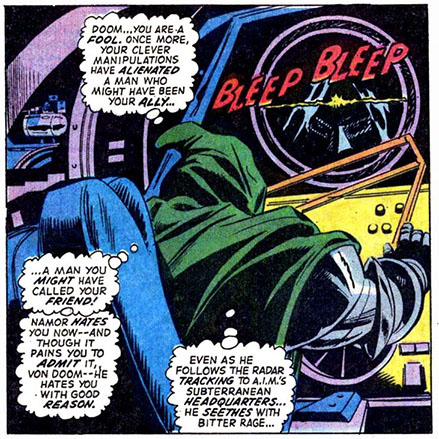 This is distinctly unlike the Doom we have come to know, although not entirely out of character. We very rarely get to hear Doom's thoughts, so it's quite possible that, for instance, he's been remonstrating with himself on a regular basis while simultaneously acting like, well, Doctor Doom. Here, for instance, in the recent
Incredible Hulk #144
, could he really be thinking "I've messed this up so badly with Valeria, please don't leave me alone so I have to talk to her"?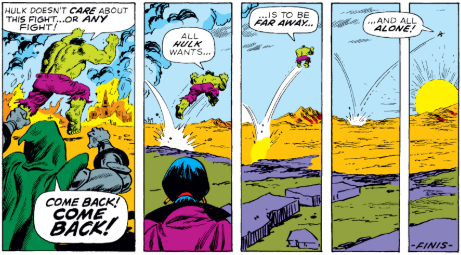 Or maybe in the classic
The Power And The Pride
, rather than being supremely arrogant, is Doom really desperately hoping that people will like him?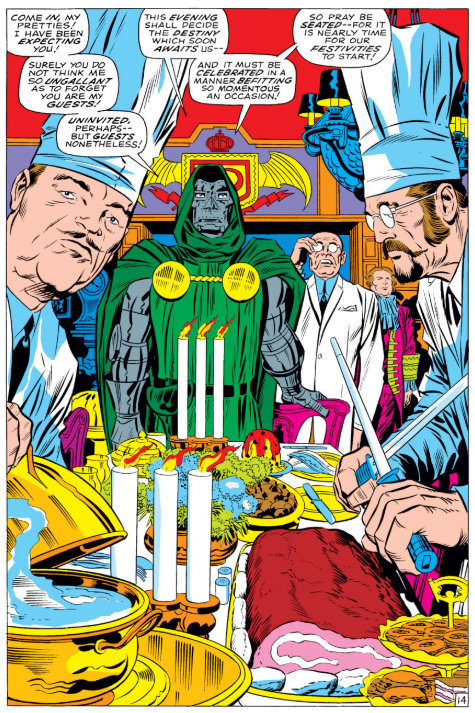 All right, maybe not, but it's an interesting way to look at the character, possibly reflecting the inner workings of Gerry Conwway who is, after all, only 19 years old and so (if he's anything like most teenagers I've known or indeed been) he's probably plagued with very similar self-doubt.
Back in the comic, Doom's introspection is cut short here by a signal from his bank of machinery which jolts him back to his normal self, although we only see his spoken words, so beneath the bluster he may still be riven with doubt.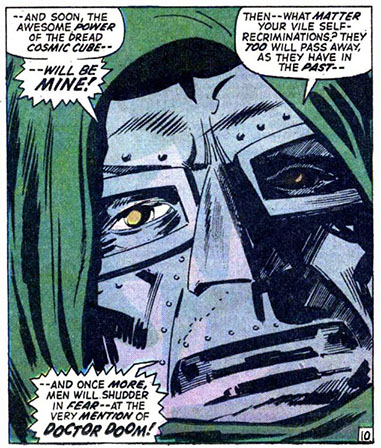 The ship dives into the sea, becoming a submarine, and we see a bunch of henchmen busy at work. One of them asks his chum Orson if he's seen another colleague called Kenner lately, who was sent off to get some coffee and never came back. It's all very office-like, and entirely unlike the East European thugs we've become used to seeing in Doom's employ - a fact that will pay off a bit later.
Meanwhile Namor is swimming towards the base, fighting automatic defences on the way. Similar defences shoot at Doom's ship, but despite this Doom remains sure that Modok is dead. There's then a brief interlude during which Modok watches his enemies approach and reminisces about how he survived - he had a secret underground railway and robot army ready, just in case he was ever caught in a collapsing building, which is only sensible if you happen to be a supervillain living in the Marvel universe - before we return to Doom's ship, where Cindy Jones is being visited by the office creep.
Luckily for Cindy, but less so for Wilson (another very American name, along with Orson, Kenner and Franklin), his boss Doctor Doom turns up and flat out kills him. Cindy, oddly, tries to excuse Orson's behaviour, saying "he was only.." before Doom cuts her off, saying he has no time whatsoever for that sort of behaviour. It's another example of Doom being shown in a good light, clamping down on sexual harrassment in the workplace, even if some would argue that his methods are perhaps a little harsh. The message is clear though: even world-conquering dictators disapprove of sexual harassment.
The issue ends with Namor fighting his way into the base, only to discover Modok waiting for him (as we all knew he was, so again the big surprise splash isn't much of a surprise). A bigger surprise, perhaps, is the revelation that the "weapon" Doom had come here to steal is actually... a Cosmic Cube! This is a McGuffin capable of changing reality and giving the user power over reality itself, as well as being utterly meaningless to anyone who hasn't read Marvel comics much. Ending with this reveal as the cliff-hanger demonstrates how much Marvel was relying on its readers having an in-depth knowledge of the storyworld during this period, and hopefully it'll work here in the 21st Century to bring you back next time to see how the story concludes!
link to information about this issue
posted 18/1/2019 by MJ Hibbett
(click here for permanent link)
(0) comments
---
Doomsmasque
This issue features the 'dream team' (according to me anyway) of Gerry Conway and Gene Colan, with a story titled 'Doomsmasque' as opposed to the 'Deathmasque' promised at the end of
Astonishing Tales #8
. Clearly Gerry Conway was quite pleased with the word 'masque', even going so far to define it for the readers on the splash page!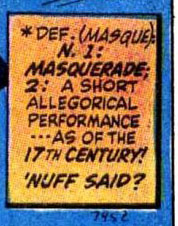 I didn't realise before, but Conway was only around 19 years old when he wrote that (rather brilliant) story, and by the time this issue rolled around he was working regularly for Marvel across all their titles as one of the wave of new creators who came in during this period. His work here is very much in the Stan Lee style, though concentrating a lot more on the florid descriptions and 'Shakespearean' dialogue than humour for the most part.
The story starts off with Prince Namor on a train, having lost his memory after the shock of seeing his father die in his arms in the previous issue. After fighting off some hoboes he jumps off the train in Chicago and is almost shot by a policeman, only saved by a cloaked figure dissolving the cop's gun before he can fire. Whoever could it be?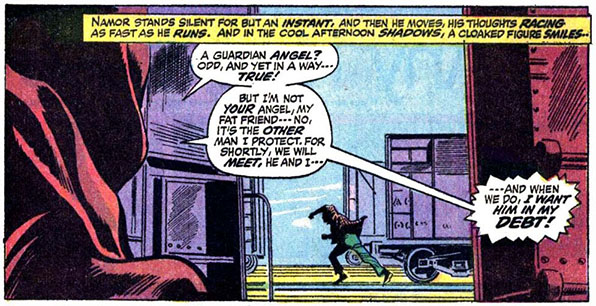 Namor then meets a girl, Cindy Jones, who takes him into her house. They're sitting having a chat and a mildly flirty coffee when there's a knock at the door. Namor answers it to find -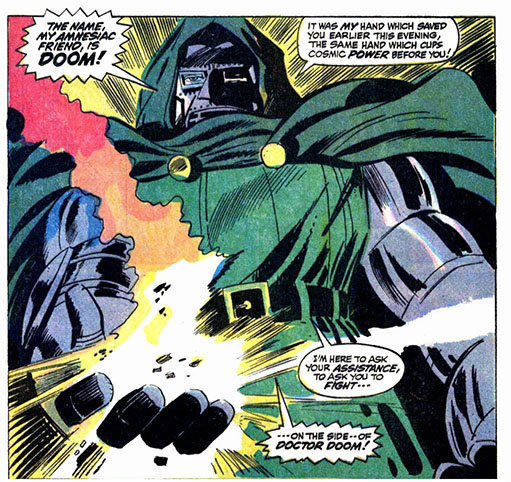 Doctor Doom! The surprise is a little diminished by the fact that he was on the cover and in the story's title, but still, it jogs Namor's memory, reminding him of all the other times they have met.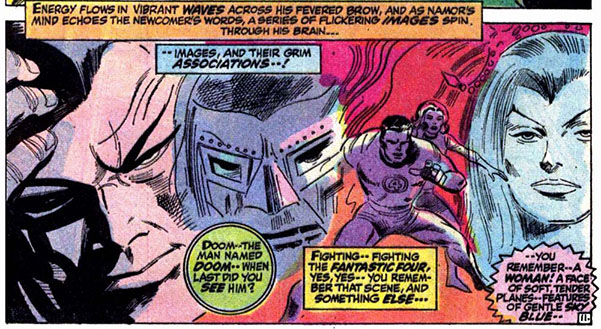 This also reminds Namor of the recent death of his bride Dorma, sending him into a furious rage. He attacks Doom who fights back, but only gently, preferring not to hurt Namor as he needs him alive for whatever plan it is he's working on this time. This is a much calmer, considered Doom than we've seen in the most recent Stan Lee stories, who flies into a rage at the merest perceived slight, as is especially apprent when he decides to allow Namor to throw him around a bit to work off some anger, through the wall into the next door apartment.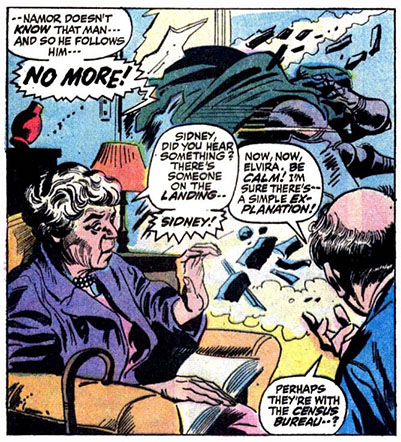 This is a lovely sequence very much in the early Marvel tradition of mixing the everyday in with superhero antics, featuring Doom setting fire to the elderly couple's sofa and then quickly putting it out again to prevent any further damage (apart from the wall, obviously, and soon the window). Again, we see Doom expressing consideration for others, even if he does insist that it's all to preserve his reputation rather than any deeper feeling.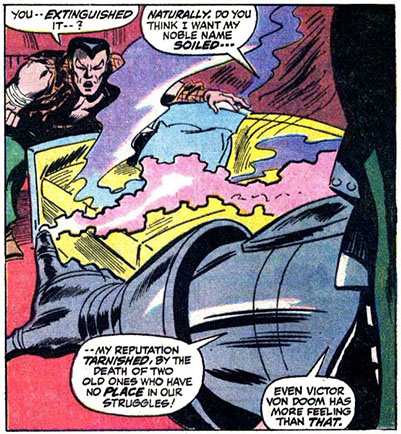 Namor disagrees with even this level of professed feeling, saying "you but
masquerade
as a man," using a word which, thanks to the definition at the start of the issue, we all know the meaning of.
They fall through the window and out onto the street for more fighting, at which point Cindy Jones appears and begs them to stop. Doom invites Namor back to the Latverian Embassy - although surely, with Chicago not being the capital, this should be the Latverian consulate - and invites him to team-up again by telling a heavily doctored version of their history together which carefully avoids tricky subjects like betrayals and double-crosses.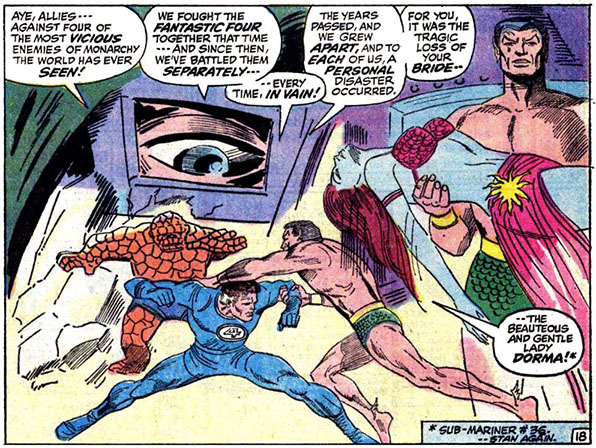 Namor agrees and the pair of them, along with Cindy, hop into Doom's jet and head off for an abandoned AIM (Advanced Idea Mechanics) base, where Doom hopes to find a "most fantastic weapon". After avoiding some automatic defences, Doom ponders the fact that he might not be attempting this at all if he wasn't convinced that Modok, the leader of AIM, was dead.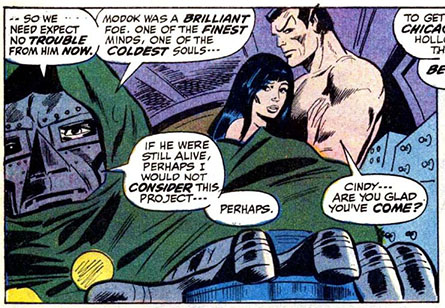 This being comics we instantly know that Modok must therefore definitely be alive, and the issue concludes with the giant-headed baddy laughing at Doom's mistake and looking forward to fighting him again. But how did Doom get it so wrong? I am comvinced that we will not find out next time!
link to information about this issue
posted 16/1/2019 by MJ Hibbett
(click here for permanent link)
(0) comments
---
Back To The Sixties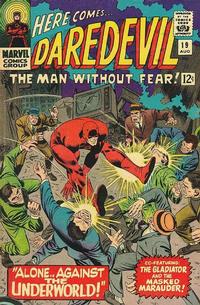 We start the new year with a flashback to the sixties, and an example of the big problems that crop up trying to use databases created by fans in this sort of research.
According to my database, which was compiled from
several fan-built databases
, the next issue to look at in the run of Doom's appearances is
Marvel Superheroes #31
. However, a quick look at this issue shows that it's in fact a reprint of several older stories, including a Stan Lee/Steve Ditko 'Tales To Astonish', an Iron Man from 1967 and, most relevant to us here,
Daredevil #19
from 1965.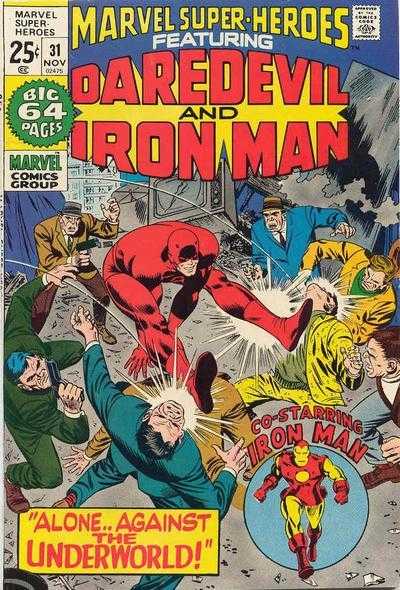 As I say, I used several databases as sources for my 'corpus' of comics, but not a single one of them mentioned Daredevil #19 as having a Doom appearance. Admittedly that's probably because it's barely an appearance at all. Daredevil is on the run from some Hoods (or possibly Goons) and makes his way through a costume store, where he sees some display waxworks in familiar outfits.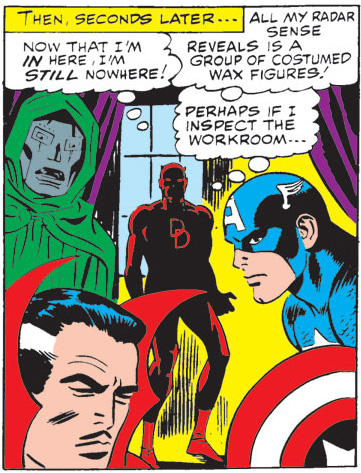 It would be very easy to argue that the original story was not included anywhere because it's just a dummy in a phoney costume and not technically a Doom appearance at all, , but i that case it shouldn't have been included in the listing for the reprint either. The whole thing is a good example of how the lack of strict guidelines about what counts as a 'real' appearance by a character produces multiple discrepancies between databases and indeed within the same databases, and shows why data cleaning (because that's what it is!) is vital for any analysis of them.
It's also a shame that I didn't discover this in the right chronological order, as it's an interesting use of Doom, or the appearance of Doom, at an early stage of the Marvel Universe. This was only his third appearance outside of his native series, 'Fantastic Four', and the fact that he's included in the panel without comment, alongside the much more well known Captain America, in a series that he's never been in before, shows how Marvel readers were expected to know what was going on elsewhere. In a way it's a harbinger of his use in 'Not Brand Echh' too.
Still, it gives me a chance to have a bit of a moan about the logistical problems inherent in this process before we get into the main business again, which we'll do next time as Doctor Doom once more meets Namor, The Sub-mariner!
link to information about this issue
posted 11/1/2019 by MJ Hibbett
(click here for permanent link)
(0) comments
---
The Alien, The Ally, And... Armageddon!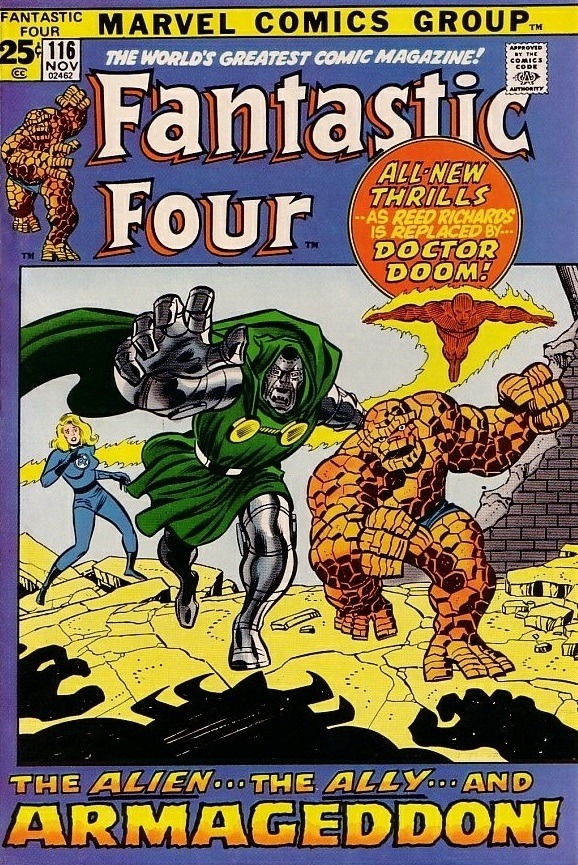 Doom hasn't been seen in The Fantastic Four for over two years, apart from the brief appearance of an android duplicate in Fantastic Four #100, but here he finally returns to his home title, after much wandering across the Marvel Universe, for a story which brings the full range of his character developments into sharp focus.
Reed Richards has been kidnapped and mind-controlled by a being called The Overmind, last of the Eternals. The Thing and The Human Torch set out to find him, eventually discovering Reed fighting back against his kidnapper. The pair try to help but get thoroughly beaten, leaving The Invisible Girl to turn up and discover, to her horror, that her husband is completely in thrall to the alien villain. She heads off to look for help from other superheroes, only to find that they're all otherwise engaged or out of contact.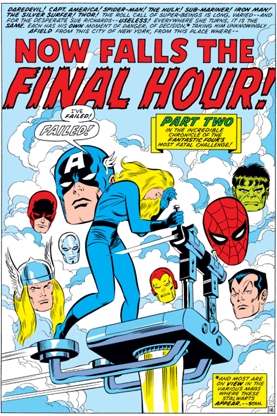 Apart from showcasing the breadth of the Marvel storyworld, and suggesting that interested readers can find out exactly what the other heroes are up to by buying their associated books, this also answers the constant question asked by fans: why don't superheroes ask each other for help when they face a bigger than usual threat? Turns out they do, but everybody's always busy!
Wracked with despair, Sue pauses her hoverbike on a rocky shore, where she sees a vision of Agatha Harkness, Spooky Nanny to her son Franklin, who suggests another candidate via the medium of Spooky Vision.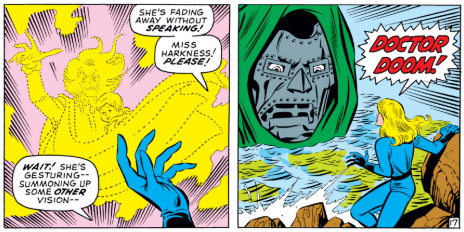 Doctor Doom! Sue thinks about it for a moment and decides to give it a go, heading off to the Latverian Embassy (where Doom always seems to be at home, when not in his own stories). On arrival two goons refuse to let her in, so she jumps through the window to find Doctor Doom... vaping?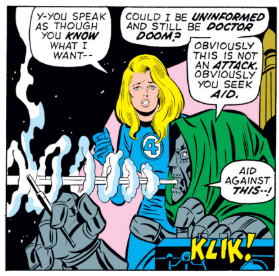 She asks him to help them fight the Overmind but he refuses, saying his only regret is that someone else is destroying the Fantastic Four. Sue then says something that cuts Doom to the quick and, perhaps, speaks to any readers who've been following his development over recent years.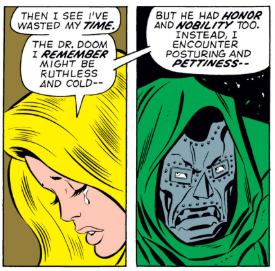 Could this be a recognition, in the text itself, of how Doom's character has changed, especially when appearing as guests in other character's series? We've seen hints of his complex, tortured character when he's been in the lead role of his own stories, but otherwise he has very much put aside the honour and nobility shown in his origin story, in favour of posturing and pettiness.
As ever, Doom's pride gets the better of him, and he agrees to help, setting off with Sue to discover Ben and Johnny lying unconscious, utterly defeated. When they wake up to see Doom standing over them they spring into action, and are shocked when Sue tells them what's really going on.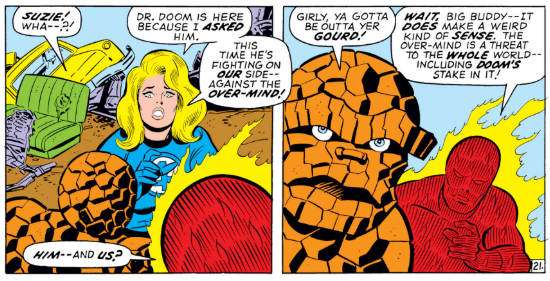 They reluctantly agree to fight alongside him, and return to battle. Doom works out a strategy which the others follow and, rather brilliantly, it totally works, until the possessed Reed Richards returns and takes Sue out of action. This leaves Doom to fight alone, unprotected by her force field, refusing to give in.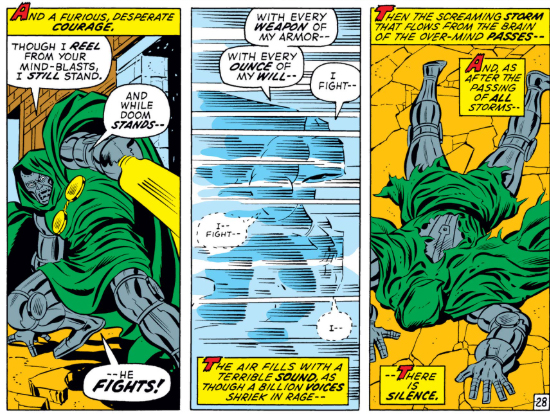 We've seen a lot of Doom ranting and raving lately as opponents fly off without finishing a fight, but here he's clearly behaving heroically, sacrificing himself to stop a major threat.
At this point The Stranger, another cosmic being, arrives, tells The Overmind that he's too great a threat to the universe, and sends him into exile into a subatomic void before leaving as quickly as he'd arrived. It makes the efforts of Doom and the FF seem utterly pointless, as the Human Torch himself complains.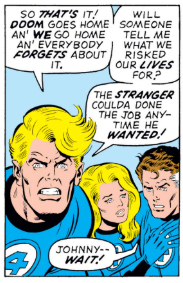 The whole team wake up, with Reed himself again. Sue looks over to check on "poor Doctor Doom" who is absolutely fine, thank you very much.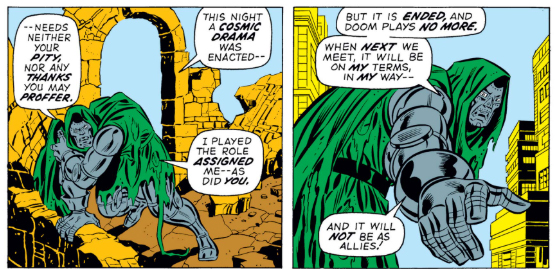 The story ends with The Watcher turning up to tell them that, actually, it wasn't as pointless as it seemed. The Stranger only knew The Overmind had returned because he'd been forced to exert his full power during the battle, alerting The Stranger to what was going on. Basically, they were hopelessly outclassed but the fact that they - or rather, Doctor Doom - tried really hard made someone much more capable notice.
It's an unsatisfactory ending to a story which has shone some very interesting light on the changes Doom has gone through, and the fact that other characters have noticed. Will this be reflected in his future development? Tune in next time to find out!
link to information about this issue
posted 13/12/2018 by MJ Hibbett
(click here for permanent link)
(0) comments
---