Blog
Gigs
Facts
Music
Shop
Links
Blog
Going Up To Eleven
Today sees the UNLEASHMENT of the Eleventh and (for now at least) LAST edition of the
Totally Acoustic vodcast series
, this time featuring Sunny Intervals and Out Of This City. It's a bloody lovely one to go out on, as you can see for yourself BELOW:
It's been a DELIGHTFUL thing to do, but it feels right to be ending it here for now. Doing ten shows might have been a rounder number, but as The Shows In My Series pointed out, this way we get to "go up to eleven"! As previously stated, the original intent was to do a couple of shows to make up for the fact that we'd had to cancel a couple of LIVE Totally Acoustics, but it was so much fun to put together that it got a bit out of control. I enjoyed having a reason to a) pester some of my favourite poeple in ROCK and also b) do a song of my own every week so much that I just kept doing it!
In theory we're now in the process of moving out of lockdown, but with the shower of utterly useless spivs currently running the country we may well end up back in it pretty soon, and either way it's unlikely that Actual Gigs will be coming back in the near future, so we might end up doing another series later in the year. For now, however, you can enjoy the whole run in a PLAYLIST what I have made, right here:
I highly recommend watching THE LOT - not just because it is An Historical Document Of Music In Lockdon (and also of my HAIR GROWTH), but also because there's some GRATE performances in there, and I LOVE the fact that it brings together an awful lot of acts that would not normally be on the same bill. It's been a fab thing to do all round really, so thanks very much for everyone who's taken part and ESPECIALLY to everyone who's been watching - lets hope we get to do it again in real life before too long!
posted 26/5/2020 by MJ Hibbett
(click here for permanent link)
(0) comments
Museums Showoff
As discussed elsewhere, one of the odd things about Lockdown for me is that it's made me WEIRDLY freer to do GIGS than I have been in a long old while. Doing them online LIVE is pretty much impossible (as long as I want to remain in my thin-walled flat anyway!) but pre-recording stuff and sending it out into THE WORLD has suddenly become Quite The Thing.
For instance, on Tuesday night I was able to take part in
Museums Showoff
for the first time. Museums Showoff is (usually) a regular night where Museum and Museum-adjacent professionals talk about their work in a gig-like setting, sort of similar to all the Science Showoff gigs you get, but more, well, MUSEUM-y. For AGES I've been wanting to go along to one, and ALSO for AGES I have been wanting to write a song about Museums Of One Thing, as it is something that myself and The Artefacts In My Exhibit talk about whenever we go on holiday and LOOK for them. THUS when I saw that they were doing a VIRTUAL show I emailed the organisers and said I'd LOVE the chance to finally make BOTH of these things happen, and they said YES!
So it was that I wrote
A Museum Of One Thing
, learnt it up, and then recorded it chez moi a couple of weeks ago. I then sent it off to the show's organisers, who added it as the final item in the show you can see BELOW:
I did consider pretending that it was all done live, but you can see from my HAIR that things have moved on since then! It was a great show to be part of, and actually really nice to let Me Of A Few Weeks Ago do the gig, so that Me Of Right Now could watch and enjoy everybody else's (excellent) sets while sitting on twitter and talking to people about it - it was liking having/being my own Social Media Team - more of this sort of thing please!
posted 21/5/2020 by MJ Hibbett
(click here for permanent link)
(0) comments
Playing To An Empty Room
Once a term (NB I work for an ART COLLEGE so that's how we think about these things) I usually do a series of training sessions, to show staff how to use the computer system that I run. It always feels to me like a TOUR but sadly THIS term it feels even MORE like a tour in that it looked like it would all have to be cancelled.
HOWEVER, and ALSO like other sorts of gigs, TECHNOLOGY has intervened so that I can now do the courses ONLINE instead, and so it was that on Monday afternoon I sat down before my laptop ready to give my first ever WEBINAR. To mark the occasion I even combed my hair and put a shirt on - it was the first time I have had to deal with BUTTONS for over two months, but I think I remembered how to do it.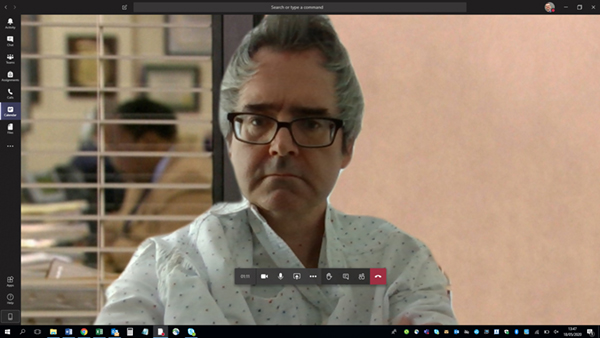 It's so professional I think I'm going to use it as my new LinkedIn profile picture!
I did another one of these this afternoon, and both sessions felt a bit ODD. As you can probably imagine, I like to throw in some GAGS as I go along, but the fact that everyone was respecting Teams Meeting Etiquette meant that everybody else was muted, so I couldn't hear the GALES of LARFS like what I usually do hem hem. Also I had to go and keep checking the CHAT section to see if there were any questions, which got a bit distracting, although I DID remember the classic advice for Responding To Heckles i.e. you read out what people have heckled/asked in chat, which tells everybody else what you're on about AND gives you time to think of an answer.
These sessions usually last about 40 minutes, and I thought that these would be much shorter, as there's less chance for veering off topic or wandering around checking everybody's screens to see where they're up to, but they actually lasted LONGER. Perhaps people feel more able to ASK questions when they're not constantly drowned out by the aforesaid GALES of LARFS? Either way, it seemed to work - I quite fancy doing some more now!
posted 20/5/2020 by MJ Hibbett
(click here for permanent link)
(0) comments
A Virtual Field Of Play
Today is the day we UNLEASH the PENULTIMATE episode of this series of the
Totally Acoustic Vodcast
series, featuring Motorcade One, Non Canon and Fightmilk. It's dead good, as you can see from yourself below:
This morning as I was preparing for the UNLEASHMENT of the above The Code In My URL pointed out that I'd had to cancel two live Totally Acoustic shows and, in order to make up for it, had ended up doing ELEVEN virtual ones. She makes a fair point! Weirdly, LOCKDOWN has made me busier in the world of ROCK than I have been for YEARS - I stopped doing LOADS of gigs because a) travelling around so much was becoming less fun and so b) I stopped asking for gigs and thus c) people stopped asking me to do them, but now the travelling around has been removed entirely I find I CAN put myself forward for stuff again, and as a result people have started asking ME to do stuff as well. I do remember for YEARS thinking "I must never stop asking for gigs, or people will stop inviting me to do them" and being surprised by how quickly I was proved correct, but the turnaround in the other direction has been even more sudden!
It's like the Playing Field Of ROCK has been evened up in some ways, so that, for instance, you now DON'T have to live in That London to do certain gigs. It's evened DOWN (if that's the right terminology - let's say that it is) in other ways though of course. People who aren't me have KIDS and RESPONSIBILITIES and JOB WORRIES, while people who ARE me are INSANELY JEALOUS of people they see online doing gigs in their spare rooms, or even late at night in their living room. I live in a small flat with THIN walls, surrounded by many neighbours who are (like most of us) in ALL the time now, so my ROCK schedule is very much dictated by those sort of considerations, so I've had to say "NO" to a lot of exciting sounding things because there's no way I can do live broadcasts without annoying loads of people. On the plus side, it does mean that the world has been spared my much mooted "Hibbett plays loads of covers, drunk, after watching three episodes of Blakes 7" set. I fear that idea is just too beautiful to live!
In the meantime though there's plenty to be getting on with, including a (pre-recorded) slot this very evening in the first ever
Museums Showoff
gig. I wrote a whole new song especially for it!
posted 19/5/2020 by MJ Hibbett
(click here for permanent link)
(0) comments
More Experts On Telly Please
There has been a LOT of talk during The Current Situation about how Things won't go back to how they were before when it's finally all over. For my kind of work, for instance, I sincerely doubt whether I'll ever work a five day week in a big office ever again, as working from home has been so weirdly straightforward, and it's been brilliant not having to travel across London on a regular basis to attend meetings where SHALL WE SAY my contributions are not quite as important as one might think.
Another thing that I REALLY hope we stick with on the other side is the massive use of EXPERTS on the telly news. It used to be that the TV news shows would get in the same bloody columnists and commentators that they always used, a bunch of journalists who would basically make things up that sounded good and give half backed opinions on stuff they knew nothing about. NOW, however, when everybody is talking via ZOOM and so forth it seems they've realised that it's just as easy to get WORLD EXPERTS in to talk as it is to get The Usual Posh Twits. This means that our telly has been FULL of PROFESSORS just lately who, as anyone who mingles with this rare breed of academic will know, are often EXTREMELY good value for opinions and general entertainment. They are also VERY POLITE when people are COMPLETELY WRONG about things - for instance, we particularly enjoyed it on the Coronavirus Newscast thing when one of the journalists proudly showed off about a calculation he'd made that said it would take four years for 80% of the population to get the disease. A PROFESSOR then came on who was DOING RESEARCH about it and KNEW WHAT HE WAS ON ABOUT and without making a big deal about it completed refuted the whole idea very kindly, as if he was correcting an enthusiastic but inept undergraduate.
It's happening all over the place - instead of posh drips spouting rubbish, you get the SUPERLOONS of Academia, who have had decades of experience UNDERSTANDING HARD THINGS and also EXPLAINING them to people who don't necessarily want to know, appearing in various states of bookish disarray and giving GENUINE THORTS to slightly stunned interviewers. It's fab - I really really hope that we get MORE Professors on telly FOREVER.
If nothing else, it'll keep them busy and give them less time to ask me why their computer isn't working!
posted 15/5/2020 by MJ Hibbett
(click here for permanent link)
(1) comments
We Were On Radio 4!
A few weeks ago I was doing my usual SELF-GOOGLING - for professional reasons, you understand, in preparation for the release of
People Are All Right
- when I was surprised to discover one of our very oldest songs was mentioned on
the listings for a Radio 4 show
.
I think that this might have come about because of somebody on the show searching through Music Libraries. Some years ago John The Publisher made me spend WEEKS entering data on all of our songs into the PPL website, which was a RUDDY PAIN IN THE WOTSITS because it was SUCH a bad site (it's a bit better now), so that he could in turn log them on the aforesaid Music Libraries. As I understand it these give radio, TV and film people an easily searchable list of songs that they know are properly registered with PPL and PRS and are pre-cleared to be USED in stuff. The radio show was called "The Pebble In Your Pocket" so a search for "Pebble" will have naturally turned up
The Pebble And The Boulder
.
The show itself was VERY Radio 4 i.e. it genuinely was all about Pebbles, with people talking about how much they like them, a bit of Barbara Hepworth, some poetry and also MUSIC, including a blast of us about 20 minutes in, with Mr Whitaker doing his VOCAL RANTING and then it coming back a few minutes later for a little bit of the end of the song.
You can listen to it online
yourself if you like, you may need to turn it up a bit for our bit! I don't suppose it'll be a big breakthrough into the Radio 4 audience, but I am fully ready to be wrong if they want us to appear in The Archers.
Even more excitingly, this is another BBC Network to tick off - we've done 1,2 and 6 on a number of occasions, we were on one of those odd "other kinds of music" shows on Radio 3 donkey's years ago, and I think we've been on 5 Live with something about one of the many versions of
The Fair Play Trophy
too. Actually, now I think about it, we've been on the World Service and I've had some sketches on 4Extra too, so that just leaves 1Extra and BBC Asian Network to go! CHALLENGE ACCEPTED!
posted 14/5/2020 by MJ Hibbett
(click here for permanent link)
(0) comments
The Pre-Penultimate Totally Acoustic
Today sees the UNLEASHIFICATION of the NINTH (9th) edition of
the Totally Acoustic Vodcast series
, featuring
Blyth Power
,
Adam from The Hector Collectors
and
Ankles McGhee
. It's another of those shows which feature people who I don't think would ever be slung together in a live show normally, and as ever I think this is an EXCELLENT thing. You can see for yourself right here:
For my song this time I did
It Only Works Because You're Here
. Over the past couple of months of doing these shows I've tried to do some new songs and others that I don't necessarily play very often but, as I say in the vodcast, now we're getting towards the end of this run I thought I'd go easy on myself and do my FAVOURITE of my songs!
Actually, I'm not sure that I've said out loud that the series is coming to and end soon, so - the series is coming to an end soon! I've got two more episodes to do, which will be coming out next week and the week after, and then that'll be it, for now at least. I think eleven shows with over thirty acts in is pretty good going, and if the lack of Actual Gigs goes on for as long as it looks like it will then I might bring it back later in the year, but for now I'm quite looking forward to not panicking about what on earth I'm going to say each time, although I will miss having a weekly record of my GIGANTIC HAIR GROWTH!
posted 12/5/2020 by MJ Hibbett
(click here for permanent link)
(0) comments
Campaign Report
It's now two weeks since we UNLEASHED our new single
People Are All Right
upon an unsuspecing world and, so far, I think it has been going down pretty well. We've had quite a few plays on various radio stations, I've been thoroughly enjoying looking at Spotify For Artists to check what cities people are listening to it in (Hello Malmo!), and a steady stream of DELIGHTFUL people have been buying the badges too. It's been lovely!
The only aspect of our TITANIC PROMOTIONAL CAMPAIGN that hasn't gone as well as I'd have liked is the VIDEO. The version of the video we put out
right at the start
was made up of bits of an old Jimmy Stewart film, which eerily fit the lyrics but, I am sad to say, did not exactly set the world on fire. THUS I sat down this weekend to do a NEW one, using the clips of us playing it live in isolation what we did for last week's
Totally Acoustic
, swapping the live audio for the studio recording, and then cutting it differently to cater for the parts where me and Emma veer off from the original vocals. Hey, we are basically AVANT GARDE JAZZ VOCALISTS after all, and cannot be expected to simply parrot the same things each time!
The final version, I reckon, looks pretty good. Have a see for yourself!
All Validators were between two and 145 miles apart at all times, and I can assure you we were ALERT too!
posted 11/5/2020 by MJ Hibbett
(click here for permanent link)
(0) comments
Totally Acoustic The Eighth
Today sees the UNLEASHMENT of the EIGHTH edition of the Totally Acoustic Vodcast, which I must say is a Mighty Milestone I did not see coming. At the start I thought we might do three or four of them, at which point lockdown would be over and we'd all be back to gigs as normal!
This EIGHTH edition features not only
Vom Vorton
and
Mikey Collins
, but also a couple of acts slightly closer to home for me. The first is the Acoustic Club from Probus, where my Dad lives - he sent me a link of a video they'd all made together in the village and it was so lovely I thought I'd put it in the show, as you can see BELOW:
The other is of course The Actual Validators, in a video we have spent the past few weeks putting together. The original idea came from TIM, who suggested we do an Isolation Video for the new version of
Mental Judo
with us all playing live, and this developed to include a) Emma doing a new THIRD verse too and b) us also doing
People Are All Right (if they are given half a chance)
. It took QUITE a lot of work to get it all together, not least syncing everybody's parts together (Tim played along to the recorded versions of both songs, and Mental Judo in particular was, to put it politely, somewhat ORGANICALLY TIMED), and I oscillated between thinking "This is amazing, we should do ALL songs like this" and "THIS IS A NIGHTMARE WHEN WILL IT END" whilst editing, but I think it worked out pretty nicely in the end!
posted 5/5/2020 by MJ Hibbett
(click here for permanent link)
(0) comments
Actual News For Newsletter Day
I've just sent out
this month's newsletter
which, in a change from many recent newsletters, is PACKED with news.
A large part of this is to do with
People Are All Right
, which is VERY MUCH out and available for listening/buying. There's even a brand new video what I've just finished for 'An Office Ballad' which I am Quite Pleased With, right HERE:
There's also a few more ONLINE GIGS, news of my upcoming YACKING on
Dandelion Radio
and, rather excitingly, information about our RADIO FOUR DEBUT coming up on 11 May. It's on
a show all about pebbles
, which is possibly the most Radio Four thing EVER, and apparently it'll feature
The Pebble And The Boulder
from
Say It With Words
!
It is, in fact, a whole BATCH of news the likes of which we haven't seen for AGES. The only problem is, what on earth am I going to find to tell you next month?
posted 30/4/2020 by MJ Hibbett
(click here for permanent link)
(0) comments
Released At Last!
A very happy RELEASE DAY to one and all, for the day has finally come when I can say that our new EP,
People Are All Right
is OFFICIALLY OUT!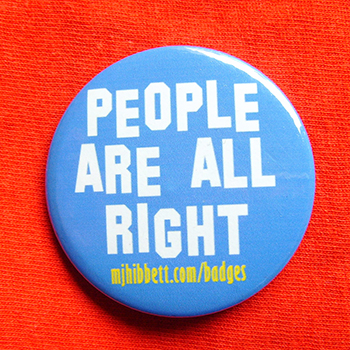 By HECK but it's been a long time coming - I wrote the song about two years ago, since when we've had to learn it, record it, mix it and then get it all ready for streaming and so on. I don't mind MOST of that process - we always do stuff at this kind of glacial pace, but at least when we're learning and recording we get to go to the PUB afterwards - but the preparing for streaming has been a right old pain in the wotsits. As discussed previously, the whole thing was ready a couple of MONTHS ago but then we had to leave plenty of time so that Bandcamp and Spotify could have a listen to it for possible inclusion in playlists. I said a while back that this was very similar to the way it used to work with monthly magazines and this has continued to be the case insofar as they used to ignore us too!!
But now we are GO which means I can start UNLEASHING the promotional material that I've been sat on for ages, notably this VIDEO what we did, featuring a great young actor called Jimmy Stewart:
It uses footage from the 1941 movie "Pot O'Gold", which is now out of copyright. The clip in the video was hardly edited at all, and it was WEIRD watching it back as I kept noticing the actors reacting to the lyrics, and had to keep reminding myself that they weren't at all. The whole thing works surprisingly well I reckon!
All being well we'll have ANOTHER video out later this week or early next, but in the meantime if anybody's got any ideas about how I could promote the single a bit more I am ALL EARS. Gigs and Radio Sessions are not really an option at the moment, so I'm not sure what we should be doing!
posted 27/4/2020 by MJ Hibbett
(click here for permanent link)
(0) comments
Twitter Spamming
Our NEW SINGLE is out on Monday (although you can
buy it from Bandcamp
or
direct from us
RIGHT NOW) so I have been busy doing some PUBLICITY. I talked a while ago about how things have CHANGED since I first started doing all this, and this is EVEN MORE true now, with The Current Situation where we can't even do GIGS to publicise it (not that we had any booked, but you get the idea).
One thing that I know really works is TWEETING at people - I did this a few weeks ago when I was
plugging my Doctor Doom survey
- but I always feel a bit weird about doing it from my own twitter account because, well, it's my own twitter account! I do use it for band stuff, but I don't like the idea of using it for sending out loads of promotional messages, not least because it would be a massive DRAG for people who follow me AND whoever I'm zapping, as they'd keep seeing the same plug again and again.
Also, obviously, I am ARTISTE and so do not SULLY myself with grubby commerical activities like this. HOWEVER, I have no such qualms about dragging The Validators into the murky world of promotion, and so was DELIGHTED when I remembered that we set up a seperate band twitter account for
The Validators
a few years ago. I thus proceeded to do exactly what I'd done for the Doctor Doom survey, going through the list of all the people I'm following and TWEETING a message to likely looking ones asking them to have a listen to the new EP. Again, I felt a bit bad about hassling people like that, but I would like people to actually HEAR the single, so thought I'd give it a go.
Happily, everyone so far has been very nice about it, which has been a GRATE relief, with lots of lovely comments. PHEW! Next week I'll be doing it again, we might even have a VIDEO to plug then too!
posted 24/4/2020 by MJ Hibbett
(click here for permanent link)
(0) comments
A Portfolio Career
Throughout my life in ROCK I have lived what The Answers To My Survey has referred to as "A Portfolio Career", in that it is made up of lots of different THINGS. There's the ROCK, obvs, but also the shows with Steve, the PLAYS, the skits with John Dredge, the podcasts, and all the other stuff that has been known to delight audiences sometimes reaching double figures. I like it this way - I guess that I might have been more "successful" at it if I had been like those SENSIBLE bands who stick to one thing, but then again a) it's more likely that I would have been rubbish at that one thing and also b) it would have been really boring. I prefer to think of it all as me staggering round a crowded pub, bumping into EVERY table and mildly annoying EVERYONE, rather than sitting in the corner only annoying a few people.
These THORTS were brought to my mind this week due to the UNLEASHING of the SIXTH (6th!!) edition of
the Totally Acoustic VODCASTS
, which you can see here below:
This week's show featured The Mini-Skips, GUMS!, and Panic Pocket, three GRATE acts who, as far as I know, don't have an awful lot in common apart from being in this week's show and being GRATE. They all come from different "tables" in the "PUB of ROCK" metaphor what I was using above, and when the show was released yesterday I was DELIGHTED to see it being passed around by the bands and their chums, so that each group would be EXPOSED to the works of the other two acts.
I always loved it when this happened at the LIVE Totally Acoustics, so it was ACE to see it happen VIRTUALLY. It's far too easy, in ROCK and in the rest of this life, for us to just stick to the people we know who are like US, but it's fun every now and again to go and IMPOSE on some totally other people, and be similarly imposed upon ourselves. I always used to LOVE it, approx 17 centuries ago, when I'd do gigs at places like The Bull & Gate, where promoters would just stick together any 3 or 4 bands who'd sent them demo tapes, and you'd end up playing WITH all sorts of weird acts, and more importantly TO their audiences. As I always say, if you only ever play gigs to people who are going to like you anyway then it's PEASY, whereas if you play to a mixture of GOTHS, ROMOS, METALLERS and EMOS all in the same room then you're forced to work out ways to get ALL of them on side. This is not, by the way, looking for a lowest common denominator. It is looking for the HIGHEST!
So yes, it was lovely to see that this sort of thing can still happen, and I'm looking forward to getting some more going with the next bunch of shows - stay tuned for details of who'll be playing, you'll know not long after I do!
posted 22/4/2020 by MJ Hibbett
(click here for permanent link)
(0) comments
Me At 20
Yesterday there was a THING going round the Social Medias of people posting pictures of themselves at 20. My colleague Mr S Hewitt posted a brilliant picture of
his old NUS cards
looking EXTREMELY fresh-faced, and I thought "Hang on, I've got MY old NUS card somewhere, I could join in!" And LO! I did!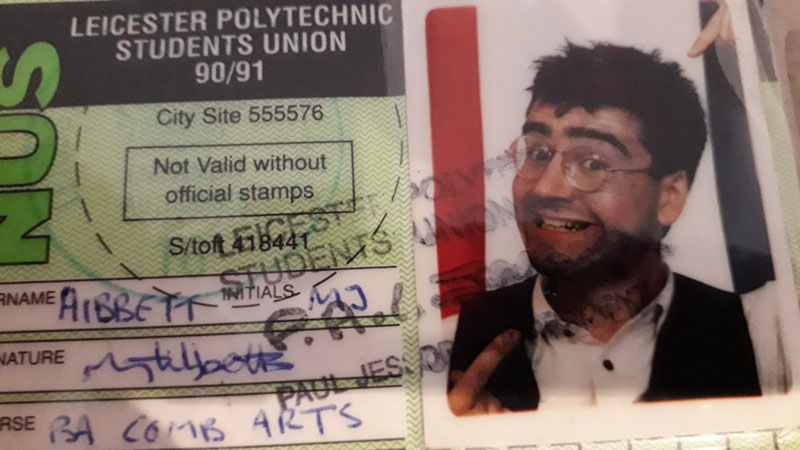 As I said on the Twitters, I thought that picture was an AMAZING idea when I took it in Boots in September 1990... and then RUED my decision over the rest of the year when I had to use it almost daily as ID. I also made the Traditional Remark re: Polytechnics i.e. "for those too young to remember, a Polytechnic was like a University, but for cool people", and then realised that pretty much EVERYTHING to do with this image needed some explanation for THE KIDS. For instance:
NUS cards don't really exist anymore, at least not in the same way. I've got something called a "Totum" card now (that I had to ACTUALLY PAY for!!) which gives various discounts, whereas the NUS card was issued as part of everybody's registration each year, and was used by the Poly and other organisations as the one way to prove you were a student. Talking of which...

Student Unions don't seem to be anywhere near as much of a thing as they used to be. Back in the dark distant days of the late 80s/early 90s our union building was THE place for Friday and Saturday nights, also any other night, also for daytime drinking, or clubs and societies (which most people were part of), or getting information, or even eating sometimes. I've worked in several Educational Establishments since then, and nowadays you'd be hard pressed to know where the Union building WAS. I don't think we've got anything like that at all at UAL, for instance.

Photobooth pictures aren't such a thing anymore either. I used to love going to photobooths, and as you can see from the picture above I spent a LOT of time thinking about them - the one in Boots had a choice of blue curtains, orange curtains or no curtains, and I thought it might look good to use THE LOT. I also thought it would look good to pull that expression, but you can't win them all.

Waistcoats! Everybody wore bloody waistcoats back then, what on earth was that in aid of? Had charity shops massively overstocked and were flogging them off cheap? If you see a photograph of students from those days they will a) look oddly wan and poorly b) 90% be wearing waistcoats, rising to 100% if any of them are in a band. I haven't worn a waistcoat since I "grew out of" my three-piece charity suit, I used to think I looked AMAZING in it!

There's also the use of Official Stamps to VALIDATE things (of which I heartily approve), ID cards that were basically a piece of paper laminated and the row of BOXES at the bottom that could be CLIPPED for some reason. It's basically an ANTIQUE! The only mystery about it all is that it appears to date from THIRTY YEARS AGO. That can't be right can it? Surely i was A BABY then?!?

posted 17/4/2020 by MJ Hibbett
(click here for permanent link)
(0) comments


Easter ROCK
A few weeks ago, back when The Current Situation began, I thought that weekends would pretty much disappear for Home Workers such as I, because we'd be in the same place, doing all the same things. That was before the full reality of Working From Home became clear i.e. it's not just sitting around watching telly, you have to answer EMAILS and actually DO STUFF. This is, of course, a diabolical ruddy liberty taken by Late Stage Capitalism, but it does at least mean that weekends remain in place, especially EASTER weekend, what I have just thoroughly enjoyed.

For LO! I DID watch some telly, notably The Rise Of Skywalker, but also some stuff that was actually Any Good and not just "And Then A Space Magic Thing Happened". I ALSO also edited together the latest edition of the Totally Acoustic Vodcasts which you can see for yourself right HERE:





I found this one quite EMOTIONAL I must say, largely from the LOVELINESS of the songs from Frankie Machine, Ruth PO! and The Perfect English Weather, although there is always one person who BELLOWS his way through and, as is often the case, here it was ME. This time I did Easily Impressed, as requested over on Facebook by Mr Danny Richy and CURATED by The Dark Chocolate In My Easter Egg. I quite like the idea of doing REQUESTS, as it means I don't have to think about it too much, so if there's any of my songs you'd like to see me do, let me know via the comments below and I'll try and give it a go!

posted 14/4/2020 by MJ Hibbett
(click here for permanent link)
(0) comments


Additional Dinosaur Content
A couple of weeks ago, when the lockdown was fresh and new, I UNLEASHED a live recording of Moon Horse from me and Steve's show at The Camden Fringe in 2011, with the promise (or was it a THREAT?) that there were other live recordings that I could further PUMMEL people's minds with. Mr M Cresswell asked if there might be a version of Dinosaur Planet in the vaults, and I was surprised to find that there was NOT a full recording of either the one- or two-man version of that show in my YouTube account. We used to record ALL of our shows, purely for The Historical Record you understand, and I KNEW that there were CLIPS of Dinosaur Planet, so surely we must have recorded it?

THUS I went to my VAULTS (archive drive) and was DELIGHTED to discover that we'd recorded one of the MOST FUN shows we ever did, which was the WEST END FINALE of the two man version, performed in the upstairs room at The Old Coffee House. This was done purely for FUN, as a way to cap off the run before we launched into the above-named Moon Horse vs The Mars Men Of Jupiter show, and I think that comes across! You can judge for yourself, HERE:





I hope you enjoy it - and don't forget to stick around for the post-credits scene!

posted 9/4/2020 by MJ Hibbett
(click here for permanent link)
(0) comments


A Survey Of Doom
For the past couple of years I have been writing another blog, PARALLEL to this one, in which I have been reading through every appearance by Doctor Doom in any and all media from 1961 through to October 1987. This is NOT (just) a feat of deranged idiocy, it is ALSO part of my ongoing PhD, which currently has the impressively academic-sounding title of "Doctor Doom in The Marvel Age: an empirical approach to transmedia character coherence."

The QUICK version of what that means is that I'm using Doctor Doom as a test subject to find a way to chart the changes a character undergoes over time and different media. My first attempt to do this involved trying to read/watch/listen to EVERY SINGLE THING that Doom appeared in and then writing down all the keywords I could think of that applied to him within each story. This turned out to be a HELLISH NIGHTMARE as I couldn't work out WHAT to keep in, WHAT to leave out, or how to even describe it all, so instead I decided to try a CHECKLIST of major character signifiers, which I could then simply TICK for each text. This seemed a lot more sensible, but I still needed to get an initial list of tickable options, and I quickly realised that any list that I came up with on my own would be fatally biased from the start, as it would only include and/or prioritise things that I already THOUGHT were part of his character. Spending a couple of decades working in epidemiology has made me quite SENSITIVE about that sort of thing, not least because I am AFEARED that at any moment an excited statistician will MANIFEST and start talking about Bayesian Statistics and I have had QUITE enough of that already, thank you very much.

SO, I decided that my best bet would be to run a SURVEY, asking other people what THEY thought Doom's core characteristics were. This would not only give me a GRATE starting point for my own investigations, it would also be a VERY INTERESTING insight into ... well, what other people think his core characteristics are! I thus spent a good long time setting up a SURVEY, checking it with The Head Of Comms In My Comm Team and also my PhD supervisors, doing a PILOT with a few Comics Types, and then, last week, UNLEASHING the finished survey upon the world.

My hope was to get about 20-40 responses, which would be enough to get going with my checklists. I promoted the survey in a couple of comics mailing lists and facebook groups, as well as on the Doom blog and my Marvel Age Doom twitter account, and it was all toddling along very nicely indeed. I was mostly relieved that it actually WORKED, to be honest!

All that was left for me to do was a bit of promotion on TWITTER. I have seen lots of other people do that thing where they directly tweet Famous People, asking them to re-tweet stuff, but I've never felt comfortable doing it for our music stuff because @mjhibbett is also my OWN twitter account, so it felt a bit weird. Marvel Age Doom, however, doesn't even have my NAME on it, so I decided to give it a go.

Crikey. It REALLY worked! I went through all the people I follow with that account and picked out lists of comic shops, podcasts, fan sites and comics creators, and then did directed tweets to one group each over the course of four days. One the first day one of the comic shops responded, and I got a couple of extra responses, but GOODNESS ME then the next day MOST of the podcasts responded, retweeted, and often did the survey themselves and all at once I had a HUNDRED respondents. I did the same with the fansites on the third day and... well, nothing happened at all because they weren't interested, but then on the final day I asked comics creators and the same happened as with the podcasts, so I now have well over TWO HUNDRED fully completed surveys!

This is BRILLIANT for my PhD, even though I am now a bit worried about how much extra work it is going to take me to analyse the whole thing! It was also VERY INTERESTING to notice that the different responses I got echoed almost EXACTLY the equivalent responses I get to music stuff. Whenever I've tried to contact record shops I've had very close to ZERO response to anything EVER, the same as with comic shops, and similarly we've hardly ever had anything from the mainstream music sites, the same as comics sites, HOWEVER radio people have always been BLOODY LOVELY, the same as podcasts for comics, and people who actually MAKE music have been as helpful as the comics creators above.

What does it all MEAN though eh? One might suggest that THE MAN maintains his iron grip on the commercial aspects of both ROCK and comics, but I could not possibly comment, although it's nice to know that the equivalent to Radio Types and ROCK people are just as nice elsewhere! Whatever it means, the survey is still available for a few more days, so if you have any interest in this sort of thing I'd be very grateful if you could have a go, HERE:

http://mjhibbett.co.uk/doom/survey/

posted 8/4/2020 by MJ Hibbett
(click here for permanent link)
(0) comments


Episode Four: A New Pope
The fourth episode of the Totally Acoustic VODCAST series is up now, on the Totally Acoustic site, as part of the playlist, and indeed right HERE:





This one features Simon Love and his HEIR, Jenny Lockyer doing a VIDEO-style video, and David Pope from the Just Joans. The presence of David is evidence of one of the big advantages of doing shows this way - I've wanted to get his band on at Totally Acoustic pretty much since it began, but the LOGISTICS of dragging him/them all the way down here for a LIVE show have always made it unlikely. This new way of Gigging From Home, however, means ANYTHING is possible!

All right, maybe not ANYTHING, but a LOT!

It also features ME doing Hibbett's Golden Rules Of Beer, which fits nicely with all the people now ordering beer online, but does feel a bit like FOLK MUSIC, describing Ye Olden Days when we could GO OUT. Most of my songs seem to be like that now! I'm trying to do fairly short songs, so as to make it easier for people who want to watch the other acts (I did consider putting in details of when they need to fast forward to, but thought that might be A Bit Much!), but for those happy few who like MY stuff I am VERY MUCH open to suggestions about what songs I should do in future. Leave a comment below if you've got any ideas!

posted 7/4/2020 by MJ Hibbett
(click here for permanent link)
(0) comments


Doing The Press
After all the excitement of Jiffy Bag Day on Wednesday, Thursday brought another long-cherished aspect of putting out a new release: Doing The Press!

In olden tyme this used to involve even more Jiffy bags than Jiffy Bag day, as CDs would be packaged up to be sent out to magazines and radio shows a good couple of months before actual release day, with a press release and personal letter included in each. It was a LOT of work, especially when it was time to take most of them down to the post office to get sent. When I moved to London I could at least take quite a big batch to The Secret BBC Window round the corner from Broadcasting House and get them inserted into their internal post for free, but it was still a LOT of stamps!

A decade or so ago, when we were in our POMP, I always resented Doing The Press, as I was sending stuff out to people who I KNEW wouldn't even listen to what we'd sent, but felt I had to do it so that, if nothing else, I could righteously MOAN about it later. As time went by, however, my original Big List got smaller and smaller, as I stopped bothering with most of the Mainstream Outlets (having finally accepted that FOLK ROOTS were not likely to put us on the cover) and focussed instead on the people who actually DID like us.

As it happens, it turns out that the people who like us are also people that *I* like, and so it has become a PLEASURE to send stuff out to them! THUS I spent a very pleasant couple of hours EMAILING them all - it felt like getting in touch with PALS in ROCK who I'd not spoken to for a while! I've also just about got to grips with SOME of the aspects of modern promotion - we still do a press release, which, as ever, was rigorously edited by The Team In My Comms Department, but now instead of posting CDs I send a LINK to a private SOUNDCLOUD stream. SO modern!

With that all done the next step is to shuffle a tentative toe into the heady waters of BLOGS and all that. I have precisely NO clue as to how all this works, but some very kind/patient people have tried to explain it to me as "Blogs are fanzines", which does make a tiny bit more sense. The promotional PUSH in that direction commences next week - who knows? some of the LUCKY RECIPIENTS of my PROMO might still be getting emails from me in ten years' time!

(or possibly FUTURISTIC BRANE HOLOGRAMS)

posted 3/4/2020 by MJ Hibbett
(click here for permanent link)
(0) comments


Jiffy Bag Day
Yesterday I sent out the latest edition of the newsletter, featuring a SECRET LINK to a page all about our exciting new EP, which is coming out this month. That page allows people to BUY said single - in its EXCITING NEW FORMAT - a few weeks early, and I was DELIGHTED when, not long after the newsletter had gone out, orders started to come in from my REGULARS. These are those lovely people who have been buying our stuff for years - DECADES even. It's a bunch of names that I'm always happy to see pop up, and in many cases I even recognise their addresses. INDEED, it's been such a long time since we last did this that I note several people have even MOVED HOUSE!

I was even MORE delighted this morning when I sat down for that most wondrous of days in ROCK: Jiffy Bag Day! This is that fabulous day when a new release has first come out and I get to package everything up ready to post all around the world. I haven't done this for AGES, as everything since 20 Golden GRATES (still VERY much available, by the way) has been digital only, and I had forgotten quite how much FUN it is.

The first batch of ITEMS have now gone in the post (thank goodness for buying stamps online!) and if you'd like to join in the PROPER sales page will be online in a couple of weeks, at which point I will start banging on about the thrilling new format A LOT. However if you can't wait that long then you could always check the newsletter and see if you can HACK IN to the SECRET LINK section - I would be powerless to stop it happening!

posted 1/4/2020 by MJ Hibbett
(click here for permanent link)
(0) comments


Totally Acoustic Episode TWO
The second episode of the Totally Acoustic has just gone online, with Goddamit Jeremiah, Alex And The Christopher Hale Band and The Spearmint Sea, and you can see it right HERE:





It also features ME doing a brand new song called Rocking Out (but quietly) all about the dilemmas faced by those of us doing this sort of thing. I wrote it for lockdown show that was being put together by someone else, but I'm not sure if they're using it now so I thought I might as well do it for mine!

The next epsiode will be out on Thursday and, having seen all of the videos, I can tell you that it's going to be a CRACKER! I must say I'm really enjoying these shows, hopefully there'll be quite a few more!

posted 30/3/2020 by MJ Hibbett
(click here for permanent link)
(0) comments


Virtually Acoustic
As threatened last time, the first episode of VIRTUAL Totally Acoustic is now online and ready to ROCK, right HERE:





It features Uke Fatbarsteward, David Leach and Helen McCookerybook and, as it says in the video, if you liked their stuff please go to their bandcamp pages (linked to in their names above) and buy some stuff, as they are GRATE!

It's also got me in it, recorded yesterday, and OH MY but that was a nerve-wracking experience, not least because I was doing a RE-WRITTEN version of Mental Judo which I REALLY wanted to get right. I think I got through it all in one piece, although there are still a couple of cock-ups, like saying David had come from Bristol, not Cardiff, and ESPECIALLY trying to do the looking to the SIDES thing, in the expectation that it would look AMAZING if I could do Powerpoint Transitions between me and the acts. It didn't, so I took it off!

These are all lessons to learn for the next show, which is currently planned to be out next Wednesday (April 2), with Goddamit Jeremiah, The Spearmint Sea and one other. I've seen the videos so far and it is going to be ACE!

posted 25/3/2020 by MJ Hibbett
(click here for permanent link)
(0) comments


Content Provision
I haven't been blogging much lately because, apart from The Ongoing World Situation, I haven't had a lot to report. However, ironically, The Ongoing World Situation does mean that there's a bit more going on ROCK-wise than there otherwise would have been!

For instance, we had to cancel last week's Totally Acoustic because The Government told everyone not to go into pubs, but this gave me the idea to see if we could maybe take the whole thing ONLINE. I got in touch with the acts who were meant to have been playing last week, as well as some of our previous participants, to see if they fancied taking part in some VODCASTS, and I am delighted to say that, starting this Wednesday, we'll be doing a series of VIRTUAL Totally Acoustics. If all goes to plan each show will have three acts doing a couple of songs each, plus ME doing one as usual to kick it off. They'll be pre-recorded rather than live because it's a LOT less hassle to do it that way, technically and also in terms of getting everyone together at the same time, and it ALSO also means you'll be able to watch them whenever you want.

The first one show feature Uke Fat Bar Steward, David Leach, and Helen McCookerybook, with next week's seeing the long-awaited return of Orange Nichole alongside whoever sends me their videos in before now and then! There'll be links at the end to everybody's bandcamps/webpages too, so you can buy some music from the acts instead of the whip-round. I think this could be Quite Good, but let's see how it goes!

While planning this I've also had a look through the settings for my YouTube account and realised that there are a few recordings of old shows that I have never unleashed on the world at large, and so I thought I might inflict a couple of those on everyone, commencing with this previously unseen live recording of Moon Horse VS The Mars Men Of Jupiter, HERE:





The quality of the video isn't brilliant, but the quality of the PERFORMANCE is quite frankly ASTONISHING. It made me laugh anyway, and I'd already heard all the jokes, so I hope you enjoy it too. If we're all still at home by the end of the week I might unleash the live recording of Total Hero Team next!

posted 23/3/2020 by MJ Hibbett
(click here for permanent link)
(2) comments


Oof!
On Monday night myself and The Punchline Of My Gag went to London's fashionable Leicester Square area of London for a night at the THEATRE. For LO! AGES ago we had got tickets to see John Shuttleworth on tour, and this was the night it was happening.

The show was in the Leicester Square Theatre, which is LOVELY. The seats are comfy, you can see everything, and there's FOUR easily accessible bars so you can actually get a drink. Even better, our seats were on row B at the end, just after Row A stopped existing, so we had vast swathes of legroom for the entire show. It felt very luxurious!

The show itself was BRILLIANT. He really is very funny, but later on when I thought about the bits that made me laugh the most I realised that none of them were Actual Jokes. There's a bit where he tries to remember someone's surname which made me LARF no end at the time and then for days afterwards, also a whole section about a dust pan and handbrush which is making me grin now even thinking about it. It's all so beautifully done - for instance, he briefly gets onto the subject of Greta Thunberg and it's done in such a nice way, based on what a bloke like John Shuttleworth probably would think but demonstrating kindness to the character too. It was really good!

It was a very mixed audience, age-wise, which I guess speaks to how long the act has been going, both on Radio 4 (you could definitely spot the Radio 4 listeners!) and the live comedy circuit. It was all rather wonderful, with the only thing ever so slightly bothering me being the subject matter. A LOT of his songs are about mundane, everyday matters done for humorous purposes, and it struck me throughout that it's not a million miles away from the sort of things I write songs about. But that can't be right can it? I am a SERIOUS ARTISTE!

posted 4/3/2020 by MJ Hibbett
(click here for permanent link)
(0) comments


Double Dora
A little while ago the Artefacts In My Exhibition noted that there were two interesting shows going on at The Tate Modern in London's fashionable London area of London. The first of these was a retropsective of Dora Maar the photographer who became part of the surrealist movement and was an influence on Pablo Picasso, whilst the second was a similar one about the Hungarian artist Dóra Maurer. That's two seperate exhibitions, one on an artist called Dora Maar, the other on an entirely different artist called Dóra Maurer. We resolved to go and ...

HANG ON A MINUTE! Double Doras?!? Did nobody at Tate realise this was happening? Surely this is either a daft and confusing accident OR an excuse for HILARITY and much REMARKAGE by the gallery, but there was evidence of neither. The Tate appeared to have adopted an attitude of pretending it wasn't happening and that NOTICING it was a very silly thing which they would not take any notice of, despite the fact that when we went on Saturday we saw confused people at both exhibitions who'd gone to the wrong floor for the one they actually wanted to see!




Our first Dora was Dora Maar, and it was Quite Interesting. It started off with some pictures she'd taken as a commercial photographer, which were All Right, but then got properly good as she moved towards surrealism. All was well until we got to the room about her relationship with Picasso, which featured a couple of Picasso paintings - one a portrait of Dora herself, the other Weeping Woman. These were FLIPPING AMAZING and, sadly, put everything that had gone before into the shade. We both felt a bit guilty about this, going through an exhibition about a woman and getting impressed by a couple of pieces by some bloke she used to know, but they WERE dead good. Worse yet, during their relationship Picasso had advised her to concentrate on painting which, going by the contents of the last few rooms, was... maybe not the best advice.

As ever with these exhibitions it was VERY interesting quite apart from the actual ART what we saw, as we learnt about the people she knew, the work she did, and the techniques what she used. There was more of this in the second Dora exhibition, although I felt there was a bit TOO much of that sort of thing - Dóra Maurer was very interested in Art As Research Process, experimenting with different techniques to see what would happen, which I always think is All Well And Good but I'd rather see the one interesting thing the artist DOES with the RESULTS of these experimentations, rather than the experimentations themselves. Rather wonderfully, however, it all got much better right at the end when we got to some Quasi images (fives canvases with geometric lines painted, as noted by the aforesaid Bristles IN My Brush, as if they were under different light conditions) and especially some sort of 3D colour images painted onto differently shaped canvases. Things like this: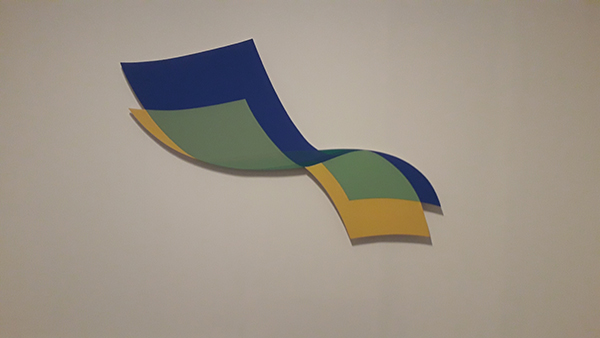 It was lovely, especially because usually it's The Earlier Stuff that is the best!

SO ended a DELIGHTFUL, if occasionally hard to discuss without saying "Which Dora is that?", day of THE ART, which had only one minor disadvantage in that, when we went on to meet The Hewitts for BEER directly afterwards I got BRANE FLAGGING from all the intellectual THORT and had to be excused! Such is the price one pays for being an ART LOVER!

posted 2/3/2020 by MJ Hibbett
(click here for permanent link)
(0) comments



---