MJ Hibbett & The Validators
Blog
Gigs
Facts
Music
Shop
Links
Blog
E17 in E20
On Thursday night myself and The Tinsel On My Tree were joined by Ms H Arnold for a trip to the traditional turning on of the Christmas Lights in The Olympic Village (where I live, but don't like to go on about it). In previous years this has variously featured local choirs, snow machines, Street Artistes and light shows, but this year's one was focused on the fact that the lights were being turned on by EAST 17! All right,
TWO of East 17
(not Tony or Brian) anyway, but it was still quite exciting, although when I heard the PA being soundchecked on my way home it sounded more like The Jesus & Mary Chain, such was the INTENSE VOLUME. It was LOUD!
We got to the event at 6.30pm, just in time to hear the MC say that East 17 would be onstage at 7.00pm, so we popped into our
Mother Kelly's
where it was warmer, quieter, and had BEER. When we emerged at 7.00pm we were just in time to hear the MC say that East 17 would be on at 7.30pm, so we had a wander round, listened to a GRATE steel drum band doing "Feliz Navidad", watched the lights get turned on (not by East 17) and managed to sneak into the lobby of a nearby building where it was warmer, quieter, but sadly had no BEER.
This time we waited until East 17 were actually announced before we came out, and got into the crowd just in time to see the group take to the stage. I wonder if Tony Mortimer had done the backing tape for them as a favour? It certainly sounded like the original, though it was a bit odd hearing it sung like someone from an X Factor audition rather than Brian Harvey, and also to have holiday camp band audience participation addded, like him singing "Oggie Oggie Oggie" and then holding out the microphone for us to go "Oi Oi Oi". I'm pretty sure that wasn't in the original version.
They started off with "House Of Love" and then did another one which caused most of the crowd to google "East 17 hits" on their phones to work out what it was. There were a few songs that weren't hugely familiary, though they did do "Its Alright" (NB MY REVIEW OF THE GIG) at (I think) the end. They definitely finished on something that wasn't "Stay Another Day", which led to the whole crowd standing around going. "Eh? What? That can't be it can it?" We expected an encore, but then the event MC then came on and - VERY STUPIDLY - pretended like that genuinely was the end, and started thanking people for coming. This was IDIOTIC as the atmosphere took a TURN and people started ACTIVELY BOOING, at which point he went "Oh, it sounds like we forgot something..." I guess he thought this would be HILARIOUS, but it very much was not!
East 17 came back on in WHITE PARKAS and did, of course, "Stay Another Day" with the SNOW MACHINE at full pelt and everything felt VERY FESTIVE. They THEN came back on to "say a few things" and I cannot have been the only person who wondered if it might be them taking a chance to slag off Tony Mortimer or something. Thankfully it was NOT that - what they wanted to say was that the non-original member was actually the bloke from ARTFUL DODGER and then launched into one of THEIR hits! It wasn't particularly Christmassy, and it was also COLD, so we decided to go somewhere WARM and with BEER again instead!
Next year I'm hoping we get "Naughty Christmas" by Fat Les with only Damien Hirst from the original line-up, joined by one of TrueSteppers on tambourine!
posted 6/12/2019 by MJ Hibbett
(click here for permanent link)
(0) comments
A Brief History Of ROCK Promotion (and a Call To Action)
This week I have been LEARNING about How To Do ROCK Promotion In The Twenty First Century and it has been MOST illuminating, and also CONFUSING.
I first learned about this sort of thing way back in the last century, thanks to Sean
Fortuna Pop!
. Back then promoting records involved posting ACTUAL RECORDS, the use of Fax machines, and paying plugging companies to get your songs onto local radio stations for you. It was all very exciting and fun, especially on a (I think) Friday when I'd get a pink FAX printout in my pigeonhole at work telling me that British Forces Broadcaasting had played my song, or that Bradford Community Radio wanted a session. I'm still in touch with some of the lovely people I got to know in those far off days, not least John The Publisher who used to work for Overground and now publishes our SHEET MUSIC via
Wipeout Music
!
Things soon changed when The Internet happened, and it all started to become about email lists and Social Media Presence, although you did still need to buy a whole heap of JIFFY BAGS for posting CDs out. Luckily Mr G Gargan of
Damnably
told me where The Secret BBC Window was (on a sidestreet near Broadcasting House), where you could hand in ALL your jiffy bags for BBC shows and save TONNES of money on postage. We started doing
our own VIDEOS
too, which was GRATE!
It all took a lot of KEEPING UP with though, which I have always found difficult. Around the time of
Regardez, Ecoutez et Repetez
I hired a PR COMPANY to do it for us, and they were UTTERLY DREADFUL, so I returned to self-promotion. This was all right when we did
Dinosaur Planet
because I could send it to lots of SCIENCE FICTION places that I was interested in, but after that I must admit I lost touch a bit, especially as we did LESS stuff.
SO when we put out
our new single
last week I was somewhat TREPIDATIOUS about what I was actually supposed to DO, especially as I knew that this time there was no point in sending it to UK radio stations, as they are BANNED from playing Political DYNAMITE during an election campaign. THUS I forced myself to dive into the world of SPOTIFY, which has turned out to be initially MYSTIFYING and then surprisingly FAMILIAR.
It was MYSTIFYING because I don't really USE it much myself, so all the talk about Artist Profiles and Playlists didn't make an awful lot of sense. HOWEVER, once Mr Ian Watson of
How Does It Feel
told me that I had to GET my Artist Profile on Spotify it started to become a little clearer. We do all our online stuff with
Emubands
(who are ACE), and it turns out that this means I was automatically RATIFIED for our
Spotify Artists Profile
. I read further and discovered that the way to get onto Official Playlists is simply to SUBMIT them - as it happens I am WAY too late to do it properly for this single, but it is PEASY and VERY do-able, so I will VERY DO it when we put out the next batch of singles in the new year. It turns out that all you need to do is log in and SUBMIT the new song, and then it automatically/algorithmically goes to ALL the relevant Spotify Playlist people. It's a virtual Secret BBC Window!
There also turn out to be loads of OTHER playlists you can send stuff to. I paid $10 (i.e. spare eBay ca$H) to have a go on a site that lets you SUBMIT to various playlists, which did no good whatsoever, but did introduce me to the fact that they EXIST, and led me to search out various others that didn't cost money to do it with. Yes, it was a virtual PR company wasting my money, and then a virtual ME googling for the email addresses of virtual Local Radio!
I've even watched
some SPOTIFY VIDEOS
about the whole thing, which were Surprisingly Pleasant although VERY MUCH targeted towards YOUNG GROOVERS and not GRIZELLED VETERANS like me. Still, one interesting point it made was that you need to do "CTAs" or Calls To Action i.e ASKING people to do stuff to help you, with one of the KEY ones being asking people to
follow you on Spotify
. This would BUMP us up the listings for playlists, apparently, so if you have a chance,
please follow us
!
It has all been VERY interesting - I just hope that it doesn't all change AGANE before next year!
posted 2/12/2019 by MJ Hibbett
(click here for permanent link)
(1) comments
You're A Tory Now, Out NOW
It's been a long old time since The Validators last released anything new, so today I am DELIGHTED to report that we have a BRAND NEW SINGLE out, and that it is called "You're A Tory Now"!
It's all about the sudden shock you experience when someone who shares your background turns to THE DARK SIDE, and the ensuing realisation that, actually, you can probably still be friends. I'm basically saying it's a much needed call for UNDERSTANDING in this Divided Nation and should therefore be played on national radio ALL DAY.
The original plan was to release it NEXT year, as part of a SLEW of singles what we have got lined up, but there was always a worry that, what with the inevitable socialist utopia heading our way, there might not BE any Tories by then. Thus, when Mr FA Machine suggested we RUSH RELEASE it in time for the election we all thought it was a Very Good Idea Indeed, and so DID!
Sadly, due to broadcasting restrictions during elections, it will NOT be played on the radio (and that is the only reason it won't), so any mentions, tweets, posts or purchases would be VERY much appreciated. You can see it in the video above, and it's also available on
our bandcamp page
plus
iTunes
,
Spotify
, and all streaming sites.
I GUARANTEE that if enough people hear this track then there will be a change in government within TWO WEEKS. GUARANTEED!
posted 29/11/2019 by MJ Hibbett
(click here for permanent link)
(0) comments
Multiple Soirees
I had quite a Glamorous Gaddabout Weekend this weekend, going to not one but TWO Fancy Dos in different parts of That London. I fully expect to be KNACKERED for the whole rest of the week as a direct result!
The first DO was Mr T Eveleigh's 50th Birthday Bash in Croydon, back at The Spreadeagle where we have showed so many shows. Myself and The Dates On My Calendar went down and had a LOVELY time, and even felt a little bit ADVENTUROUS by Actually Going Out On A Saturday Night. As we walked the streets of South London I couldn't help wondering what so many people were doing OUT - don't they have sofas to sit on and telly to watch?
We got home LATE which became LATER as we were forced to catch up on our sofa sitting and telly watching (and also whisky drinking because we are ROCK), which in turn meant that I did not emerge into the light next day until GONE NOON. Back in my student days (which I estimated to be about 8 years ago? In the 90s?) this would have been the NORM, but here in the futuristic twenty first century it felt quite DECADENT. I had to drag myself back into consciousness because I had been invited to attend the first try-out for Mr Ben Moor's BRAND NEW SHOW "Who Here's Lost?" which I was VERY much looking forward to.
I had a bit of bother with trains so arrived at the pub a little hot and bothered, which made all my resolutions to Not Have A Beer go flying out of the window. If getting up in the afternoon feels DECADENT having beer BASICALLY FOR BREAKFAST feels like being Freddie Mercury on tour with NERO, but it was actually rather nice. I also met various CHUMS, including Mr D Greene, Mr B Wells and Mr T Crowley (who I'd not seen for AGES) before we headed downstairs for the show itself.
It was, as expected, GRATE. Ben's shows always are, due to the wealth of IDEAS and POETRY and EXCELLENT JOKES which occur throughout, and this was no exception. INDEED, when trying to come up with constructive criticism the only thing I could really think of with was that it is almost TOO RICH - whenever I watch his shows I worry that I'm MISSING things, and when there's a JOKE it feels WRONG to laugh as much as you'd like because there's still stuff going on. I love the way he hides HUGE IDEAS halfway through sentences - proper science fiction things that other people would spend a whole show on but which Ben just nudges you with before strolling pleasantly past a display of approx 17 completely OTHER jokes and ideas. He says he'll have a BOOK of this one before it goes to Edinburgh, which is relief to me as it means I'll be able to catch up with everything I missed!
After the show I was determined to head into college, but was waylaid for two halves by Interesting People and Delightful Conversation. It was all turning into a bit of a SOIREE, so I had to be strong and DRAG myself away to do some Important Reading (of Doctor Doom), which for some reason did not flow quite as easily as it ought to have done. It was probably all the HIGH CULTURE what had overloaded me, that must be it!
posted 25/11/2019 by MJ Hibbett
(click here for permanent link)
(0) comments
Live Plinths And Robberie
I returned to the King & Queen last night with some TREPIDATION, partly because we had LOST one of our acts for the night (PO! had had to cancel because Ruth has tonsilitis) and partly because we are getting quite close to CHRISTMAS, which sometimes leads to SPILLAGE of Amateur Drinkers into the rarified salon-like atmosphere of the upstairs.
Worries around the first item were allayed somewhat by the news that The King & Queen have now got their 2020 diary, so I can BOOK dates for future shows and then get PO! rescheduled. Worries around the second were ENHANCED by a) two extremely drunk women blocking the doorway INTO the pub b) another very drunk woman staggering in and singing at us then c) the original two drunk women coming back and almost falling over, looking for coatsm all before we'd even started. It was all FINE after that though - as ever, the office drinkers start to disperse around 7pm, leaving the bar a bit freer for the ROCK shift!
When I eventually managed to get through the downstairs THRONG and into the upstairs room I discovered that CJ, bar manager and all-round good guy, had set the room up for us already. I was then joined by Mr J Dredge, and we had a quick run through of the Plinths songs that we were going to do. This was all going well until we were interrupted by the very drunk person mentioned above. "I sing for a living!" she said. "What sort of thing?" I asked, and she started singing. "No, I meant in what way do you sing for a living?" "Play something I know and I'll probably know it," she said. "No, I meant, do you sing sessions or something?" She nodded wisely and then sang "Oooh, whooa-oh-oh." I VERY POLITELY thanked her and said we needed to get on with the practice, and she wobbled out again. It was most odd!
Shortly after that Robin Robberie arrived, then a whole heap of other delightful people, including Val and Nik also of Robberie, until we had quite a full room. I'd been a bit worried that the lack of PO! would harm attendance, so was very pleased to see the room at OPTIMUM audience levels. Steve could not attend, which was doubly sad because he couldn't do the "OOH" in the theme song and also because Susan had brought him some Red Leicester Mini-Cheddars as a present. Not only this, but she'd brought enough for everyone AND some Pringles AND some kitchen towel for use as napkins - my regulars are the BEST!
We kicked off with a rousing renditon of the theme tune (with Mr W Pilkington filling his regular role as Super-Sub by standing in for Steve) then I did the following:
It seemed to work pretty well - I was very happy to DEBUT
Bad Back
and came about as close as I'm ever likely to get to doing
Have A Drink With Us (Drink Doch Eine Met)
almost right - and it was nice to do three whole songs, expanding my set slightly to make up for the lack of PO! Then John came on for the Plinths section, which was also expanded from one song to three, THUS:
For me this was a bit of a PANIC, as I had to PROPERLY CONCENTRATE on playing the songs right, so spent most of the set SWEATING while staring at a piece of paper, but whenever I looked up I saw a lot of smiling faces, and John sounded GRATE. These aren't songs I've played very much, so it was lovely to hear them in a room full of people, and they sounded dead good!
Then, after the break we had Robberie who were, as ever EXCELLENT.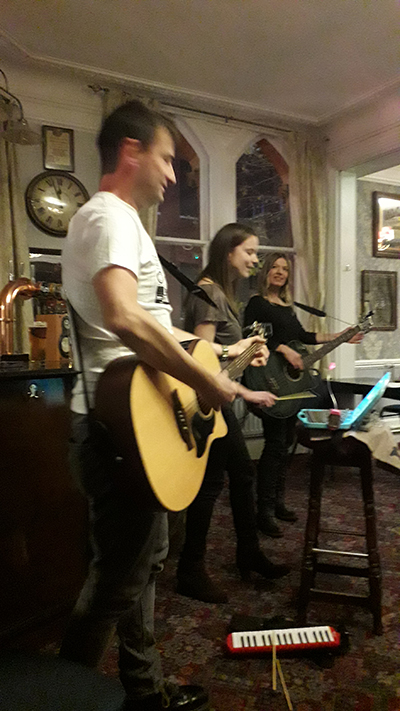 I love Robberie, they are ACE, and it was all I could do not to sing along all the way through. At one point Robin said "We're doing Mark's favourite song" and I said "Seven Hills?" which was not what they were expecting - they'd meant "This Dancefloor Needs Me" which is ALSO ace and ALSO my favourite, though I must say on this occasion I was moved even more by "Journeyman". What I'm trying to say is that all their songs are ACE!
We finished just after 9pm, which left a really good length of time to catch up with pals various, including Mr A Lawson who I'd not seen for a while, and sample some of the fine WHISKIES what they have behind the bar. It was a BRILLIANT night, and I can't wait to start booking next year's now!
posted 22/11/2019 by MJ Hibbett
(click here for permanent link)
(0) comments
Returning To The Saddle Of ROCK Admin
The snoozing behemoth that is Validators ADMIN has been very much roused these past few weeks, and is even now rubbing its eyes and wondering whether it can get a cup of coffee please, for LO! preparations for the rush-release of
You're A Tory Now
are VERY MUCH underway.
As discussed
a few days ago
there was some last minute re-recording to do, before we settled down to the final MIXES, which I can now confirm are DONE. I have simultaneously been working on a VIDEO which will take the form of one of those Political Virals you see nowadasy, which is ALSO pretty much finished and ready to go. Today I've started the process of getting the track onto Spotify, iTunes and all that, and then the next stage will be to start emailing press and radio types - although Frankie has pointed out that the song may actually be (really!) BANNED on the main radio stations due to Political Content!
It's all really rather exciting. It's been BLOODY AGES since we last released something NEW, and I'd almost forgotten how much FUN this part of the process is. I know it's ADMIN, but it's ADMIN in pursuit of JAPES and GOOD TIMES, and it's paving the way for the whole SLEW of new stuff we've got coming out next year. Watch out, THE MAN, The Validators are coming back!
posted 14/11/2019 by MJ Hibbett
(click here for permanent link)
(1) comments
Damp In Leeds
As mentioned
yesterday
, I spent the end of last week up in Leeds, where I was attending and PRESENTING at
Comics Forum 2019
. Flipping heck, it was WET in the North! According to the news there were whole MONTHS-worth of rain falling in a single day and there was FLOODING all over the shop. I was lucky to GET there, and even LUCKIER to get back, as trains were CANCELLED everywhere. I was not so lucky in my footwear, however, as I had foolishly NOT taken my Proper Shoes and thus had cold, wet trainers on for most of the first day.
The conference took place in Leeds Central Library, which was a GORGEOUS place with a whole Art Gallery attached. I saw lots of interesting talks, with my favourites being one where a librarian said "we need more librarians" (Librarians ALWAYS say this no matter WHAT they are talking about) and another which featured heavy use of SQL QUERIES. It was VERY exciting! My own presentation was about periodising The Marvel Age and I think it went OK, although I was EXTREMELY relieved when the Professor of Art History left the room mere MOMENTS before I started talking about Art History. I also got to wander around Leeds a little bit, notably on the Thursday evening when I blundered from Conference Drinks into the Leeds Christmas Lights turning-on ceremony, and met Santa Claus!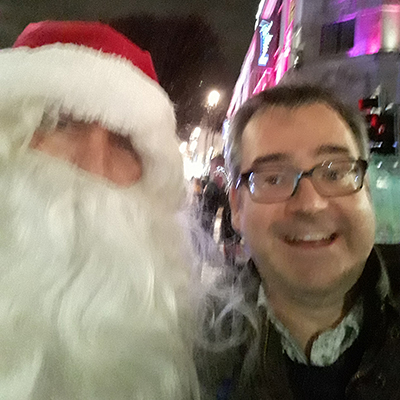 The only downside, apart from the WET FEET, was that I got my usual IMPOSTER SYNDROME during the day. I know it may appear that I am an INTERNATIONAL ROCK STAR who swaggers about blithely, but conferences always fill me with TERROR. I'm fine at the Listening To Presentations bits, and thoroughly enjoy my own Showing Off Sessions, but it's the bits in-between that always make me feel like I'm starting a new school again. I mean, it's not like I don't KNOW people or anything, especially at things like this, but it's often all I can do NOT to run away and HIDE during the coffee breaks. Actually, that is often what I DO do - and a library is a GRATE place to do that!
Other than that I had a lovely time, and would very much hope to go again next year - if I do though I'll definitely take some waterproof shoes!
posted 12/11/2019 by MJ Hibbett
(click here for permanent link)
(0) comments
Panic Writing
As mentioned
last week
, we are planning to INTERVENE in the forthcoming General Election by releasing our song
You're A Tory Now
as a single, thus awakening the nation's latent Anti-Tory good sense and sending Labour/Lib Dems/Greens (delete as applicable to your own prefernces) surging into Parliament on a wave of delight and happiness. Nothing can go wrong!
OR CAN IT?!? Last Monday Mr FA Machine sent me the latest mix of the song, which sounded GRATE, and I thus played it that evening to The Sounds In My Tune, purely for her information and not at all as a way of SHOWING OFF. We were both happily bopping along to it until the final line, which says "But if you voted Brexit/You are dead to me."
This has always been FINE in the live environment, when shouted at a room full of people who basically KNEW me, and also were already on-side, and appreciated what the song was all about. HOWEVER, as the aforesaid Ink Of My Newspaper pointed out, somebody hearing outside of those circumstances, especially during a possibly FRAUGHT general election campaign, might think that I genuinely want all Brexit voters to be KILLED.
We discussed it again in the morning and I was gripped by DREAD. Quite apart from the above, I actually know, like, and indeed love SEVERAL people who for their own (admittedly somewhat KRAZY) reasons voted Brexit. ALSO, obviously, someone was actually MURDERED for their political beliefs in the last election, and I could see that that lyric could VERY EASILY be taken out of context. ALSO ALSO there was an argument that the lyric could even mean that I could happily forgive anybody for being a Tory, but could NEVER forgive ANYBODY for voting for Brexit, irrespective of their usual choices.
As I say: PANIC! I put forward these points to The Vlads and so began one of the DISCUSSIONS that make me PROUD of the way we operate, mulling over the points and then engaging in a LENGTHY discussion about what we could do instead. In general I would not RECOMMEND this as a way of writing song lyrics, as a group of people emailing each other with suggestions is NOT necessarily the most free or creative way to do it, but along the way I did learn many things, including the fact that "airing" is a Young People's Description of that thing when you send someone an instant message and they do not reply - leaving "air", in fact. That bit of lyrics came courtesy of Validators with children!
Eventually, after much TO and also FRO, I had about five variations on the closing couplet, which I recorded for Frankie to SPLICE into the track. I then discussed it further with our INTERNAL COMMS TEAM, whittled it down to TWO and then came up with ANOTHER one which I duly recorded and sent off to The Vlads for further thinking. These ideas were all NON-political, swerving the song towards the sort of gags which said "Yes, I can cope with your political views but will NOT abide you saying 'these data'", for instance.
The consensus that evening (and by the way, NOTE the SPEED with which the mighty Validators machine works in these instances!) was that these were all Jolly Amusing, but lacked the power and point of the original. More suggestions weere made, and further discussion was had on-sofa, which led to a FINAL couplet which now leaves the last verse as this:
Of course we are both adults Friends can disagree But please God, do not tell me You admire the ERG
I was very happy with this and, PRAISE BE, so were ALL of the STAKEHOLDERS, and thus on Thursday I recorded it in my HOTEL ROOM - I was up in Leeds for a conference (more of which to come) so had to take my mini four-track with me to get it done. I wish I'd taken my GTR with me too, then I could have recorded a whole album about Being On The Road!
The new line has now been successfully inserted and we're moving towards a final mix, which means that we're nearly ready for the next stage: sending it out to people!
posted 11/11/2019 by MJ Hibbett
(click here for permanent link)
(0) comments
Emergency Money
A few weeks ago myself and The Artefacts In My Exhibition went on a day trip to The British Museum with my cousins The Ritchies, who were over from America to basically ZOOM around the entire country on bikes being SUPER DYNAMIC about everything. We had a BRILLIANT time with them, largely because they are entirely brilliant people, seeing a whole heap of items in the British Museum what we had never seen before, notably the
Assyrian Lion Hunting Relief
which was AMAAAZING.
However, there was one exhibition that we wanted to see that we couldn't get ino, because it was closed that day -
Currency In Crisis
, about German "Emergency Money" during and just after the First World War. We decided that this must be RECTIFIED, and on Sunday just gone we headed into Central London to do just that.
COR! I am really glad we did because it is RUDDY FASCINATING! I do remember doing German hyper-inflation when I did my O Levels (young people, these were like GCSEs but definitely much more difficult and also cool at the same time), and have a vague picture in my head of someone pushing a wheelbarrow full of banknotes to buy some bread, but there was TONNES more in this exhibition. Towards the end of the war the German government couldn't keep up with the need for currency, so allowed towns to issue their own. The towns used the notes to advertise themselves as tourist destinations (as that was a New Thing at the time) and the notes became collectors items, with FOUR magazines about the hobby going at one point, and specially Notgeld albums produced too. THEN when the economy collapsed they became used as actual currency again, with BILLION mark notes being produced!
My favourite thing was the fact that sometimes towns preferred people to just COLLECT the notes rather than SPEND them and so, in one of the MOST GERMAN things ever, they issued them in Inconvenient Denominations! THUS there were things like 45 pfennig notes, which were Just Not Very Convenient, so they were less likely to be spent.
Afterwards we went to see MORE STUFF, with a gently diminishing rate of return. We first looked at
Sir Stamford Raffles: collecting in Southeast Asia
, which was a Quite Interesting look at colonial attitudes to collecting and other cultures in Victorian Times. Unfortunately, like a lot of things at the British Museum, this raised some awkward questions about whether they should even HAVE all this stuff, as it is CLEARLY NICKED. This was even more the case when we popped in to look at
Admonitions of the Instructress to the Court Ladies
, a 1,000 year old scroll which is only available to view for six weeks a year because it is so DELICATE. We didn't get a close look because there were a LOT of people looking at it, almost all whom appeared to be Chinese, but I did see the an info board about how it ended up in the BM - apparently they bought it from "a sailor", but didn't know where HE'd got it from. I think you can have a good guess, British Museum - he NICKED it!
We also had a look at
Pushing Paper
, which was supposed to be an exhibition of drawings since 1970 but had a LOT of material that clearly Was Not Drawings, plus some work by Käthe Kollwitz. They were both ALL RIGHT bit it did seem a bit pointless - as The Graphite In My Pencil pointed out, London has LOADS of Art Galleries, so why does the British Museum need to collect this stuff? My theory is that it is an insurance policy against the time in the future when they have to give back all the STOLEN PROPERTY - at least this stuff comes with a reciept!
posted 6/11/2019 by MJ Hibbett
(click here for permanent link)
(0) comments
Comics Jam
On Saturday I went to
The Cartoon Museum
for a special event called "Comics Jam", all about preserving the legacy of British Comics. It was PRETTY AMAZING.
As anyone LUCKY enough to have read this blog for a while will know, I have been to a LOT of comics-based events over the past few years, but those have almost all been ACADEMIC conferences, seminars etc etc. There WERE academics at this one, but it also featured several CREATORS and was led by COLLECTORS, who are a whole other bunch of people all together, with complementary but different priorities. THUS instead of talking about the form of comics or Wot It All Means there was a much bigger focus on the actual physical comics themselves.
The point of the event was to draw attention to the
Peter Hansen Collection
, a COLOSSAL collection of original comics art and related materials, and the various attempts being made to make this available to THE NATION. Peter Hansen himself was there to talk about it, as well as people like Rob Power from Rebellion (who own 2000AD and a HUGE catalogue of old British comics), who spoke about their attempts to get the original artwork back to the company who now owned the copyright, and who could take care of it.
As I sat there in a small room in the middle of these fans, who were also collectors, many of whom were also creators, I did rather feel like I had SNUCK INTO a secret gathering, where they were plotting what to do with a huge slice of British history. I was sat near to David Roach, a long-term 2000AD creator who happily, like so many comics creators, looks like he had been drawn by himself, and when I came into the room I had to squeeze past DAVE GIBBONS to get in! Later on I even asked a question of Actual Dave Gibbons and managed NOT to squeak with excitement when I did so!
There were some amazing stories of how little original artwork was valued - apparently original Frank Hampson artwork for The Eagle was used as a floor covering to stop the carpet getting mucky, and the only piece of art from MISTY to have survived did so because it happened to be used as a cutting board - and it was GRATE hearing veteran creators talk about the fact that they often didn't WANT their original artwork back, as it was too much bother to store it! Later on Posy Simmonds from out of The Guardian spoke, and then Jonathon Ross did a SKYPE chat, and it all felt like a COMICS ILLUMINATI convention that I had stumbled into!
The REALLY good thing about the day though was that it was housed within the Cartoon Museum, so when there were BREAKS I could go and have a wander round the gallery there, which is AMAZING. I've been before when it was based in Bloomsbury, but its new home is a LOVELY space - airy, open and brightly lit, with lots of space for exhibits, notably a current one showcasing COMICS art (i.e. as opposed to political cartoons). About half of the art there had been donated by the aforesaid Peter Hansen, and it included plenty of work by people who were actually in the room, so it did not diminish my slight giddiness at being there, but it is always exciting to be so up close to artwork that I've known all my life. There was an especially gorgous page from "V For Vendetta", for instance, which prompted me to start re-reading it when I got home. I had forgotten how ACE it was!
It was, overall, a pretty mind-blowing day. I just wish I had a couple of million quid spare to fund a museum!
posted 4/11/2019 by MJ Hibbett
(click here for permanent link)
(0) comments
Be Afeared, Cummings!
It's been very quiet here on this blog just lately, not because nothing has been going on, but because the things that HAVE been going on (me going to the football some more, me writing up my PhD, me and The Episodes In My Series watching "Ugly Betty") are all ongoing items which, while FASCINATING TO ALL, I do not necessarily need to go on about ALL the time.
One thing that has NOT been going on much lately, however, has been ROCK, as gigs have not been forthcoming and releases have not been released. This, however, is about to change!
Over the past few months The Validators and I have been recording a whole heap of new material which we were planning to release in 2020. A couple of weeks ago Tom and Emma went into the studio to record their last bits on 5 of the 8 songs, and this week Frankie has begun the work of MIXING them. All is sounding lovely and we're gently doing our ROCK STRETCHES to get ready for it all to kick off next year.
Or, at least, that was the plan until THIS VERY MORNING when there was a message to The Validators' WhatIsApp group (yes, we are VERY modern and with it) with a GRATE idea to RUSH RELEASE one particular song THIS year i.e. before the General Election happens. The song is
You're A Tory Now
and, as he pointed out, it's vital we release it SOON before the Tories DISAPPEAR FOREVER FROM THIS EARTH (which is definitely what is going to happen).
This, I think, is a BRILLIANT IDEA. It was only suggested about two hours ago at time of writing, but so far I haven't seen any down sides - there's time to mix it, stick it on iTunes, and maybe even do a video. And hey, if it ends up DESTROYING TORIES FOREVER then surely that can only be a bonus?
posted 1/11/2019 by MJ Hibbett
(click here for permanent link)
(0) comments
Visit Lincoln
This weekend myself and The Hills In My Wolds went for a sophisticated mini-break in LINCOLN. It was ACE!
The idea for the trip came about a few years ago when we were in Belfast - we were having such a lovely time there that we thought we'd look up other places that we could get to fairly easily which had Interesting Stuff in them. LINCOLN turned out to have everything we were looking for i.e. a Cathedral, a Castle, a Premier Inn, some kind of museum and a rail link to London, and so it was that last Thursday night we boarded the train NORTH. Our original plan was to get an open ticket, but when we looked at it a few nights before the aforesaid Price Of My Bargain pointed out that we could go FIRST for only about 5p more if we advance booked, so we DID. Brilliantly, as we were travelling on a weekday, we got FREE BOOZE, which meant that we arrived in Lincoln in high spirits! Hoorah!
I don't know what they do at Premier Inns that make them this way, but almost invariably they seem to be staffed by Nice People who are Happy In Their Jobs, and this was very much the case at the Lincoln establishment. On the Friday morning we missed breakfast but arrived downstairs to discover that it was CAKE FRIDAY, where Bev (one of the staff) makes CAKE, and she let us have a bit. It was GRATE! It was an excellent start to what turned out to be a brilliant day, featuring a look at the CASTLE and the CATHEDRAL. Crikey O Riley - this place has an ACTUAL CASTLE in it, just a few feet away via an MEDIEVAL TOWN CENTRE from a GINORMOUS CATHEDRAL, and yet nobody I know (including until recently US) seems to have ever thought about visiting. Everyone goes on about YORK, but Lincoln is, in my opinion, SLIGHTLY NICER, also nearer!
The castle is HUGE and has a complete wall all the way around, which we WALKED round, and also a Victorian Prison with (apparently) the only surviving Isolation-based prison chapel, where there were BOOTHS for each prisoner to stand in so they could only see the Priest. The whole place was ACE, with a whole prison to wander round and a display about the Magna Carta also. The only slight downside was the Walking Tour which was led by (CLEARLY) a former Primary School Teacher who talked AT SOME LENGTH so that, after half an hour's talk with very little walking but a LOT of descriptions of HANGING, we had to make our excuses and leave. We were the THIRD sub-group to do this - "I'm used to people leaving my tours!" she said happily.
The Cathedral was EXTREMELY impressive, not least because they had taken all the PEWS out so you could see how GIGANTIC it all was, like an indoor TOWN. It took us a while to work out where The Lincoln Imp was and when we did... er... we had seen it. We also went to a PUB, and then later on went for TEA in a Prezzo that had previously been a Car Showroom.
We discovered this fact the next day on the OPEN TOP BUS TOUR which was a ZOOM around the outside of the city, re-learning things we'd learned the day before. We followed this up with a trip the The Museum Of Lincolnshire Life, where we received the latest in a long line of Very Friendly Greetings. Speaking as Someone (Technically) From Lincolnshire (born in Stamford) I can say that people fron Lincolnshire are LOVELY. They are proper East Midlanders - not OVER friendly but very nice indeed, and also they TALK PROPER. The narrations in the museum made me feel like I was sat in a pub in Market Deeping, and lots of the exhibits made me feel as if I'd wandered into my Grandad's garage circa 1978, keeping a safe distance from the TOOLS and IMPLEMENTS which had had hanging from the roof! I also learned how BRICKS are laid - I always thought that the half bricks you see in a pattern were exactly that, and was STUNNED to realise that they were actually normal bricks side on, as part of a double-thickness of bricks that make up a wall. I could feel my BRANE churning as this new knowledge was input!
Both our BRANES were pretty much full at this point, but we still managed to have a quick zoom around The Usher Collection (it was Quite Good) before going back for our bags and then nipping to the shops for some PICNIC TEA before catching our train home. The first leg of the journey back was in a little chugger train, which heavily featured a KRAZY GIRL who pretended her ticket was on her phone but it was out of juice (and then rang someone up to ask for ticket money) then forced various people in the carriage to put her make-up on for her, but otherwise it was a DELIGHTFUL journey, although sadly lacking in FREE BOOZE.
It was, all told, a GRATE trip and a LOVELY place to visit - honestly, I would highly recommend it to anyone who likes castles, cathedrals, museums, pubs and Premier Inns, although possibly not anyone allergic to Really Steep Hills. Our only question remaining now is where to go next?
posted 22/10/2019 by MJ Hibbett
(click here for permanent link)
(0) comments
A Brush With Philosophy
The other day I went to a PHILOSOPHY SEMINAR. Or did I? How can we really say?!? Aaaah! Do you see?
The reason for my attendance was that for the past three years of my PhD I've heard academics ENDLESSLY banging on about Foucault, Deleuze, Derrida and various other French blokes who appear to have had a LOT to say about pretty much everything. However, try as I might I have never managed to find out WHAT they are saying (apart from "Aaaah! Do you see?"), particularly when it comes to my particular topic area. At least Umberto Eco wrote an actual paper about SUPERMAN (which everyone goes on about EVEN MORE) that you can read and see what he was on about, this lot don't even seem to have bothered with that.
I've found it all a bit annoying, to be honest, and when I have tried to ENGAGE with Philosophy it gets even worse, as Philosophy basically seems to involve acting like a teenager who has had their first cigarette, boring other people in the kitchen of a house party by saying "Yes, but what if none of this is real eh? aaaah! Do you see?" It also seems to involve making big pronouncement about entire other fields that you don't actually understand, getting it completely wrong, and then claiming it's an INSIGHT. Whenever I've seen people Do Philosophy around comics, for instance, they invariably say things like "Stan Lee invented Captain America" or similar, after which I have FRANKLY no time for anything else they say.
HOWEVER, I always think it is a good idea to get INVOLVED with such things and at least have a GO, just to see if your suspicions are correct rather than simply harrumphing round dismissing things. In that spirit I have gone to the Homeopathic Hospital, for instance, or taken a course in Stand-Up Comedy, or indeed done ACUPUNCTURE. In this way I have learnt that a) a homeopathic hospital is run by people who don't know really how hospitals work but are trying to pretend to be one like off the telly b) stand-up comedy is a lot of work for something that doesn't have an awful lot of SOUL to it c) Acupuncture definitely does SOMETHING but I have no idea how.
THUS I went to an Introduction To Philosophy Seminar in that hope that EITHER my preconceptions would be blown apart and I would gain an understanding of thought through the ages OR my preconceptions would be ratified and I could stop worrying about it. Friends, I got NEITHER of these things, but also... aaah, do you see? BOTH!
Pretty much all of my preconceptions turned out to be true. Within 5 minutes of the seminar starting it was clear that the bloke running it was the sort of teacher who asks blindingly obvious questions, asks for someone to give the blindingly obvious answer, and then calls them an idiot for saying something so blindingly obvious, so that very soon you get LONG SILENCES until someone is forced to be the patsy. Thus when he said "1,2,3,4 - wot is next eh?" it took AGES for some brave soul to eventually say "5?" and he then said "BUT WHY?!?" "Because you're adding one each time?" someone else (correctly) said and then there was much verbal strutting about before he said "No, it's because we're counting in Base 10!"
WHAT THE?!? Reader, I could not help myself. "No it isn't," I said. "It would be the same in Base 6,7,8 etc etc, and the sequence is nothing to do with the base." He waved away my CORRECT POINT and said "Oh well I could have gone on and done a longer sequence", which was not the point AT ALL, and left me ANNOYED for the rest of the session.
HOWEVER, the actual PHILOSOPHY bits were Quite Interesting. I do like Greek Philosophers and their MAD THEORIES, although again these were made ANNOYING. e.g. he told us
Zeno's Paradox about ARROWS
(i.e. before you go anywhere you have to go halfway there first, but before you can go halfway you have to go half of that etc etc so you can never go anywhere) which is all good BRANE FUN if you are FIFTEEN AND DRUNK but it is not QUITE as MIND BLOWING as it was made out to be. There were lots of good bits about how Philosophy developed and The Enlightenment and all that, but as it went on I thought "Hang on, you said it's all about finding things out for yourself and fearlessly investigating, but this appears to be a long list of dead men who said all this CENTURIES ago."
Also, and it pains me to say this, it all happened in a room full of PhD students who, with the best will in the world, are very APT to taking any opportunity to make everything about their own thesis and go into lengthy, unnecessary, detail about it, much like Doctor Doom does when he reveals a cunning plan (HEM HEM). It all got A BIT ANNOYING!
However, it also left me wanting to know some more FACTS about it all, and on the way home I had the SHUDDERING REALISATION that I could just watch a TELLY programme about it! Apart from comics, TELLY is pretty much the main source of all my knowledge, and so I was DELIGHTED to discover that there are MANY series on the YouTube which not only do all the Fun Stories about Philosophers, but also
illustrate it with stock Open University footage of actors wearing bedsheets
. THIS is the sort of learning I want please!
OR IS IT?! AAAAH! DO YOU SEE???
posted 14/10/2019 by MJ Hibbett
(click here for permanent link)
(2) comments
Four Years At Work
Let joy be unconfined, for today is the FOURTH ANNIVERSARY of me re-entering the world of Full-Time Employment! Whoo!
Way way back in the distant days of Spring 2013 I finally came to the end of my contract at Birkbeck College. I'd originally been employed ten years earlier to work on The National Evaluation Of SureStart, a massive project which set out to see if having SureStart Centres actually did any good (Short answer: yes, they did). It was a lovely job doing Important Work which gradually transformed into a lovely job where there wasn't that much to do anymore, especially when the actual study ENDED, and I ended up doing a lot of pottering round and GIG booking. THUS when my contract came to an end I didn't think I could really complain, especially as my years of sterling service meant I got paid some redundancy money!
This also coincided with me coming to the end of my MA at City University - my original plan had been to do my MA BECAUSE my job was finishing, and to spend a year off work doing it, but a) the job kept getting extended and b) the MA I chose took two years to do, so I ended up doing most of it while still at Birkbeck. As it happened I finished work not long before I finished my coursework, and so decided that I would take the opportunity to have some time off and become A Professional Writer!
This was not an overwhelming success. Over the next year or so I think I made about 20p from Professional Writing, largely through submissions to "Newsjack" on the radio, but I DID have a LOT of fun. It turns out that NOT going to work is lovely, who knew? Sadly, however, there came a point when I had to accept that the world of Literature was NOT READY FOR ME YET, and so I would have to seek out other avenues of CA$H while I waited for them to catch up. My first idea was to do a PhD, as I knew you could get FUNDING for that sort of thing, but it turns out that while you CAN get funding, it tends to be for BORING things that THE MAN thinks is useful e.g. MEDICAL SCIENCE, and not Doctor Doom. It is an outrage!
So it was that I had to get an actual JOB, and on October 10th 2015 I went to work at Imperial COllege. The reason I remember that date so clearly is because the job went horribly wrong, after being LOVELY for six months, and I ended up leaving to get ANOTHER job, which started on... October 10th 2016! This meant that on October 10th 2017 I was very conscious of the fact that I'd been in THAT job for a year and was a bit BORED with it, so started looking for something else instead. Before all this I had only ever really had TWO full-time jobs, at Leicester University and at Birkbeck, so it was all a bit of a WHIRLWIND, and one I hoped would calm down.
Here on October 10th 2019 I can confirm that it HAS. Indeed, someone on my team announced this week that they were leaving and I thought "Eh?! Why would you want to do THAT? It is dead good here!" which I think is a good sign. The only problem is that this contentedness will surely anger the Gods Of ROCK, who will doubtless decide, sometime between now and October 10th 2020, that the WOrld Of Literature IS finally ready for me and give me a MILLION POUNDS to put my book out.
Don't do that, Gods Of ROCK, that would be AWFUL!
posted 10/10/2019 by MJ Hibbett
(click here for permanent link)
(1) comments
A Brush With Royalty
For the past few weeks I have been trying to CIRCUMNAVIGATE the building I work in twice a day. This is mostly due to HEALTH, as otherwise I would spend the whole day sat in a stuffy office, only moving to pop to the shop to get some lunch, but it also allows for Interesting Insights. I work up behind Kings Cross station and there is usually something going, but not usually involving FEUDAL OVERLORDS... until yesterday.
For LO! as I stomped around the block on Wednesday morning I came across a small crowd standing behind some barricades. I am always interested in small crowds standing behind barricades, so asked a nearby Grumpy Kings Cross Security Officer what was going on. "The Duke and Duchess of Cambridge, apparently" he replied, grumpily. It took me a moment to work out what he meant, but then I realised it was William and Kate so I decided to hang around and have a look. After all,
we went to their wedding
, so it would be rude not to.
I wasn't the only one to take time from their busy schedule to be there. There is a LOT of building work going on round here, so there were several construction workers in attendance who'd also stopped to see what was going on. "This is how the rich stay rich!" said one to a pal as we waited. "Shout 'Stop Brexit'!" said another one. Everyone was joking around, being dead nonchalant, so when the Pakistani Ambassador arrived nobody batted an eyelid. It looked like there was an event going on at
The Aga Khan Centre
, and later research showed that they were coming for a chat with The Aga Khan himself, but at the time everyone was more concerned with waving at lorries going by.
After a while somebody said "They're coming!" and everyone looked down the road to see a police motorcycle and a big posh car coming towards us. More jokes were told and chat was chatted, right up until the moment that the car doors opened and then everyone went SILENT. It is a WEIRD THING about being British - however much you KNOW that Royalty is an oppresive concept based on centuries of injustice, you still have to fight off the urge to say "Gawd bless yer, your majesty!" while tugging at a forelock. To all the people who inevitably are now thinking "Not me, I would lob a BRICK at them, definitely" I say "OF COURSE YOU WOULD."
It was all over in approx 60 seconds as they got out of the car, said hello to someone at the doors, and then wandered in, and then we all magically returned to normal. "Back to work then!" somebody said, and we all dispersed, each giving the air of somebody who had been mildly inconvenienced in their important daily life, and who definitely hadn't taken a whole bunch of pictures on their phone to show off to people in the office. Or at least that's what I assume everyone was doing - I, of course, had gone of in search of a BRICK.
posted 3/10/2019 by MJ Hibbett
(click here for permanent link)
(0) comments
Rock Admin Returns
I have been doing some ROCK ADMIN just lately, and it has been LOVELY!
As subscribers will have noticed,
the latest edition of the newsletter
went out yesterday, and this took a LOT of Rock Administration. It needs writing OBVS (and checking by The Comms Team In My Corporation) and EMAILING and
archiving
, but then there's all the tidying up afterwards. During the summer months I usually get a pile of "Out Of Office" replies from people on holiday, but there's usually several defunct email addresses too. This month, for some reason, I got a TONNE of btinternet and yahoo addresses returned to me, which need removing from The Database Of ROCK. I'm sure this is peasy with MailChimp, but not so much when you're still doing it all by hand!
The newsletter has been somewhat SPORADIC this year, due to not much ROCK going on, and part of the reason for this ROCK DROUGHT has been the pausing of
Totally Acoustic
. However, as
previously discussed
, Totally Acoustic is now BACK, which means that
the PODCASTS
are back too. Crumbs, if it feels like the newsletter takes some doing, it is as NOTHING to the effort that goes into getting the podcasts sorted out. Luckily for me I have always kept NOTES on how to do this as there is a LOT of steps that have to be gone through to get my drunken recordings of events into an edited shape! I think it's worth it though - one day I expect the
podcast archive
to be seen as an essential ARCHIVE for historians of the past decade or so of INDIE!
I ended up having to finish the podcast yesterday at high speed, so that it could be ready for the aforesaid NEWSLETTER, which meant that I suddenly felt myself embroiled in more Rock Admin that I had had for MONTHS, possibly YEARS, and it was actually really good fun! I like ROCK, and I also like getting things organised, and it was lovely to revisit the days when I was up to my ears in this sort of thing all the time. I wouldn't want to go back to QUITE that level of admin again - quite apart from being busy with the PhD and the BOOK, I also know that I would COLLAPSE if I was gigging about as much as I used to - but it was nice to revisit it, and it's made me wander whether I might be able to dip the ROCK toe back in a little bit more? LET'S SEE!
posted 2/10/2019 by MJ Hibbett
(click here for permanent link)
(0) comments
Hornsey Road with Mark Lewisohn
Saturday evening found me in London's glittering LONDON area of London, attending The Theatre for an Interesting Lecture. Why on earth I don't have a Society Column in a leading newspaper yet I do not know.
The lecture was called "Hornsey Road" and was given by Mr Mark Lewisohn, the legendary Beatles scholar who has written MOST of the GRATEST books about The Beatles by the simple expedient of doing some RESEARCH. What makes hims so GRATE is that whereas most people who write about The Beatles simply go back through the old press cuttings and/or other people's books, Mark Lewisohn actually goes and CHECKS and/or talks to people who were THERE. It's Primary Research baby, and it flipping WORKS - his book "Tune In" is FULL of incredible FACTS about the early years of the band before they were famous, including ASTONISHING revelations such as an entirely OTHER name ("The Japage Three") for the group that had never been reported before.
The only problem with this is that it takes FOREVER for him to write them - the second (of three) volumes is still YEARS away apparently, which he acknowledged when he came on stage by saying "Yes, I'm getting on with the next book" to much relieved laughter. One doesn't want to be CRUEL or anything, but looking around the audience when I arrived I realised that this must be a bit of a worry for a lot of them - if I hadn't bumped into Mr S Love on the way in I would have thought I was the youngest person there!
The show itself was FANTASTIC. He took us through "Abbey Road", in chronological order of when each song had been recorded, with a world class Powerpoint presentation. This involved a HUGE number of photographs that I'd never seen before, including some incredible ones of ALL The Beatles, also George Martin and a bloke from Manfred Mann, crowded round a GIGANTIC Moog synthesizer, taking turns to do overdubs on it. There were also some great ones of them working into studio, taken by Yoko from the bed and including her slippers at the bottom of the picture!
He played each song as a "remix", remixing the individual tracks (apparently HACKED from "Beatles Rock Band") and accentuating them variously throughout the song, so he drew attention to, for instance, the bass playing, then the backing vocals, then it all together and so on. This was MOST pertinent during "Oh Darling" when there was a bit with just Macca's vocals and the backing vocals which sounded AMAAAAZING, and drew a round of applause at the end from the crowd.
There were also rounds of applause for some of the INSANE research work, which isn't something that happens often. One of them was for his investigation into the identity of Mr Mustard from the song "Mean Mr Mustard". I don't want to reveal the FUN of it all, but suffice to say there really was a Mr Mustard who really DID shave in the dark, and Mark Lewisohn even had a suggestion as to how John Lennon found out about it. Even more impressive was a detailed map showing EXACTLY where John and Yoko went on their ill-fated motoring tour around the UK using data gleaned from reading local newspaper reports from around the country!
It was brilliant fun, but also VERY INSPIRING, and led me to be determined to get my actual hands on some actual comics for my own research. It'll be something to do while I wait for him to finish book two!
posted 1/10/2019 by MJ Hibbett
(click here for permanent link)
(0) comments
Totally Acoustic Returned!
When I arrived at The King & Queen last night for the first Totally Acoustic in AGES, it was as if nothing had changed. The pub was pleasantly full with people having a nice Thursday evening, the marvellous staff were being marvellous behind the bar, and Mr S Hewitt was already there, sat with a pint, reading his phone. However, when he and I went upstairs we smelt the tell-tale aroma of fresh paint, and there were NEW CHAIRS too! Was this a sign that things would be... different?
No. It wasn't. Everything ran just as it always does, as both Dr H McCookerybook and Mr J Osborne arrived in good time, along with a selection of regulars and other audience members, so when it was time to start we had a pretty much PERFECT size of audience. THUS I went on to lead everybody through the theme song before doing THIS:
This was the LIVE DEBUT for
It's Hard To Be Hopeful
, which seemed to go down all right - I was relieved that it did, as it's Quite Different to my normal sort of thing but also, I reckon, Quite Good! I must admit that I did also intend to do
I'm Doing The Ironing
but got halfway through the first verse and forgot the words!
After that display of Professionalism and Shouting, Helen McCookerybook came on next and was GRATE. Watching her play was actually INSPIRING - you see people make such a fuss about finger picking, but she was doing beautiful melodies that sounded simple and delightful, until you looked at the ACTION that was going on with her hands. It was also fantastic to have a Genuine Punk Rock Legend playing who was doing songs that were not only NEW but also ACE, especially the one about trillionaires going to live on Mars!
The break followed after which, as is traditional, I had to be reminded to do the whip round, and then John Osborne came on to do some POEMS. I say "poems" but the way he delivers them is more like Storytelling, I guess. It is BEGUILING and also ENTHRALLING, and features line after line that is packed with IDEAS and LOVE that popped back into our heads on the way home.
It was uniformly BRILLO, in fact, and afterwards we fell into CHAT and BEER and genuine good times. I was really REALLY pleased to have TA back, and now can't WAIT for the next one in November, which will feature Robberie, Ruth from PO!, and a guest spot by The Plinths. It will, I feel, be one HECK of a night!
posted 27/9/2019 by MJ Hibbett
(click here for permanent link)
(0) comments
A Pavilion South Of The River
After heading North for a day out on Saturday, on Sunday I headed SOUTH, this time in the company of The Days In My Week, to have a look around DULWICH. The aforementioned Doors In My Room had been handed a "What's On In Dulwich" booklet after an event a while ago, so we thought we'd have a look!
The first thing I discovered about Dulwich is that it is in SOUTH London, and thus much less easy to get to than anywhere in NORTH London. The original TfL Journey Planner-supplied plan was to get the Jubilee Line to Canada Water, an Overground to Peckham Rye, and then a Southern train to North Dulwich. It seemed simple enough but this turned out to be the NAIVE HOPES of a long-term North Londoner such as I, who expected these trains to a) TURN UP and b) OCCUR REGULARLY. When we got to Canada Water it gave us a SIXTEEN MINUTE wait for our next train which then got CANCELLED. I am, of course, aware that everybody OUTSIDE London is now going "Oh you are lucky to have trains, we have to wait three weeks for a broken wheelbarrow to get anywhere" and this is TRUE, but in my defense I had to stand on a smelly platform 18 miles beneath Canada Water trying to get enough signal on my phone to persuade TfL Journey Planner to give me a reasonable alternative route. Luckily The Stops On My Route looked at the map and pointed out that we could just go a couple more stops to London Bridge and get the Southern train directly from there. This was MUCH easier, also QUICKER than the original route, and it was only then that I remembered that Journey Planner is not the innocent route planner it pretends to be, but a devious MANIPULATOR that is forever trying to stop people going through Zone 1 and/or through busy stations. NAUGHTY Journey Planner!
Our handmade artisanal route was MUCH better, and we arrived in North Dulwich safe and sound ready to be WOWED by Dulwich Village, which a handy online guide had told us was "like a rural village in the middle of London". Obviously it wasn't in the middle of London AT ALL, but it was nothing like a rural village either - as my travelling companion suggested, it was more like the outskirts of Leicester, but I suppose "like Groby but near Peckham" isn't quite as sexy.
Our first port of call was
Dulwich Picture Gallery
, which I had promoted at home as having a big exhibition about REMBRANDT. Technically it DOES have one, but it turns out not to start for a couple of weeks - in my defence their website was, like most Arts websites, a bit confusing. It didn't really matter though as we didn't actually go INSIDE the gallery, instead having a good look at their
PAVILION
(which was on its last day). I do like a pavilion, and this one was not only COLOURFUL but also had a GANTRY halfway up that you could wander round which was full of tiny children making dinosaur noises, and thus ACE.
We then crossed the road and did a circumnavigation of Dulwich Park. The guide promised us "adorable dogs" which it definitely had a lot of, but surely missed a trick by not describing it as "like Central Park in Peterborough, but a bit bigger and near Peckham." It was dead nice and featured even more tiny children making dinosaur noises, especially outside the cafe where 17,000 toddlers took it in turns to be frightened of, and then harrass, an extremely dignified dog.
After that we crossed back over the road, took a shortcut through the gallery grounds again, and then hopped into Belair Park which, weirdly, did not remind us of ANY part of The Midlands. It was still pretty good though, especially an AMAZING Rose Garden which - ARF! - I had not - ROFLS! - promised anybody. We had a quick look inside the Manor House there too, although when we opened the doors we heard high pitched squealing, so assumed it had been booked for a function. As we left a young man came out and told us that it was a bridal shower, but that the building would be open as a restaurant next month. At first we thought he was just undertaking some excellent customer service, but later realised that he probably just wanted to get away from the Bridal Shower for a bit!
With that done we went to West Dulwich to wait for about 20 minutes for our next train, then got on a Thameslink back to St Pancras where we were reunited with the very fast, very regular, very handy high speed service home to Stratford International. It had been a lovely day out, but gor blimey guv'nor, it was good to be back in North London again!
posted 25/9/2019 by MJ Hibbett
(click here for permanent link)
(1) comments
A Day Out In Doncaster
I was up bright and early on Saturday for an exciting day trip to DONCASTER. DONCASTER! A place where many have passed through, several have changed, but few have actual BEEN! Speaking as someone from Peterborough I must say that this, of course, is a perfectly reasonable state of affairs for any British population centre, and it was AS a person from Peterborough that I was going there for LO! I was off for my first Away game of the season!
The train from London to Doncaster passes, as so many do, through Peterborough, and thus I was able to meet Mr P Myland and many other Posh fans on the train. We got into Doncaster Actual just before midday and, after a brief wander and a couple of phone calls, found a large contingent of fellow Peterborians in a Weatherspoon's pub. I don't LIKE going in Weatherspoon's because a) it is basically funding Brexit b) the beer is usually on the turn and c) the pubs themselves are like drinking in a waiting room of DESPAIR, and this one was very much in this vein, so I was relieved when we toddled off down the road to the MUCH nicer
Doncaster Brewery Tap
. It was FULL of blue shirts, also lovely beer, also a UKELELE band who, by the time we had to leave, had the whole room singing "Delilah". Well, I say they had the whole room singing - I'm not entirely sure they WANTED everyone to join in, but they did!
UPDATE:
I forgot to mention this in the first draft, but at some point during our wanderings round Doncaster a man came up to us and said "You going to the football? What team?" when we answered "Peterborough" he said "Aha! Adrian Durham!" For those who don't know, Mr A Durham is a radio presenter on TalkSport. He is also, perhaps more imporantly, a fellow alumni of Deacon's School in Peterborough and was in the year above me and Mr Myland at school (and in several school plays at the same time as me also). Crikey, if you had told me then that a stranger would know Peterborough because of Adrian Durham I would not have believed you - John Ringrose or Jason Blood, certainly, but Adrian?
Anyway, after some deliberate confusion at the mini-cab company over the road (involving everyone claiming to be called "Paul" - it seemed funny at the time) we were driven the 15,000 miles across Doncaster, out of Doncaster, and then across several time zones to get to The Keepmoat Stadium which is basically on the other side of the planet, in an industrial estate. Inside it was Actually All Right, like a cross between Pride Park in Derby and Kingsmeadow in Wimbledon i.e. modern but diddy. As we stood around near the bar before kick off I witnessed lots more Fenland faces coming in, spotting people they knew, looking delighted and striding over to shake hands. There were smiles all around me, lots of singing, and a genuinely happy atmosphere of people doing something they enjoyed with people they liked. It was lovely!
The happy atmosphere dissipated somewhat with the actual game, which was TERRIBLE. On the plus side, it was a gloriously sunny day, although that meant the Away end spent the next nearly two hours squinting under the shade of their hands, but that was about as good as it got. The Posh twitter account posted a picture where, if you zoom in, you can see me smiling and applauding something. I think maybe it was taken as the players came on at the start!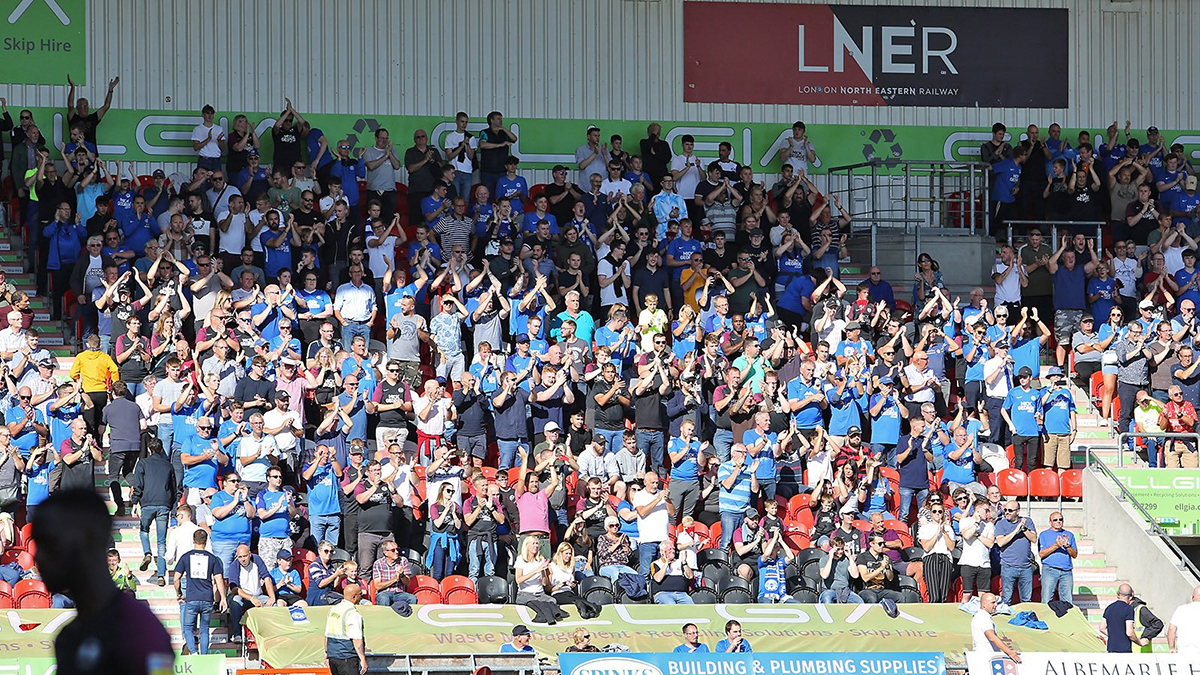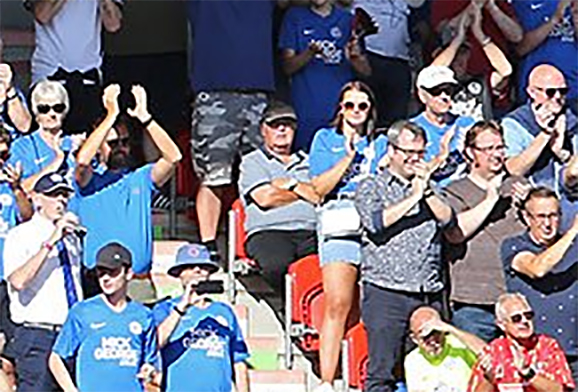 It was a somewhat deflated group of East Midlanders who made their way back into town, on what turned out to be an EXTRAORDINARILY long trek back. It took us about an HOUR, although there was a break for CHIPS about three quarters of the way back. After a visit to The Leopard the day ended with Mr Myland and I being THWARTED in our attempts to visit
The Draughtsman
on Platform 3 of the station (which I'd visited before with Mr M Tiller) due to it being shut. DENIED AGAIN!
We were joined on the train home by other Posh fans, but also fans of Norwich and Fulham, who were heading home after their own away games. As people went back and forth through the carriages I saw various different fans stopping to chat, to see how each other had done and commiserate accordingly. In these dark times of national division, seeing drunk people gently mock each other on a train was bloody lovely!
posted 24/9/2019 by MJ Hibbett
(click here for permanent link)
(0) comments
Feeling A Bit Of A Perforation
For the past few Wednesdays I have been going to my local Sports Injury Clinic after work to have some ACUPUNCTURE done. It only opened fairly recently and we got a FLYER in our letterbox about it, so after some deliberation with The Mail In My Pigeonhole I decided to give it a go to see if it would sort my PSORIASIS out. Psoriasis is a SKIN THING that I've had for YEARS and have tried MANY different ways to cure, from Chinese Medicine to Pestering The NHS, with none of them ever really getting rid of it for good. My most recent trip to a Skin Specialist at our local hospital was as dispiriting as ever - basically a man shrugging his shoulders and giving me some STEROID CREAM to plaster over it - so I thought I'd try NEEDLES instead.
A lot of my first appointment in the clinic was taken up with a CHAT, during which the (very jolly) practitioner told me that one of the "side effects" would be a lessening of anxiety. This is CONSIDERABLY more appealing than the side effects of steroid cream (thinning skin) or Chinese medicine (horrible taste and smell) and I certainly did feel less anxious afterwards... until about 11pm, at which point our washing machine stopped working!
The machine felt better in the morning, and so did I, and so I've continued going and I THINK it's working. It's hard to tell because Psorisais - or "scabby elbow syndrome" to give it its technical name - comes and goes, but it's definitely not getting worse, and I also THINK the experience is calming my BRANE down a bit. The weird thing about it all though is that it's a LOT less SPIRITUAL than I thought it would be. The practitioner is, as I say, a jolly chap who has not mentioned CHI or CHAKRA once yet, which is a bit disappointing. I wish he WOULD, rather than the occasional attempts to make it sound "scientific". In my experience Alternative Practitioners ALWAYS try and make it sound Scientifc but I wish they wouldn't as as they almost always get it WRONG. Tell me it's AURAS or something, Alternative Practitioners, and I'll be happy!
It's also very much NOT spiritual when the actual NEEDLES go in. I thought this was going to be all INCENSE and ZEN but actually it is some bloke sticking a bunch of bloody NEEDLES into you. I can't always feel ALL of them, but some I flipping well can, especially ones in my HAND that I can flipping SEE. There's also some that go in the Upper Leg which, weirdly, always make me EXTREMELY CONSCIOUS of the existence of the MUSCLES in my body - usually I wonder around feeling like a Floating Entity, unconnected to tawdry physical existence, but when that needle goes in my thigh suddenly I am aware that I am a mass of MUSCLES and BONES that are all working together.
I think I'd prefer the INCENSE to be honest, and maybe some chanting, but so far it seems to be working, and NEITHER of us have made a "Bit of a Prick" joke yet, so I reckon I'll keep going!
posted 23/9/2019 by MJ Hibbett
(click here for permanent link)
(2) comments
A Nosey Around
On Tuesday night myself and The Rooms In My Building went to another one of the "Your Neighbourhood Talks" events over at
Here East
, the COLOSSAL building over on the other side of the Olympic Park (where we live, have I mentioned?) which used to be The Media Centre during the Olympics (which happened here, where I live). We have been to several of these events, partly because it is vital to be an active member of ONE'S COMMUNITY, and also because it is a great way to have a good old nosey around in places you otherwise wouldn't be allowed into.
Getting to Here East is also a good excuse for a stomp across the PARK, which is always a DELIGHT, and we arrived just in time to snaffle the last remains of the BUFFET which they always supply. Last time we went, when it was over at the POOL, we WOLFED down about 17 metric tonnes of sandwiches, but this time we were there a bit later and were disgusted to find that SOMEBODY ELSE had eaten them, leaving us with only a few cakes. The nerve of some people!
The main "marketplace" for the event was inside
Plexal
, which is one of these co-working areas that are so funky at the moment. I've been to a few of these for WORK purposes and found them to be Quite Swanky and usually full of FREE, DELICIOUS, posh coffee, but this one was something else altogether. They had basically built a LEGO CITY inside a huge futuristic WAREHOUSE, with STREET LIGHTS down the middle and a GRASS area. It was actually quite nice - in such a HUGE space some of the mini-offices were bound to be away from the Actual Windows, so having it in a street like this meant they could have windows INSIDE, looking onto people passing by. The only disadvantage, according to me, would be that you'd probably still need to do some WORK while you were there. For all the fancy trimmings and cool fixtures, I did see quite a lot of fed-up looking IT GUYS scattered around, still glaring at screens at 7.30pm.
The MAIN thing we were there for tho was the TOUR around the UCL ROBOTICS LAB. I was slightly disappointed that this did not involve ACTUAL KILLER ROBOTS, but apart from that it was Quite Interesting. They have built a lecture theatre that is also a classroom, several meeting areas, a viewing platform and a BLACK BOX for Performance Testing, which we roamed around pointing at Innovations. There was also a Mechanical Engineering area which was doing its best to look MODERN but was still very much like the Mechanical Engineering areas I saw at Leicester Poly 17,000 years ago when I would visit Dr N Brown there during our student days i.e. FULL of SOLDERING IRONS. They even had a synthesizer there that someone was repairing!
It was also EERILY QUIET there - the students had not yet returned, and you could FEEL the staff GIRDING themselves for their arrival. I know the feeling - at my own workplace we are currently enjoying the golden period when the STAFF are all in but the STUDENTS have yet to come and mess the place up, which is very inconsiderate. Universities are for STAFF and, very occasionally, concerned local citizens who want to have a nosey around!
posted 20/9/2019 by MJ Hibbett
(click here for permanent link)
(0) comments
Dullness Denied
I was unable to attend the second day of the Stanley Kubrik symposium on Saturday as I had tickets to go to an equally prestigious cultural event: Peterborough United playing Rochdale.
I met Mr P Myland and Mr C Dowsett just before noon at
The Bumble Inn
, a DELIGHTFUL micro-pub which I seem to be forming a HABIT of being in. We had a couple of beers and then wandered through town to
Charters AKA The Boat Place
, site of MANY pints drunk by me over several decades, MARVELLING on the way about the lack of Away Supporters. On my last two visits, to see Posh play Ipswich and then Sunderland, town had been FULL of them, but we didn't see ANY Rochdale fans until we got to Charters, and then only a few. It turned out only 216 had made the journey, a low total proportionally matched by less than 6 thousand for Posh.
I guess the low turnout was because nobody was expecting much, which to be fair included ME. I was sure that after the fantastic game last time this one would be RUBBISH but, as with so many of my predictions, both sporting and political, I was entirely WRONG. It was BLOODY GRATE! The first goal, from Mr I Toney, was a right mess, as he more or less walked the ball, and the opposition keeper, into the net with him, but after that it was ZUT ALORS for BEAUTIFUL Actual Football featuring SKILLS the like of which I cannot BEAR to even DREAM of getting used to. It was meant to be a DULL DRAW or PROBABLY HOME LOSS but there were CHIPS and SHOTS and PASSES the like of which I would expect to see Gary Linekar talking about, not Colin Murray!
It ended with Posh winning SIX-NIL! SIX! NIL! I still find it hard to believe, but as we staggered out, DRUNK of ENTERTAINMENT, it was with the sure and certain knowledge that the NEXT home game would see us get walloped. That is my DEFINITE PREDICTION - honest!
posted 19/9/2019 by MJ Hibbett
(click here for permanent link)
(0) comments
Designing Worlds With S Kubrick
I went to a SYMPOSIUM last week, and this time it was part of WORK rather than for COMICS SCHOOL!
For LO! UAL was one of the organisers of
Kubrick: Designing Worlds
, a two-day event all about, well, Stanley Kubrick. I must admit I didn't know much about him, going in - I've watched "2001" OBVS, seen a bit of "A Clockwork Orange" DECADES ago (on a dodgy 19th generation VHS) and went to the pictures to watch "AI", but that's about it, I thus thought I ought to do a bit of revision beforehand, so watched "The Shining" over a couple of nights, which was a very ODD experience as it turns out I have already SEEN approx 30% of the film ALREADY in various clips and ALLUSIONS. I was also glad that I'd started my revision early because CRUMBS it is a LONG old film - at some point in the late 1980s I think someone somewhere must have realised you don't actually HAVE to show characters walking ALL THE WAY from one scene to another EVERY SINGLE TIME, because films like "The Shining" seem to do that A LOT.
I wondered if I should watch any other films, but this turned out to be UNNECESSARY as the day was mostly about "The Shining", "2001", "A Clockwork Orange" and "AI"! WINZ! There was in fact an ENTIRE SESSION all about "AI", during which everyone seemed to agree with ME i.e. that it was dead good and all those idiots at the time who went "Ooh it's so SCHMALTZY and SPIELBERG" were WRONG. This session featured the BEST BIT of the whole day too, when Chris Baker talked about how he'd done the Storyboards. It was DEAD INTERESTING and also really nice to hear someone talking with a proper Midlands accent - as ever with these things, there were quite a lot of Posh People talking during the rest of the day!
They KEYNOTE was good too - I was expecting an IN-DEPTH ANALYSIS of the film "The Shining" but what we got was a MASSIVELY trainspottery look at where each bit of the film was shot and how it all actually WORKED within the studio complex, featuring spectactularly ANNOTATED aerial shots of Borehamwood. I speak as someone who has PORED over intensely detailed articles which try to work out precisely where photographs of the Beatles had been shot, so I was entirely prepared for other people to be just as KRAZY about their own obsessions, and this guy very much was. It was FAB!
The whole day, in fact, was dead good, and it had the added bonus of featuring "The Head Of Invention", which features in MY NOVEL, sitting outside. It was only after spending a few hours there that I realised that, unlike in the aforesaid BOOK, The Design Museum is NOT next to the Thames. It turns out that, in the time since I first wrote it, The Design Museum has MOVED. I feel a RE-WRITE coming on!
posted 18/9/2019 by MJ Hibbett
(click here for permanent link)
(0) comments
Totally Acoustic Returns
Today I am EXTREMELY happy to announce that
Totally Acoustic
is BACK!
For those unaware, this is the regular night I have done for YEARS where acts are invited to come and play in the top room of a pub without any kind of PA or amplifiers - totally acoustically, in fact. I also RECORD the proceedings and unleash an edited
PODCAST
shortly afterwards. These
PODCASTS
are very much still available to download, and provide a pretty GRATE catalogue of some of the GIANTS of indiepop over the past decade or so. And also, ME.
The last regular gig was a couple of years ago, when we had
an all-dayer to celebrate our tenth anniversary
after which I let it lay FALLOW for a while so that I could concentrate on doing my PhD. There've been a couple of one-offs since then, but I think now I'm ready to bring it back on a regular, albeit probably bi-monthly, schedule. I have, to be honest, missed it!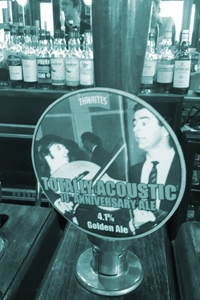 The original idea for this one was to have Mr Matt Tiller play as part of hs
Slightly Wonky Love Songs Tour
, but when we couldn't work out a date that fitted a) Matt's rigorous touring schedule b) the pub's diary I decided, with Matt's agreement, to just go ahead and do it ANYWAY. My excuse is that the pub said they were looking forward to having us back, and I couldn't upset them after that could I?
THUS the first night of the grand return is on Thursday September 26th when, as ever, "Doors" will be 7pm and the first act (ME) will go on not long after 7.30pm. It all gets better after that though, as we'll have two GRATE performers who have each graced us once before -
John Osborne
and
Helen McCookerybook
!
I have also had confirmation that Mr S Hewitt will also be in attendance, in his usual seat, so it is BOUND to be a good one - come along if you can, and if not, there'll be a podcast!
posted 5/9/2019 by MJ Hibbett
(click here for permanent link)
(0) comments
---